Estimated read time: 4-5 minutes
This archived news story is available only for your personal, non-commercial use. Information in the story may be outdated or superseded by additional information. Reading or replaying the story in its archived form does not constitute a republication of the story.
SALT LAKE CITY — A photographer who discovered thousands of dinosaur tracks at Lake Powell says it's time to start rescuing them before his spectacular finds are destroyed.
"Imagine seeing tracks that are around 200 million years old. I mean, it's mind-boggling," said Andre Delgalvis, whose photos are on display in a new coffee table book he authored called "The Lost Tracks."
Delgalvis believes the tracks are threatened by Lake Powell's wave action and by an invasion of tiny shellfish known as quagga mussels. At this point, it's not clear if recovering the tracks is feasible or if it would be permitted by the National Park Service.
More than a decade ago, the Colorado-based photographer was exploring the fringes of Lake Powell when he stumbled across a little-known resource, a vast array of tracks left behind by many different species of dinosaurs.
"I started looking for more and more, and finding more and more," Delgalvis said in an interview during a recent visit to the Utah Geological Survey offices in Salt Lake City.
Most of the tracks are in Lake Powell's so-called bathtub ring, a zone of rock that is sometimes under water and sometimes in the open air, depending on the seasonal rise and fall of the man-made reservoir.
Delgalvis said the tracks went undiscovered for generations because they were on cliffs and plateaus high above the Colorado River. When the Glen Canyon Dam created Lake Powell — and raised the water level several hundred feet — many of the tracks became much more accessible. Delgalvis found so many tracks, he was astonished.
"I've lost count, but it's probably in the thousands," he said.
Delgalvis' book's title, "The Lost Tracks," reflects the long history of invisibility for the reptilian footprints. But the title also highlights his worry for the future, especially regarding the clam-like species of Asian mussel that recently invaded Lake Powell.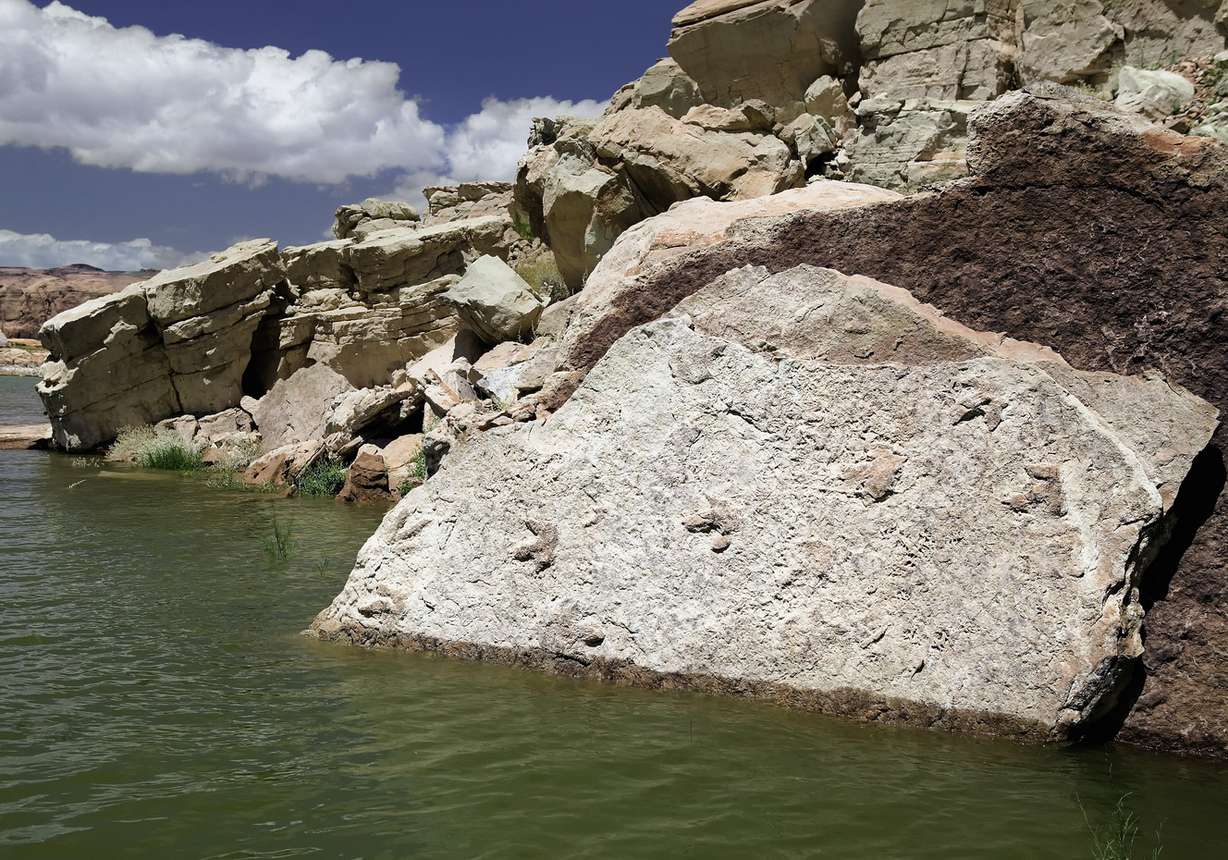 "The danger is that these tracks would be covered by quagga mussels," Delgalvis said. "You wouldn't see them anymore. And if you tried to remove the quagga mussels, the tracks would be destroyed."
The state paleontologist for Utah agrees that the Lake Powell dinosaur tracks are an important resource.
"There are hundreds of sites, thousands of tracks," said Jim Kirkland of the Utah Geological Survey. "It's truly extraordinary because the diversity of things is very high."
Kirkland is more worried about Lake Powell's annual rising and falling level than he is about quagga mussels.
"We have wave action," Kirkland said. "Then you have boats (and their) waves. Pretty good constant erosion by those causes."
Delgalvis is hoping for a major rescue effort.
"We could lift these tracks, lift these blocks out of the water," he said. "My vision would be if we could set up a repository in Bullfrog, that would be a wonderful place."
Nearly a decade ago, Delgalvis mounted a small-scale rescue effort. Cross International, an American Fork marine salvage company, donated equipment and barge services for the project. The idea then was to place the recovered tracks in a building near the Bullfrog Marina where they could be stored, studied and placed on display.
According to Delgalvis, that effort fell through because the National Park Service didn't have a budget to provide and operate a facility at Bullfrog.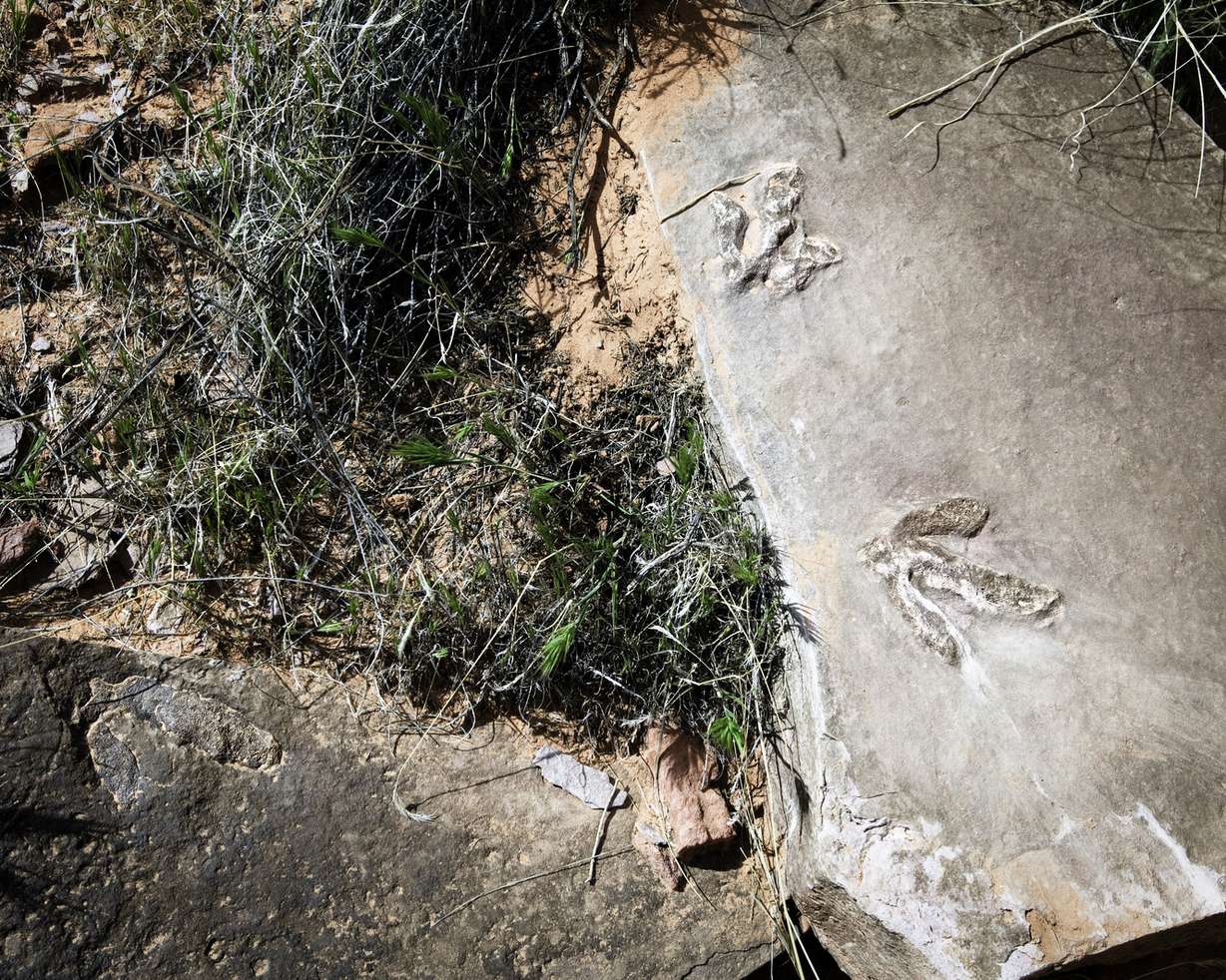 James Cross Sr., president of Cross International, said he would like to resume the effort to collect the dinosaur tracks.
"There is massive deterioration," Cross said. "They should be recovered and, it is my belief, properly preserved and made available."
He said his company is willing to assist again — for free.
"This isn't a matter of money," Cross said. "This is a matter of science, history and understanding how this all came to be. We're very excited about it."
Kirkland said he believes it makes sense to rescue only the most important tracks.
"There are individual sites that cover many acres," he said. "You're not going to go in there with rock saws, into a national monument, and start chopping up the entire outcrop."
Instead, Kirkland favors an effort to document the tracks in place.
"Nowadays what we like to do is photogrammetry," he said. "We create three-dimensional models using overlapping photographs. It's becoming an easier technique."
The tracks are within the Glen Canyon National Recreation Area, which is administered by the National Park Service. An parks service spokesman said the agency would consider permitting a rescue effort if Delgalvis and Cross present one.
"But only in the context of discussions with specialists and their thoughts about the value of the specimens," wrote John Spence, the paleontology program manager for the recreation area.
In an email to KSL and the Deseret News, Spence wrote that the agency has collected some at-risk specimens in the past and is currently developing a long-term monitoring plan. However, he acknowledged a funding shortage.
"Currently we do not have a full-staffed paleontology program at the park," Spence wrote, "but we are currently working actively to build up the program and seek additional funding."
A response to questions from KSL & the Deseret News by the National Park Service, which manages the Glen Canyon National Recreation Area:
Q: If Andre Delgalvis and/or James Cross devise their own "rescue" plan, would they need NPS approval?
A: Yes - NPS approval is absolutely needed. It is a violation of federal law (CFR36 and CFR43) to collect any natural or cultural resources in a unit of the NPS by the public.
Q: Would the NPS consider it and possibly approve it?
A: We would consider it, but only in the context of discussions with specialists and their thoughts about the value of the specimens.
...We have an active paleontology program at Glen Canyon,with numerous researchers doing important work on paleo communities, fossils and climate. The areas around Lake Powell are well know for spectacular fossil trackways, including those of dinosaurs, as well as older mammal-like reptiles. We are developing a long-term monitoring program to document and monitor particular fossils and important sites to determine what kind of impacts can occur, from vandalism, theft, lake fluctuations or other natural erosional processes.
In the past we have collected and curated fossils, including smaller trackways, that are deemed at-risk. Depending on the scientific value and the severity of the threats, we do make the decision to collect. Generally, we work with accredited federal, state and academic researchers though a scientific research permitting process. Collection of fossil trackways is extremely difficult, and in some cases the action of trying to remove them can damage or destroy the tracks themselves. We generally develop a very detailed plan on how this will be done as well as who will be doing the collection. For other sites, we also collect on-site data using current techniques, including 3-D photogrammetry as well other promising new tools that leave the fossils in place.
×
Photos
Related links