Estimated read time: 4-5 minutes
This archived news story is available only for your personal, non-commercial use. Information in the story may be outdated or superseded by additional information. Reading or replaying the story in its archived form does not constitute a republication of the story.
Sharon Woolsey isn't afraid to experiment in the kitchen. Living in South America for a few years made her an adventurous chef; and, her husband and three children motivate her to cook healthy meals that everyone will enjoy.
Woolsey is a hardworking mom trying to balance home management, part-time work, church; community involvement and everything else.
Perhaps it was her fearlessness in the kitchen or her need to balance the many roles she plays that motivated her to try something different in her kitchen — a home freeze dryer. Whatever her motivation, the result was discovering a completely new way to look at food.
"Of all the interesting, and innovative appliances I've worked with, this was possibly the most amazing, the most interesting, and the most innovative," Woolsey said after her first few months with the freeze dryer.
The freeze dryer is made by Harvest Right, a U.S. business headquartered in Utah, and the only in-home freeze dryer manufacturer in the world. It was invented for people just like Woolsey. It took years to take an appliance like the freeze dryer and make it not only the right size and automated enough to work in one's home, but also affordable enough for the average consumer.
This convenient machine is about the size of a mini-fridge and can be used in a variety of locations such as a kitchen, spare room, laundry room, or even a garage. Woolsey keeps her freeze dryer in her garage during the winter and brings it into her food storage closet during the hot summer months.
Woolsey can freeze dry 6-10 pounds of food at a time, which amounts to 1,500 pounds of food per year. When stored properly, freeze-dried foods can last 15-25 years, making it an essential tool for Woolsey, and anyone who practices food storage and emergency preparedness like her.
People like Woolsey love the fact that they no longer have to rely on dehydrators for food preservation.
What's the difference between a freeze dryer and dehydrator?
Dehydrators heat up food as they suck the water out, which can reduce the foods nutritional makeup by almost 50 percent. The freeze dryer doesn't heat food, but instead freezes it to between -30 and -50 degrees. The chamber the food is in then becomes a vacuum and removes the moisture.
Freeze drying leaves the nutritional integrity, as well as the taste and appearance of the food, completely intact. A grape still looks like a grape; a slice of peach still looks as fresh as it did before it was freeze dried; meats and seafood stay fresh and taste fresh even after being freeze dried.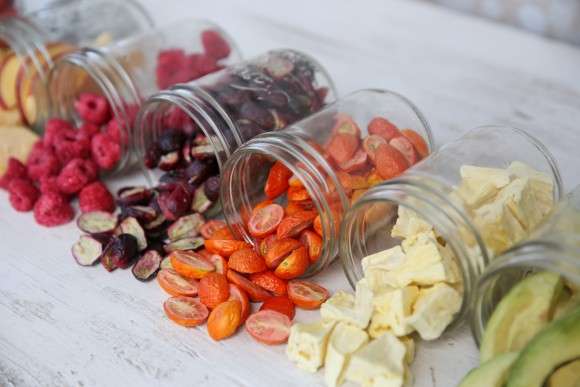 Whether freeze drying full meals like lasagna and beef stew or preserving dairy products like cheddar cheese, yogurt and ice cream, Woolsey now has the confidence that the food is going to taste great.
Besides preserving meals as long-term storage for her family and making delicious baked goods, Woolsey has also found her new toy useful in preserving her garden bounty. Like many avid gardeners, she saw her food going to waste because she couldn't use the produce fast enough. Now, she has a solution that keeps her goods fresh until she's ready to use them.
"[I love to preserve] my fresh produce in the freeze dryer because it plumps back to life so beautifully. It's also the absolute best way to preserve herbs, especially as they retain 100 percent of their flavor."
Changing the leftovers game
Produce from the garden isn't all a freeze dryer can save from going to waste. Leftover meals and ripening grocery store produce stay out of the trash and in your home. With foods that ripen quickly, like bananas or avocados, the freeze dryer can preserve them in their prime.
The ability to keep food from going bad helps offset the price tag, Woolsey said. Families throw out $2,250 worth of food a year on average. That number alone almost pays for the freeze dryer. It is perfect to freeze dry food that would otherwise go to waste so that it can be used as a meal in a few weeks or to be eaten in 25 years.
Freeze-dried pineapple, grapes and yogurt drops have replaced Woolsey's kid's favorite candies. She turns freeze-dried kale and Greek yogurt into powder to add to her morning smoothies; and freeze-dried ice cream dipped in chocolate has become a popular treat at her house parties.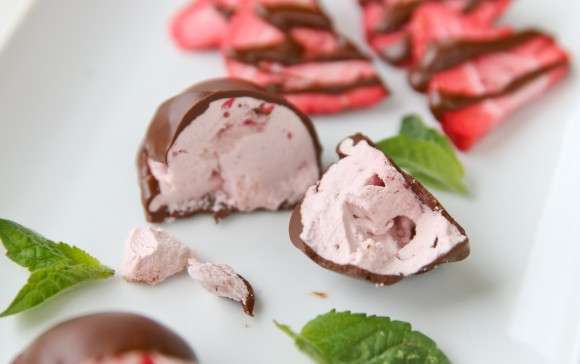 It's time to change the way you do food. Make the most of your food storage, garden and leftovers today. Learn more about this revolutionary appliance at HarvestRight.com or call 801-899-0090.
×
Most recent Utah stories