Estimated read time: 7-8 minutes
This archived news story is available only for your personal, non-commercial use. Information in the story may be outdated or superseded by additional information. Reading or replaying the story in its archived form does not constitute a republication of the story.
OREM — Utah Valley leading scorer Konner Frey's path to shining at the Division I level was filled with myriad challenges.
Now he's carrying the load for an inexperienced team that hopes to lay a foundation for future success.
Basketball wasn't always the plan for the Bountiful native and current Wolverines leading scorer. Even after proving his ability at Viewmont High, where he earned 5A all-state honors and helped lead his team to the Region 1 title, he still had work to do to earn a chance to play for an NCAA Division I team.
The youngest of six children, Frey preferred football growing up and envisioned it would be his sport through high school and in college.
While playing quarterback in eighth grade for Bountiful Junior High, however, he suffered what he said a doctor diagnosed as spinal stenosis.
With his team on the 1-yard line preparing to score, Frey took the snap and attempted to dive over the pile of players in front of him when he collided with the helmet of an opposing player trying to move him backward.
"Immediately just my arms and legs would go numb," he said. "I kind of tried to shrug it off, but every time I got hit after that my arms and legs would just go numb."
After he received an MRI, a doctor told Frey that the injury would prevent him from ever again playing organized football.
"I was crushed, I was heartbroken at that point," Frey said. "(Football) was everything."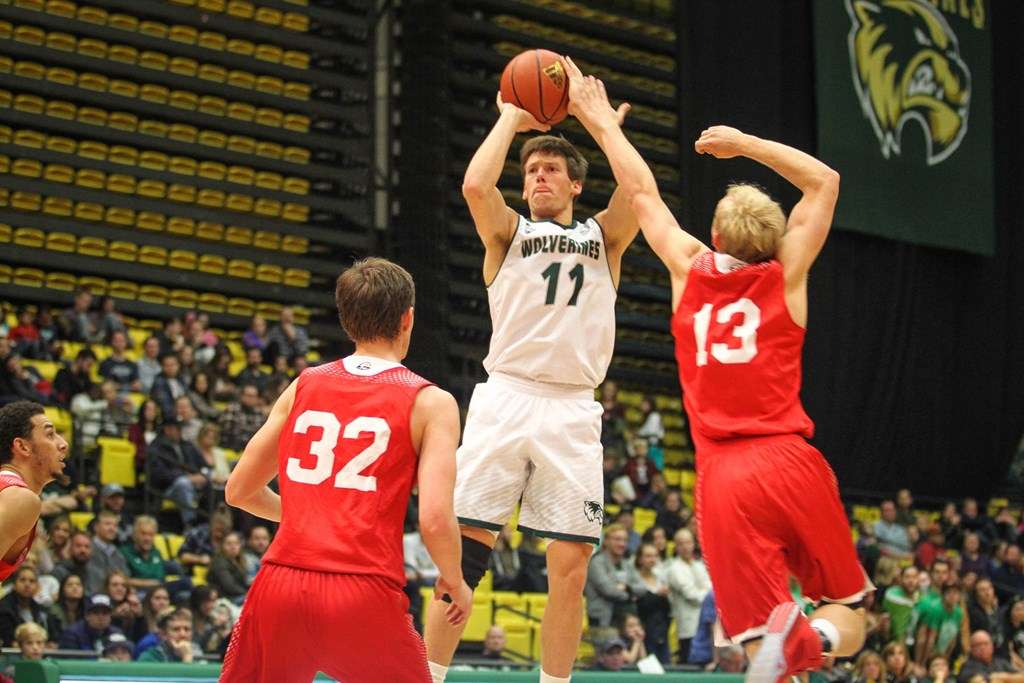 But that Konner Frey wasn't his current playing size of 6-foot-6 and 215 pounds. He said he was a late bloomer, and it wasn't until his sophomore year at Viewmont that he measured taller than 6 feet.
"I didn't really hit a growth spurt until late sophomore year," he said.
With his football dreams depleted, Frey shot up to around 6-foot-4 prior to becoming a junior, he said, and grew another inch or two before starting his final year of high school.
Yet, Frey was cut from the Vikings' varsity basketball team as a sophomore, and although he returned with greater length the next season, he said he was a bit awkward on the court as he was still feeling out his new frame.
"Because I was so late transitioning to basketball, I just didn't know if I was going to be able to pull it off," he said.
An undoubtedly gifted athlete, Frey picked up a tennis racket the day of his school's tryouts, made the team and later competed in matches in his first attempt at the sport. His senior year he decided to try the high jump and ended up competing at the state track and field championships.
"I grew up in a very competitive family kind of always getting beat up on," he said.
Frey's brother just older than him, Travis, plays wide receiver at BYU.
"Ever since I was 6, 7 years old, I would just follow my older brothers around and get beat up on," Frey said. "They took no mercy on me."
He learned from those quarrels, though, and it would help, he said, when he was again faced with the prospect of not playing the sport he had come to love at the next level.
"I didn't really have any legitimate Division I offers," Frey said. "I wasn't really willing to pursue any D-II offers, because I figured Division I is the long-term goal."
The lessons of his brothers and mentors kept him motivated, and his time on the court for a pair of local AAU standout squads, Salt Lake Rebels and Salt Lake Metro, in between his junior and senior years gave him improved confidence.
Playing with the likes of Utah State's David Collette, SLCC's Austin Waddoups and even Utah's Jordan Loveridge for a few contests, Rebels coach Evric Gray informed Frey scouts were asking about him after games, too.
"He just does everything what a coach wants," Gray said in a phone interview. "Konner was one of my smartest players ever — one of my favorite players I've ever had — because he always did the right thing."
Frey credits his AAU coaches — the late Brad Barton, who also coached as an assistant at Viewmont before losing a long battle against diabetes in 2011, and Gray — for impressing upon him the knowledge that he could make it to the Division I ranks.
Gray, a 14-year professional and former member of UNLV's 1991 Final Four team, said he knew from the first practice Frey was involved with the Rebels that Frey could achieve his goal.
"As soon I saw what he did, he kind of reminded me of myself," Gray recounted. "When you play the 3, you have to be able to do three or four different things, and he did all of them."
Lacking local scholarship offers, Brian Erickson, Frey's cousin and then an assistant coach at Northwest College, told him to visit Powell, Wyoming, to see if the junior college might be a good fit.
"I took a recruiting visit up there, and it was over at that point," Frey said. "It was perfect for me, because I was going to be going on a mission the next year."
The college's head coach, Andy Ward, left to join Idaho State coach Bill Evans' staff as Frey prepared to leave on a mission for The Church of Jesus Christ of Latter-day Saints. Evans offered him a scholarship with the caveat that he scrap his mission plans and enroll straightaway, but Frey said he never considered it.
"There'd be some hoops in the jungle you'd find," Frey said of the lack of basketball he played during a portion of his mission spent in Malaysia.
After a transfer to Singapore, though, he found a much better basket in a stake center. He frequented the location with his missionary companions in the early morning — him shooting, them rebounding.
"My companions were awesome about it," Frey said. "They come to my games now and they're like, 'Yeah, see, I knew that was going to pay off.'"
Following his mission, Frey was awarded a roster spot at Utah State as a preferred walk-on. A lack of playing time in-season and an open scholarship that wasn't given to him had him questioning his future in Logan.
Luckily, he visited the Utah Valley campus over the summer with some of his Utah State teammates to play pick-up basketball with players from various universities around the state at the Wellness Center.
"I started developing relationships with some of the guys here at UVU, and it ended up working out well," Frey said.
Zach Nelson, out for this season after leading the Wolverines in rebounds and their second highest scorer last year, "played a big role in me coming here," Frey added.
Nelson has further aided Frey, he said, in his development as a low-post presence — something he's still adapting to on an undersized team because of his regularity playing on the wing.
"From the first day of practice, you could tell that he was going to be a major player on this team," Utah Valley coach Mark Pope said.
Entering Wednesday night's contest against Weber State, Frey leads the Wolverines in scoring at 15.5 points per game and rebounding with 7.3 a night.
Pope, also in his first year with Utah Valley, says Frey's commitment to every play is rubbing off on an extremely inexperienced team.
He added, "Konner is completely leading that charge" in laying the foundation of playing "harder than everyone else we play," which Pope believes is crucial of his current team in order for the program to enjoy future success.
Frey is driven by experiences with adversity along his road to Utah Valley. He wears Barton's name on his playing shoes, and he thinks often of the lessons of his coaches and brothers.
"I think it's important that we realize where we're coming from and where we're going, and realizing the process of that," Frey said of the maturing Wolverines.
---
Kyle Spencer is a freelance journalist residing in Orem. You can find him on Twitter @kyledspencer or reach him by email at kspence04@gmail.com.
×
Photos
Related stories
Most recent Utah stories