Estimated read time: 4-5 minutes
This archived news story is available only for your personal, non-commercial use. Information in the story may be outdated or superseded by additional information. Reading or replaying the story in its archived form does not constitute a republication of the story.
OREM — Mark Pope's first month on the job as head coach at Utah Valley University hasn't gone exactly as planned.
But he couldn't be prouder of his players who've been through injuries, illnesses and transfer suspensions.
"They're playing hard. They're playing so hard," Pope said after the Wolverines' 76-72 home loss Tuesday night to Montana State, their fifth defeat in seven games. "I love that — it's the way we're going to have to be, and it's the way we are always going to have to be."
Pope's first experience as a head coach has him scouring campuses for able-bodied basketball players who can compete on a Division I level. It's not for lack of preparation; the Wolverines have seven players missing from their roster for injury or transfer regulations, and Utah State transfer walk-on Konner Frey has been thrust into the role of leading scorer in the first month of the season.
But even he's adapting to his new role, one that sees him lead a team on which four of the top six healthy players are walk-ons.
"I think if you look at what we are doing offensively, we've come a long way from the beginning of the year, and ever since (losing at Utah State)," said Frey, who put up a career-high 26 points Tuesday to boost his average to 17.7 points and 7.1 rebounds per game. "We are doing a lot of things better."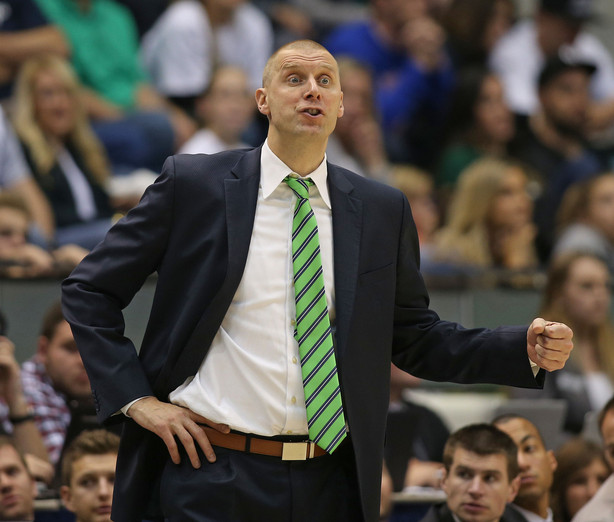 The Wolverines are living, learning and taking a lot of lumps on the way to developing into a Division I men's basketball team — one of several formerly adrift programs taken in under the wing of the rapidly dissolving Western Athletic Conference three years ago and one that has found new life in the realm of Division I non-football conferences.
But thanks to players like Frey, a former Viewmont High star who left Utah State to be closer to home and play a reserve role as a preferred walk-on, Pope is beginning to rebuild the Wolverines in his image.
That doesn't mean it's been easy. But in a lot of ways, it's been fun for the first-year head coach.
"It has been (surprising), but that's what makes this game fun," Pope said. "I think I get really surprised by day-to-day things. But I think we have a very clear and confident vision of where we are going. We aren't working with the guys we thought we'd be working with right now, and we aren't working with the guys we will be working with next year.
Thanks to his group of walk-ons, in a lot of ways, things have been smoother, too. Pope said he loves every minute of teaching young players with limited basketball experience, particularly at the collegiate level.
"Can you imagine if we don't have Konner, that walk-on?" Pope asked no one in particular. "Konner Frey is giving us everything he's got, and I'm asking him for way more. I want him to be way better. I was hard on him after this game because I want him to be better. As crazy as that is, I want him to be better than 26 and 9. I think he can be, and he needs to be for this team to be successful."
Utah Valley (2-5) has plenty of talent on its roster, even if not readily available to the new head coach and his nascent staff that includes former BYU and Utah director of basketball operations Cody Fueger.
The Wolverines lost returning top scorer Zach Nelson and fellow projected starter Hayes Garrity in the first few weeks of the preseason, and also miss the list of transfers that include ineligible Isaac Neilson from BYU, Josh Pollard from Kansas and Brandon Randolph (Xavier).
Indeed, Utah Valley could probably field a strong team in most conferences with the number of players sitting on the bench in sweats during games at the UCCU Center.
Adjusting on the fly, though, is what makes Pope's job interesting — even as he prepares his players for a schedule that includes back-to-back home games against in-state foes Southern Utah and Weber State, and then five straight road games with trips to Louisville and Saint Mary's (California).
"We're going to have some hard times, obviously," Pope said. "Our schedule doesn't get any easier; it gets way tougher. But I don't mind building a foundation of a program on the hard times. That's something these guys will never forget.
"When things get going right, then you savor it in a way that a lot of people don't recognize."
×
Photos