Estimated read time: 2-3 minutes
This archived news story is available only for your personal, non-commercial use. Information in the story may be outdated or superseded by additional information. Reading or replaying the story in its archived form does not constitute a republication of the story.
SPRINGVILLE — Just weeks before the Provo City Center Temple open house begins, a Springville family constructed a small replica of the LDS building in the form of gingerbread and other tasty treats.
Jackie Snelson said her mother built the Provo Tabernacle out of gingerbread several years ago. In honor of her mother — who has since died — and the upcoming opening of the temple, Snelson executed a plan to build the gingerbread temple with her family.
The temple stands nearly three feet tall and is three feet wide and two feet deep, according to Snelson's husband, Mike.
Designed by her brother and father, Don and Blaine Hadley, the gingerbread temple is adorned with candy cane lampposts, orange stick and mint star cookie rails, a frosted roof and more edible features.
Elf fudge cookies, chocolate covered cinnamon bears and chocolate covered gummy bears stand in front of the temple, awaiting their entrance to the open house. One of Snelson's daughters, who is single, included an LDS singles ward among the crowd.
The walls are primarily made up of gingerbread, but cardboard assists them in staying up so they don't sag or fall apart, Snelson said.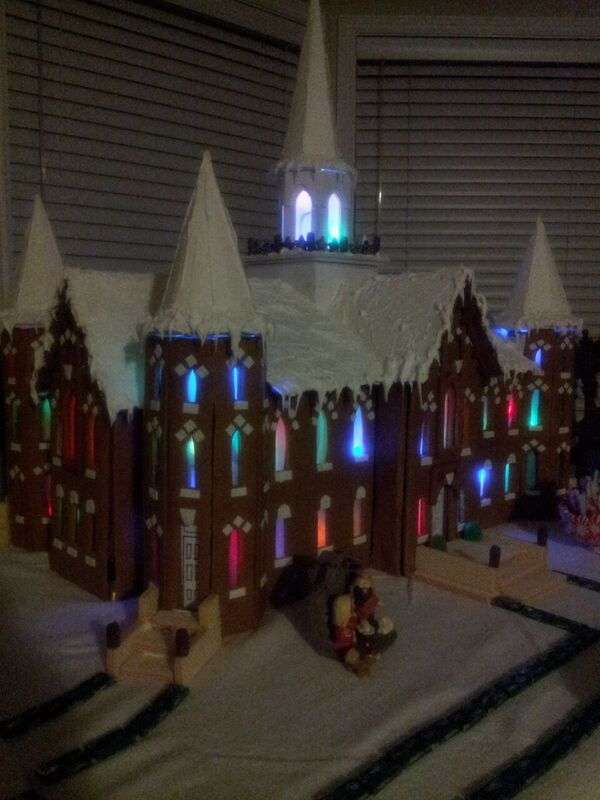 "The design of the whole inside of the temple was complicated," Snelson said.
When Snelson's mother constructed the gingerbread Provo Tabernacle, she melted lifesavers in the windows to represent the stained glass. Snelson couldn't figure out how she did that, but the inside of her version is lit up.
Snelson said the hardest part was creating the Angel Moroni atop the temple. She attempted molding him out of a yellow Tootsie Roll, but ultimately formed him from fondant.
The family worked on the temple for about a week, and it now takes up the majority of Snelson's large dining room table and will stay there through the temple open house.
The open house for The Church of Jesus Christ of Latter-day Saints Provo City Center Temple will begin Jan. 15 and run through March 5. It will be dedicated March 20.
×
Photos
Related stories