This archived news story is available only for your personal, non-commercial use. Information in the story may be outdated or superseded by additional information. Reading or replaying the story in its archived form does not constitute a republication of the story.
UTAH STATE PRISON — Women at the Timpanogos Women's Correctional Facility are turning gingerbread, dough and candy into themed creations that will be donated to the Festival of Trees event to raise money for Primary Children's Hospital.
Like an assembly line in Santa's workshop, the elves know every inch of their handiwork.
"We made everything in different parts," said Kelsee Bell, an inmate of three years. "We made all the heads, then we made all the bodies, then we made all the feet, separately and then put them all together."
The gingerbread project began 13 years ago with gingerbread houses made for auction to benefit the Boys Scouts of America. As a former chef, the project is the brain child of Lt. Rod Villamil. He only has one requirement for inmates who volunteer to build the gingerbread creations.
"If you have a heart to do the work, that's all I need," said Villamil, culinary supervisor at the Utah State Prison. "Of course I want them to work together. I don't want them to be isolated from one another and say I'm an artist I can do this. Don't bother me. I don't like that kind of attitude."
Every year, Villamil comes up with two designs, one featuring a popular children's theme and the other a classic Christmas theme. Typically, about eight to 10 inmates at the Timpanogos Women's Correctional Facility will work on the two gingerbread designs. The architects begin work at the end of September and end in early December. This year's gingerbread creations are inspired by the Disney film "Frozen" and "Twas the Night Before Christmas," — modeled after the home in "Charlie and the Chocolate Factory," the theme being "Even the humblest homes are often filled with love."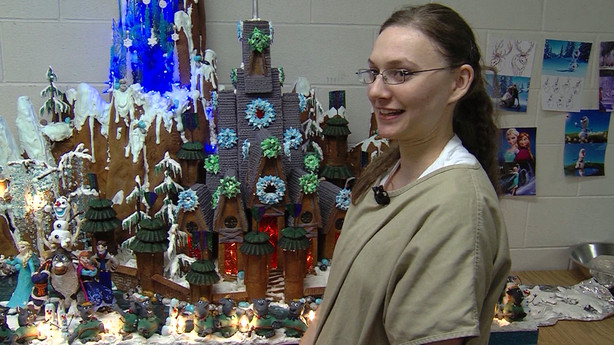 "We had to get into a kid's mind frame to see what they'd be attracted to," said Bell.
After pouring their heart, soul and countless hours into the gingerbread creations, the inmates never get to see the fruits of their labors.
"When you go to the show, you see how the children react to the piece that we share to them. It's just like they are in a candy store," said Villamil, who also encourages the inmates to invite their families to the Festival of Trees event. "One of the girls was out there one time, and she said, my grandma made that. I almost fell apart to see that this child knows what her grandma was making."
As for the inmates, they said they don't see the gingerbread project as an escape from their cells. Instead, the women feel they've received more than they've given as architects of the gingerbread houses.
"You take responsibility for what you've done and you realize the impact and the harm that you've created," said Ailine Tauteoli, an inmate of nine years. "And you want to do something in return. You want to give back to the community."
The women are paying their debt to society for crimes ranging from drugs, fraud and murder. They said the gingerbread project gives them hope.
"Hopefully impact society in a more positive light than the darkness that led me here," said Tauteoli.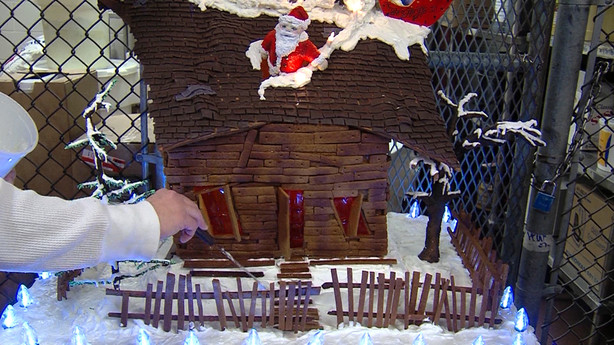 Melinda Greene said she's been in and out of the prison system for 15 years. She volunteered again this year to work on the gingerbread project in hopes that she could in some way bring joy to some children.
"This is an opportunity for people to maybe look at the opportunity for change in the prison system, to be able to be of service," said Greene. "And to show people that , 'hey those women are in prison. Yeah they have screwed up' but that doesn't have to be who they are in the future."
For Kelsee Bell, the artistry and creativity that goes into learning how to create the creatures, characters and even Princess Elsa's cape using corn syrup, sugar and just the right temperature has given her a newfound motivation in life.
"It's been a long journey being here," said Bell. "It's helped me a lot to come out of a dark area and focus on good."
A gingerbread castle and house will be featured in an invitation-only, silent bid auction to raise money for Primary Children's Hospital before the Festival of Trees opens to the general public.
Creations from previous years included depictions of Hogwarts School from Harry Potter, the Lehi Roller Mills building, and scenes from the movies "Up," "Madagscar" and "Despicable Me" — which raised $3,500 for the hospital last year.
The gingerbread creations will be on display at the Festival of Trees at the South Towne Expo Center, 9575 S. State in Sandy, from Dec. 3 to Dec. 6 from 10 a.m. to 10 p.m. Regular ticket prices are $5 for adults and $3 for children ages 2 to 11.
×
Photos