Estimated read time: 3-4 minutes
This archived news story is available only for your personal, non-commercial use. Information in the story may be outdated or superseded by additional information. Reading or replaying the story in its archived form does not constitute a republication of the story.
Following the FDIC's takeover of IndyMac Bank in California, shares of some regional banks dropped sharply today on Wall Street. One of the banks that saw a decline in share price is also one of Utah's oldest lending institutions: Zions Bank.
Shares of Zions fell today after brokerage house Goldman Sachs downgraded its recommendation on that stock and said it expects regional banks to continue to struggle. This is the second time in a month Goldman Sachs has lowered the recommendation.
In a research note released today, Goldman Sachs singled out Zions as a lender that will continue to see losses. The brokerage firm writes: "We do not see a peak for losses until the first quarter of 2009 but risk of rolling peaks is rising."
Goldman Sachs reportedly based that analysis partly on the bank's high exposure to construction and land loans, loans that are concentrated in the mortgage-hit markets of California, Arizona and Nevada.
Zions Bank spokesman Rob Brough said, "We've been around for a number of years. We've weathered many economic ups and downs, and that's the case here, too."
When asked directly if the bank was solvent, Brough said, "Zions Bank is in great shape."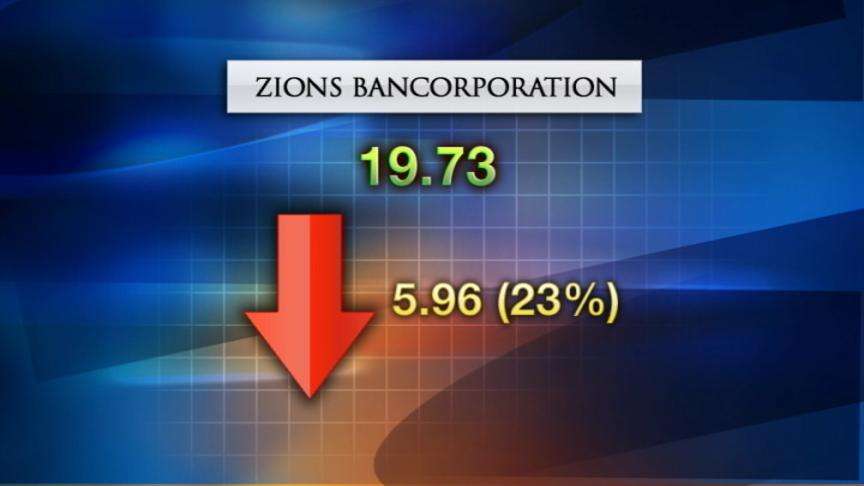 At the close of the New York Stock Exchange today, Zions' stock had dropped nearly six points to just below $20 -- a dip of more than 20 percent -- which follows steady declines over the past year.
This afternoon, a bank spokesman cautioned that customers and investors should not overreact.
"Insured depositors should feel confident and comfortable that their money is safe in the bank. The banking industry is very strong, very stable," said Brough.
This morning, federal regulators took over California's IndyMac Bank, one of the nation's largest mortgage lenders. Customers camped out looking to move their money -- this despite the fact that the government guarantees those with less than $100,000 in deposits.
"Are my deposits fully protected by FDIC insurance? If the answer to that question is 'yes,' you can spend your time worrying about A-Rod and Madonna instead of a bank failure," said Greg McBride, with Bankrate.com.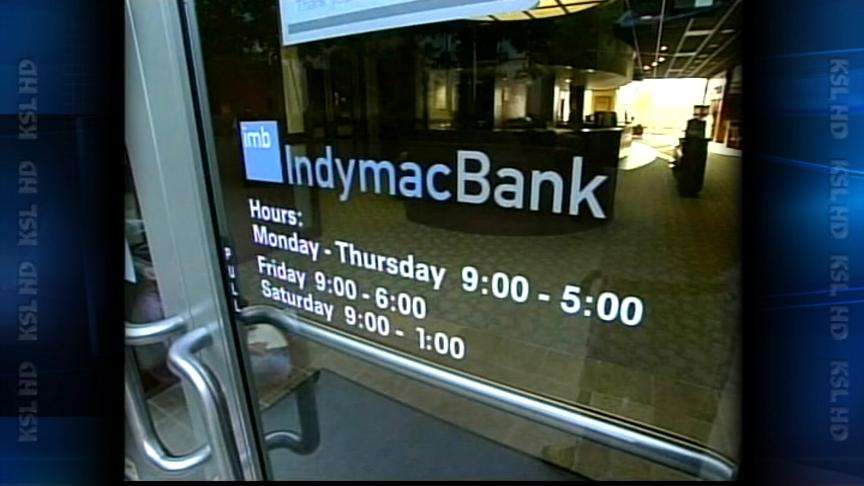 Wells Fargo economist Kelley Matthews was closely watching today's financial news, after a wave of bad news over the past few days. "Many people are concerned about whether or not the problems in mortgage lending are going to continue to multiply," he said.
The Zions official we spoke with today says the IndyMac bank situation has spooked the markets unnecessarily. "Fundamentally, nothing else has changed. It's just a symptom of the market that we're in today," Brough said.
Analysts warn there's likely to be more trouble ahead for U.S. banks.
Ninety banks are now on the FDIC's trouble watch list. But we don't know which banks are on the list because the FDIC isn't releasing it. We did find a list of 24 troubled banks according to Ladenburg Thalman, another New York investment firm, and though some of the nation's largest banks were on it, Zions was not.
Experts say stock downgrades are more a reflection of a company's near-term financial position and not necessarily a reflection of current solvency. Also the FDIC insures accounts up to $100,000 and IRA accounts up to $250,000.
E-mail: jdaley@ksl.com
E-mail: lprichard@ksl.com
×
Related links
Most recent Utah stories