This archived news story is available only for your personal, non-commercial use. Information in the story may be outdated or superseded by additional information. Reading or replaying the story in its archived form does not constitute a republication of the story.
SALT LAKE CITY — Jessica Gleim has to carefully plan for each day, but she also accepts that those plans may never come to fruition.
"Most days, I am just in bed," Gleim said. "I watch a lot of Netflix and have a lot of pajamas. Not that it is something I enjoy."
The 31-year-old Salt Lake City woman has a rare, complicated medical condition called trigeminal neuralgia. The left side of her face is constantly in pain, and the only cure is to sever the misfiring nerves, leaving no feeling at all in some places.
"I wake up every day with a migraine," Gleim said, adding that the cocktail of medications she takes for the chronic pain she endures is highly addictive and has the potential for various severe and debilitating side effects.
It is "no way to live," she said.
Gleim purposefully vacations to locales where marijuana is legal, and she has experienced relief from its various available forms. But she intends to be a law-abiding person in her home state.
The same holds true for Paul Hill, of St. George, who — thanks to a law enacted two years ago in Utah — gives his small daughter tiny doses of cannabidiol, an extract of marijuana, every day to help control seizure activity caused by epilepsy.
Prior to taking the therapy, which is strictly limited to children with certain conditions, Sophie experienced prolonged seizures every two weeks.
Since June, the 4-year-old has endured just one seizure, Hill said.
"As her father, I've got to find something that works," he said, adding that as a member of The Church of Jesus Christ of Latter-day Saints, he doesn't adhere to the illicit use of drugs.
The oil, Hill said, has helped Sophie be able to attend preschool as a typical child would, and she is better equipped mentally to recuperate from seizure-related setbacks.
"It's awful to watch your kid go through something like that," he said.
In addition to his daughter's health issues, Hill's son, Kelson, survived cancer — a large tumor in his throat — in the past year.
As marijuana has helped Sophie, Hill said he's certain it could hold potential benefits for his son should the cancer, or its chemotherapy-related side effects, ever return.
Hill and Gleim are active members of the Drug Policy Project of Utah, which is advocating for widespread patient access to the whole marijuana plant, as many who suffer are left off conditional lists as proposed by Utah lawmakers.
One potential list of approved diseases or conditions eligible for the legal treatment of marijuana — specifically cannabidiol, or CBD, and not the psychoactive component of marijuana, called tetrahydrocannabinol, or THC — was expanded in a draft bill presented for a second time to the Health and Human Services Interim Committee on Wednesday.
Rep. Brad Daw, R-Orem, who is backing the proposal with Sen. Evan Vickers, R-Cedar City, said the issue of legalizing marijuana "is a big enough change in policy" that he expects intense debate during the upcoming session, which begins in January.
Daw said a favorable recommendation from the committee, which has heard countless hours of testimony on the issue, would "set the tone for the entire session."
Another proposal, reincarnated after its failure last session, would give patients the choice as to how they use marijuana medicinally, even locally produced products closely monitored by state government entities. Sen. Mark Madsen, R-Saratoga Springs, the bill sponsor, said the two proposals are very different, including the communities of Utahns they would ultimately serve.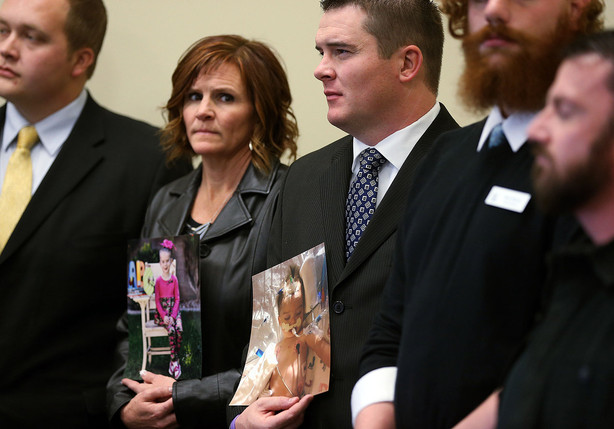 "I'm interested in helping as many people as we can," he said. "I believe that the people of Utah are at least as smart as the people of 23 other states that have legalized medicinal marijuana."
Madsen said his bill wouldn't limit access to patients with specific conditions but would be more widespread, allowing those who need it to find relief. Access to an alternative to addicting opiate medications would reduce prescription drug overdose deaths in Utah, "saving about seven lives a month," he said.
"This is an issue that should be taken up by the entire Legislature," Madsen said. "We have done a lot of work. The issue is ripe. It is time to take it up."
Vickers said his and Daw's bill includes provisions that encourage and require local research to be done, reviewing what is found each year.
"I believe the potential is there for CBD, but not for THC," he said. "I'm not even interested in talking about legalizing THC."
Madsen, whose bill has yet to be drafted, said CBD is not potent enough to help the masses of Utahns needing relief.
Gleim, whose condition would be left out of Vickers' and Daw's bill, said she doesn't know what is worse: living with the pain or being subject to the side effects of her medications.
"All I'm looking for is functionality," she said. "I just want to be able to sit down to dinner and go on a date with my husband, drink a glass of wine, fold some laundry, do the basic things in life."
And she doesn't want to leave Salt Lake City, where all her family resides and is close, to get access to the marijuana products that would help her feel "normal."
Gleim said her disease "isn't killing me. It isn't fatal. It doesn't have a terminal diagnosis." So she plans to continue to advocate for reasonable, fair and affordable access to the whole marijuana plant and its various products.
"I want to have the option," Hill said. "I want to be able to help my family when they need it."
The Utah Legislature will likely address multiple proposals on medicinal marijuana, in addition to the two they've debated in the interim, according to lawmakers. The Health and Human Services Interim Committee voted in favor of Vickers' and Daw's draft bill, and in favor of further discussion on the matter of legalizing marijuana products for medicinal use.
"I, personally, have never reviewed an issue more than this one," said Sen. Luz Escamilla, D-Salt Lake City. "I hope the state of Utah makes a decision in the next session."
Related:
×
Photos
Related Stories