This archived news story is available only for your personal, non-commercial use. Information in the story may be outdated or superseded by additional information. Reading or replaying the story in its archived form does not constitute a republication of the story.
SALT LAKE CITY — A new proposal to legalize a single medical marijuana product for a limited number of people is being called a "compromise between doing nothing and doing too much."
Rep. Brad Daw, R-Orem, said he and Sen. Evan Vickers, R-Cedar City, want to "proceed cautiously" on the matter of legalizing any kind of illicit drug, tightly regulating whatever access lawmakers allow — if they choose during the upcoming session to allow it at all.
"I'd rather start with something that shows potential benefit but no downside," Daw said.
Their approach would give up to 5,000 Utahns access to cannabidiol, a nonpsychoactive chemical that is extracted from the hemp plant and is believed to have therapeutic effects. A 2013 bill approved by the Utah Legislature allows use of the substance by a select group of Utah children who suffer from epileptic seizures.
Another proposal, hitting lawmakers for the second time, is Sen. Mark Madsen's attempt to legalize medical marijuana for Utahns who suffer at least one of nine or so certain conditions or diseases, including cancer, chronic pain and post-traumatic stress disorder in veterans.
"The rest of the world is so far ahead of us," said Madsen, R-Saratoga Springs, adding that he will likely move away from Utah to a place where medicinal marijuana is legal following the end of his legislative service next year.
His bill, which did not pass last year, aims to make the marijuana plant available in its natural state, grown and dispensed locally, keeping costs low for patients and their families.
"Right now, in this state, they have to choose between a treatment that works and the risk of having their children taken away from them, losing their jobs, losing their homes, being put in prison if they access this medicine," Madsen said. "We want to put an end to this injustice."
He said his bill wouldn't change the status quo for people already engaging in criminal activity, smoking marijuana illegally. Smoking the product would remain illicit, according to Madsen's proposal.
Daw's bill would also pave the way for local cultivation of marijuana, but explicitly for the cannabidiol or CBD byproduct.
A Utah mother whose 13-year-old son was hit and killed by a marijuana-impaired driver in 2011 said she favors the bill sponsored by Daw and Vickers, that would greatly control, limit and track production and use in the state.
"My whole world at that moment had ended. My heart was ripped out of my chest," Erin Worland told members of the state's Health and Human Services interim committee meeting. "All of our hopes and dreams were lost, thanks to a stupid drug."
If marijuana is legalized in Utah, Worland said, "more families will experience heartache."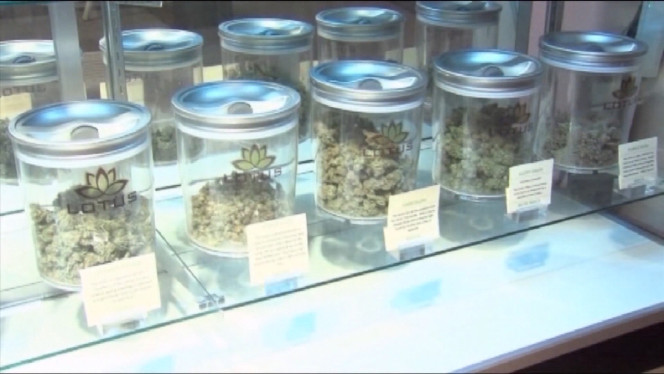 Winston Armani/KSL-TV

Sen. Luz Escamilla, D-Salt Lake City, said she likes having multiple options, but feels as though people should have the freedom to choose whether they want to use marijuana for medical purposes.

"Why not let people try it and make their own decisions?" she asked. "Why does it feel like we are back in the '80s on this issue?"

Vickers said patients need to be treated under a controlled atmosphere, and "legalizing medical preparations is one thing, but classifying it as a medication is another."

"I have no interest in furthering (tetrahydrocannabinol) right now," he said, clarifying that he wants the hallucinogenic properties of marijuana to remain illegal. "I'll let the federal government make that decision."

The alternative proposal by Daw and Vickers also intends for the state to obtain a federal license for local researchers to study medical uses for marijuana, as there is a lack of credible scientific research on the drug because it is a restricted substance according to federal law.

Madsen said polls show public support. He called Daw's bill a "political placebo," attempting to do something small for people who suffer.

But it isn't enough, Madsen said. His bill would suffice at least 100,000 Utahns in need of the physical and/or emotional relief that he believes marijuana provides.

"I'm about less government and more individual freedom," Madsen said. "Instead of allowing government to make decisions for them about their health care, it would allow people who are suffering to be helped immediately."

Providing an alternative to addictive opiate painkillers, he said, would help alleviate an increasing number of overdose-related deaths in the state.

"If it's medicine, if it's effective, then let's find a way to do it in a regulated fashion," Daw said.

His bill, he said, "provides a very reasonable, cautious way forward, but it does provide a way forward."

The committee has spent a good chunk of the interim discussing medical marijuana, hearing from multiple sides on the matter. There are no plans to address the topic again before the committee takes a vote on it. A bill can still move through the legislative process, however, regardless of committee support.

Madsen said details are still being worked out and it's likely he doesn't have the support of the committee, but "I do think there is a sentiment of wanting to help as many people as we can, as quickly as we can."

Contributing: Geoff Liesik

![](http://beacon.deseretconnect.com/beacon.gif?cid=330922&pid=4)

×
Photos
Related Stories