Estimated read time: 3-4 minutes
This archived news story is available only for your personal, non-commercial use. Information in the story may be outdated or superseded by additional information. Reading or replaying the story in its archived form does not constitute a republication of the story.
SALT LAKE CITY — This past spring, to the great excitement of many, Google Fiber announced that it would be bringing its fast fiber-optic network to Salt Lake City.
Provo was the first Utah city to get Google Fiber and the company has been signing up households and businesses. Salt Lake City residents may have been wondering since the announcement, what's happening now? The answer is: a lot.
Nole Walkingshaw works for Salt Lake City in community and economic development. He was instrumental in getting Google Fiber to Salt Lake City. His background is in city planning and he is working with businesses and others to coordinate the construction.
"From a construction point of view, it's been a fascinating process for Salt Lake City," Walkingshaw said. "We created new business practices to create a city-wide infrastructure process. We didn't give them money or taxes or anything. Google is paying for all of it."
To lay fiber optic cable, many moving parts must be juggled and processes followed; Google can't just start digging up streets.
"It's not like building a skyscraper, where everything is building in one place," Walkingshaw said.
The project is moving along well and both the city and Google Fiber are making great efforts to lay down the infrastructure with the least amount of disruption.
There are no set dates to sign up for Google Fiber in Salt Lake City right now. However, other work is progressing. Jacob Brace, Google Fiber's Community Impact Manager for Salt Lake City, is working with many community partners: local governments, nonprofits, libraries, community centers and more to address another important issue: digital inclusion.
Digital inclusion refers to providing both equal access and education of the internet. Brace said that "it's an exciting time for Salt Lake City to talk about how we digitally connect and use this great resource." He and others are talking to community partners about what they can all do to address the digital divide and build bridges in the community.
One project that Google Fiber is investing in is a local digital fellow program. They are working with the Nonprofit Technology Network and the Salt Lake Education Foundation to focus on the barriers that exist in this digital divide.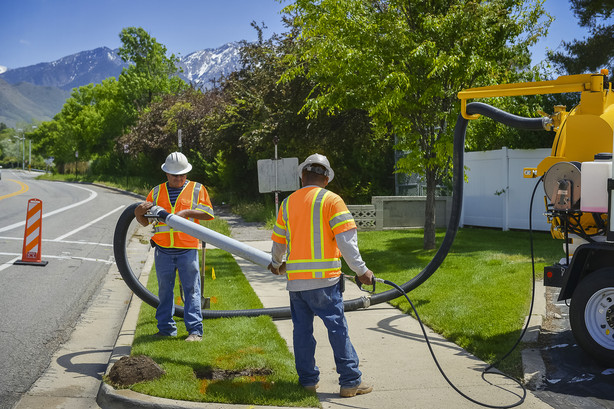 There are two digital fellows employed by the Salt Lake Education Foundation that work in Salt Lake City. These are community residents that work with Google Fiber to help address the digital divide and train others. Currently they are working in the Glendale area to connect parents, provide a community computer lab, and to help engage these parents to be more active in their children's lives. Brace said community impact efforts will be ongoing throughout 2016.
Since the announcement that Google Fiber would be coming to Salt Lake City, other changes have happened.
"We're seeing hundreds of percent increase from permit requests… the race is on," Walkingshaw said. "This is the greatest construction boom that we've seen in decades."
Both Brace and Walkingshaw commented on the spirit of collaboration and entrepreneurship in the city. They said Google Fiber's fast network can create more connectivity as well as give connection speeds to encourage new business.
The University of Utah is already responding to this mindset through their Lassonde Entrepreneur Institute and this will only increase. As the race continues to advance, the future is exciting.
"I think we're going to be able to create an infrastructure that is wonderful and an asset to the city," Brace said. "I'm excited to see what the city, residents, small businesses and others can do with Google Fiber."
Those who want to stay up to date on what Google Fiber is up to check out their blog and sign up for email updates.
---
Carrie Rogers-Whitehead is a digital inclusion advocate and frequent user of Google. She can be reached at rogers-whitehead@hotmail.com
×
Photos