This archived news story is available only for your personal, non-commercial use. Information in the story may be outdated or superseded by additional information. Reading or replaying the story in its archived form does not constitute a republication of the story.
SALT LAKE CITY — They say if you build a better mousetrap, the world will beat a path to your door. So shouldn't the same thing be true if you come up with a better way to catch burglars red-handed?
Joey Wilson's better mousetrap was not an overnight success. He had to beat his own path to the marketplace by overcoming a series of challenges that stretched over many years.
Now, Wilson's company is finally launching a product that he hopes will be a hit with homeowners who want to know what's going on inside their house when they're not home.
Wilson is founder and CEO of Xandem. The company exploits a technology that can literally look through walls, cabinets and furniture to track a person moving anywhere in the house.
Xandem features
Homeowners can monitor a floor plan of their own house — watching a moving target in real time — using a laptop computer, tablet or smartphone.
A moving "X" on the floor plan could be a burglar, an elderly relative who needs monitoring or kids coming home from school.
"You may want to make sure that your kids entered the home at the expected time," Wilson said.
The idea took root when Wilson was a student in electrical engineering at the University of Utah.
"We knew radio waves would go through walls," he said. "That's a known thing. It has been for decades."
They also knew that a moving human body can disrupt the radio waves. In 2007, U. professor Neal Patwari had begun experimenting with the idea, and Wilson began working with him in 2008.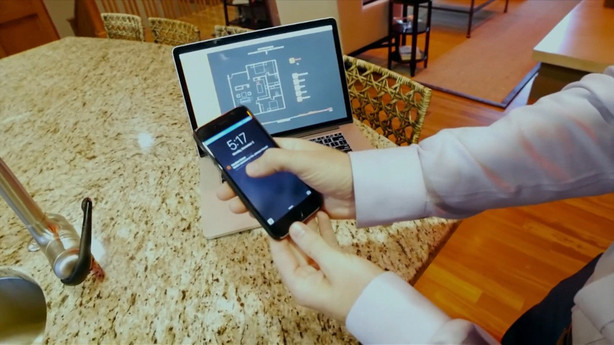 Tracking concept
"He just kind of did one little test," Wilson said. "He didn't spend much time. But I saw it and I immediately knew, 'I want to spend my entire Ph.D on that.'"
By the summer of 2008, they had a working version of the tracking concept. But it didn't work through walls. They struggled for months to improve performance.
The answer finally came in the fall of 2009. On his laptop, Wilson tweaked the computer software that analyzes incoming data from radio waves.
"I made a small change to our algorithms and — suddenly — I watched this little 'X' go into the house," Wilson said. "That was kind of a big moment for us."
In late 2009, Patwari and Wilson publicly unveiled a field test in which they positioned portable radio devices around a house in Salt Lake City. They created a web of radio waves similar to the Wi-Fi networks in many homes.
Wilson remembers those early devices as somewhat crude.
"We were using ugly-looking hardware," he said. "It wasn't a product; it was a research tool."
That led to more years of tinkering as Wilson and his team tried to develop a marketable product.
"As you go into product, you start having to address things that you would never address in a research paper," Wilson said. "Like, you know, what happens when the microwave is on? What happens when your Wi-Fi network is in the same area and creating interference?"
For Xandem, the challenge was to turn an engineer's tool into a consumer product.
"It definitely takes a lot of patience," Wilson said. "Some of those problems don't show themselves until you've installed a system and been living with it for months."
By 2011, Xandem made its first stab at the marketplace. The company had a system that worked but was less than ideal. At about $1,000 each, Xandem eventually had about 1,000 buyers. But it took a technical whiz to set the system up. Wilson knew it needed improvement.
"Refining the technology to be more simple for an end user, and also bringing the cost down, was something that took a couple of years to develop," he said.
National grant
Wilson's effort received a financial boost when grants came in from the National Science Foundation and the U.S. Department of Homeland Security. But financial success was never certain over the years of development.
"There's certainly times as an entrepreneur where you're looking at your cash flow, you're looking at your funding, and you're saying, 'We got to make something happen here,'" Wilson said. "There's definitely days that are high and definitely days that are low. And anybody who's starting a business of any kind, I think, would experience those highs and lows. And especially something that is fundamentally new. A core new technology is even more so, I'd say."
Now, with the release of Xandem Home, the company is drawing some national attention.
The system is easy to install: The homeowner just plugs about a dozen small radio units into wall sockets and connects a Xandem mini-computer to a wireless router. At $500 a pop, it's still not cheap, but it may appeal to homeowners who want to monitor their home from somewhere else.
When the system is armed, a burglar entering the home would trigger a sudden burst of red lights. A loud siren is optional. The system alerts the homeowner by email or text message and allows him to monitor moving targets inside the home on any portable device.
Although home security is the primary selling point, the system also could be used to monitor an elderly person to make sure they're moving around. Or it could give parents a new way to keep an eye on the kids.
"You may want to go out of town and make sure a party's not going on in your home," Wilson said.
Xandem is now taking advance orders at indiegogo.com*. The University of Utah shares patents with Wilson and Patwari and will share in the profits if they start rolling in.
*KSL.com does not assure that the monies deposited to the account will be applied for the benefit of the persons named as beneficiaries. If you are considering a deposit to the account, you should consult your own advisors and otherwise proceed at your own risk.
×
Photos
Related Links
Related Stories