Estimated read time: 4-5 minutes
This archived news story is available only for your personal, non-commercial use. Information in the story may be outdated or superseded by additional information. Reading or replaying the story in its archived form does not constitute a republication of the story.
SALT LAKE CITY — Since it opened in 1894, the Salt Lake City and County Building has been an unmistakable landmark, a towering center of power housing the mayor's office, city council and, apparently, ghosts.
"It just becomes, I guess, part of the norm of our building," said Jan Aramaki, a 20-year city employee. "I just know not to be here late at night by myself."
Aramaki's experiences converted her into a firm believer that city hall is haunted.
She remembers that phantom touch one morning, while talking to coworkers.
"Someone grabbed the side of my arm, and when I turned, nobody was behind me," Aramaki recalled.
There was the time late at night when she heard a co-worker typing loudly in her office.
"I thought, 'Oh, well, I'll go say good night to her, she's working late,'" Aramaki recalled, standing in the office, now a meeting room. "I opened the door and she wasn't here. And [the typing] just stopped."
Ghost stories seem to be around every shadowy corner of the old building, shared by security guards and accountants alike.
One nighttime worker, who asked not to be identified, said on several occasions he had experiences on the fifth floor that he couldn't explain. He said he believed his singing calmed the ghosts down.
Local lore talks about a handful of ghosts inhabiting the place, including those of two children who fell to their deaths during the building's construction.
"You hear people talk about hearing kids through this building a lot," said Aramaki, who had a similar experience one night on the third floor.
She believed nobody else was around, except for some family members who were accompanying her.
"The hallways were dark, and I came in here, put my key in the door," she continued. "Then we all heard it. These kids started laughing and were running down the hall."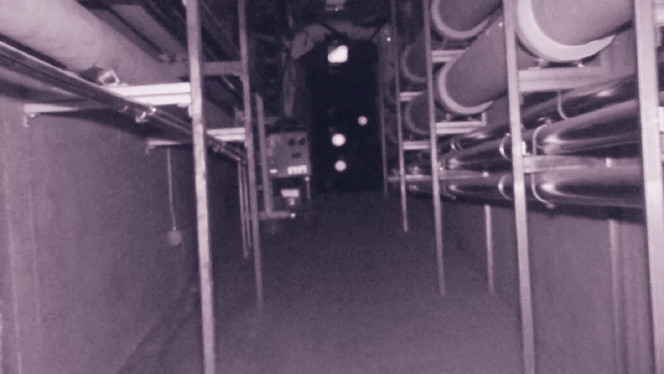 KSL-TV
Those stories in mind, KSL brought in a group of investigators to see if they could uncover any evidence of the paranormal.
The "Ghost Hopping" crew (also on YouTube) has investigated creepy and historic locales around Utah and across the country.
Host Marcus, also a standup comic, said the group always enters a paranormal investigation thinking, "It's not a ghost until it's a ghost."
The investigation, conducted late Wednesday night, yielded some curious results.
Shortly after it was deployed on the second floor, the Ovilus — a device that can be manipulated by energy in the surrounding environment to generate words — started spitting out words at a prolific pace.
"We've gone to places where we've walked around for four hours and this thing hasn't made a peep — not a peep!" Marcus said. "We've gotten a lot of things about 'down,' 'deep,' 'under.'"
"Video, story," he continued. "Video story! Back-to-back!"
Oddly, the words appeared to describe part of the investigation which was to come — in a realm few see anymore — the underground tunnel that connects the City and County Building to the library across the street.
In past decades, the tunnel was used to transport jail prisoners, like convicted serial killer Ted Bundy, to court hearings.
There, Marcus turned on what is known as a "spirit box," which quickly cycles through radio frequencies to create white noise. In theory, entities can use it to speak.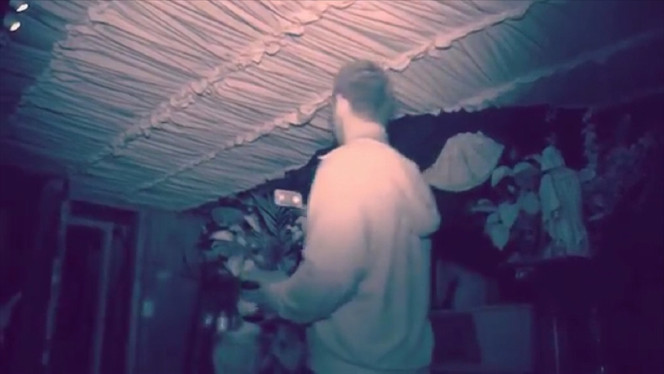 KSL-TV
Within the first two minutes that the device was turned on in the tunnel, investigators twice heard the word "bad" and then the word "evil."
Whether they were blips from a radio frequency, or an entity describing what passed through the tunnel at some time in the past or the nature of a prisoner's crimes, nobody could say for sure.
Upstairs on the third floor, the spirit box device seemed to generate more "intelligent" responses.
"How many of you are there?" Marcus called out into the empty hallway.
"One," the spirit box answered.
Minutes later, the investigator repeated the same question and got the same response.
The Ovilus also generated an unexpected response on the third floor: the word "paranormal."
It seemed pertinent to the investigation.
Still, Marcus cautioned that investigation findings should always be viewed with a healthy degree of skepticism, if not "hopeful" skepticism.
"You have to be the type of person that says, 'I believe that this stuff exists,' but not everything I come into contact with is it," he said.
Another type of haunt
Sue Nicol's passion for Halloween has led to a total transformation to her front yard.
Over the past five years, she has continually added life-size Halloween decorations — ghosts, zombies, coffins, stray body parts and robotic features she constructed herself.
The Canyon Road Haunt (facebook.com/CanyonRoadHaunt), located at 4416 N. Canyon Rd. in Pleasant Grove, has now become something of an area attraction, with a drive-thru for cars.
The entire display now takes her family two weeks in September to fully assemble, and features creepy sounds of Halloween channeled through a radio frequency into passing cars.
Nicol said she encourages drivers to leave donations, which she turns over to the local food bank.
×
Photos
Most recent Utah stories