This archived news story is available only for your personal, non-commercial use. Information in the story may be outdated or superseded by additional information. Reading or replaying the story in its archived form does not constitute a republication of the story.
PROVO — There was one thing that stuck out to the BYU women's basketball team when newcomer Kalani Purcell joined the team after two standout seasons at Hutchinson Community College.
And it wasn't just the "funny accent" about which star shooter Lexi Eaton said the players sometimes tease the Hamilton, New Zealand, native.
Purcell averaged a double-double, 13.7 points and 10.3 rebounds, at the Kansas junior college — often called "Hutch" for short — while leading the Blue Dragons to back-to-back NJCAA national championship finals and earning JUCO All-American as a sophomore.
But what really stood out was her passing ability, and what it means for the defending West Coast Conference Tournament champions who are coming off three NCAA Tournament visits in the past four years.
"Kalani is a really dynamic player who I think the crowd is going to really like to watch," Eaton said of her new teammate, describing one play where she nearly took a ball to the nose because she wasn't expecting a strong, upcourt pass in practice. "She has these fancy passes that you don't really expect, but she gets it done. She makes things happen.
"Even our team has had to get used to her passing."
BYU fans can get a first glimpse at Purcell and the rest of the women's team, as well as the Cougar men's basketball team, at the preseason Boom Shakalaka showcase Friday at 7 p.m. in the newly remodeled Marriott Center. The Cougars tip off the season Oct. 29 with a blue-and-white exhibition and start the regular season Nov. 13 at home against Utah Valley.
Purcell, for her part, is just excited to get to work with her new teammates in an environment that also suits her LDS beliefs. She immediately took note of the competitive attitudes of the rest of the Cougars — even in practice — adding it was unlike anything she had seen in Kansas.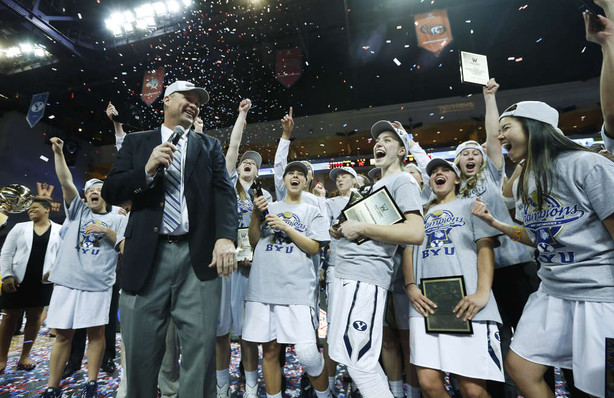 But the biggest change has been adapting to the academic requirements at BYU, something Purcell said she is happy to have as it means her degree will be of more value even if she returns home to New Zealand after graduating.
"The schooling here is as tough as it, and in the long run, it will only benefit me," Purcell said. "I'll really be able to take my degree home with me, whereas there are some other schools that wouldn't mean as much.
"The basketball here is great. It's not a UConn, but it's a really good program, and it's a progressing school. We've made it to the tournament for three years, and I think we're only getting better as we go."
BYU coach Jeff Judkins said Purcell reminds him of a young, female LeBron James in that she's a pure-passer who can also smash the glass with her 6-foot-2 frame. He wasn't necessarily comparing her to the King of the NBA at the moment, but he was genuinely surprised with how well the newcomer has fit into her role with the team and adapted to Division I basketball.
"She's a great rebounder and a great passer," Judkins said. "She's probably the best rebounder-passer that I've coached, and that includes men. She has a great feel for that, and she's a complete player. She can shoot, dribble, post and drive; she's an excellent defender."
Purcell led Hutchinson to a 72-2 record in two seasons, becoming arguably the most accomplished player in Blue Dragon women's basketball history. She was an honorable mention NJCAA All-American in 2013-14, and two-time first-team All-Jayhawk West selection.
But she knows things could be different at BYU — in fact, she's expecting it.
"I am willing to do whatever the team needs me to do," Purcell said in her friendly manner with a regular laugh. "If they need me to be a pure defender, I'll do it. I'll even take it game-by-game; if they need me to score more, I'll score more. If they need me to rebound, that's what I'll do.
"If they need me to play point guard, then I'll do it. There are probably 12 other girls that can do it better than I can, but whatever."
In the post may be Purcell's most important role. A natural wing player, she's likely to find most of her minutes as a junior as a stretch power forward in wing guard Eaton's senior year. But a BYU team that returns an average of 41.9 points per game despite losing West Coast player of the year Morgan Bailey will need the newcomer down low.
Judkins knew the Cougars would be looking for some size this season, so he went out and recruited it. In addition to Purcell, BYU added 6-foot-3 Purdue transfer Haley Bodnar, a St. George native; 6-4 freshman MaCayla Hanks from Mountain Crest; and 6-2 freshman Jazmine Moody from Honolulu. That's in addition to Kearns alum Micaelee Orton, whom Judkins expects to take a significant step forward in her senior year.
It could add up to a big season for BYU in what many would argue is the toughest non-conference schedule in women's basketball history with the likes of Oklahoma, Georgia, Texas A&M and Utah on the schedule.
"I'm looking forward to really seeing a team that will play a hard schedule and how we handle that both physically and mentally," Judkins said. "I want to see how the young kids develop, and that will be a big key for us. If they develop like I think they can, when WCC play comes around, we'll be really solid."
×
Related Stories