Estimated read time: 3-4 minutes
This archived news story is available only for your personal, non-commercial use. Information in the story may be outdated or superseded by additional information. Reading or replaying the story in its archived form does not constitute a republication of the story.
Some quick-thinking Boy Scouts may have saved the life of a hiker who fell off a cliff in Big Cottonwood Canyon. The hiker was near the Moss Ledge trail head, the same area that claimed the life of a young woman earlier this week.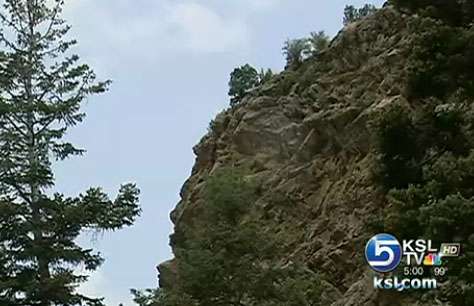 With the rugged terrain, it took rescue crews several hours to get the hiker to the hospital. He was in critical condition, but authorities say the situation could have been much worse if it hadn't been for some well-trained young men.
The chopper on its way to University Hospital was a welcome sight for paramedics. Moments earlier, they had worked quickly to stabilize a 25-year-old hiker who had just fallen off a 25- to 50-foot cliff in Big Cottonwood Canyon.
"He was conscious. He was able to talk, but he was coughing up blood, had broken bones," one of the scouts, Micah Cloward, said. "Basically he was shivering really bad because he was so cold."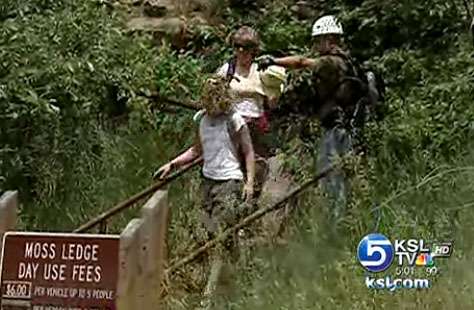 Two women found the injured hiker. One ran for help and was lucky enough to bump into Boy Scouts Micah and Joseph Cloward, who were in the middle of a picnic.
Joseph Cloward said, "We ran out to get the first aid kit out of my grandma's car and took it up to him."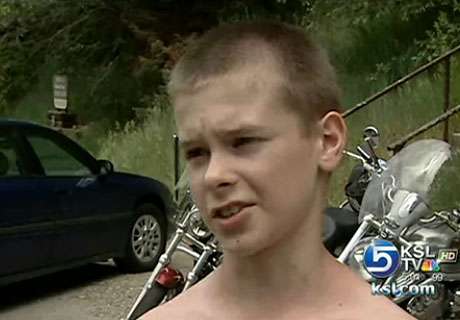 When they got there, the hiker was in bad shape with leg fractures, soft tissue damage, face and head injuries.
Micah said, "I think he was entering a state of shock."
The scouts quickly built a fire, took off their shirts and used them to stop the bleeding and keep the hiker warm.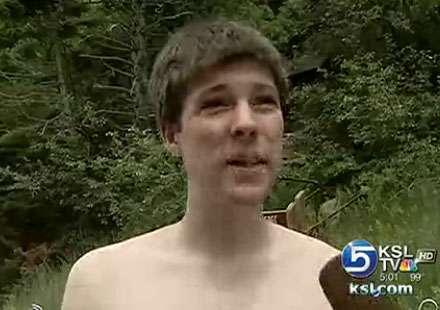 Joseph said, "We at least tried to keep him calm and keep him doing fine until paramedics could get there."
Authorities say the scouts should be commended for what they did. Their efforts may have saved the hiker's life.
Micah said, "As a Boy Scout, it's [important] to help other people at all times."
The man suffered leg fractures, face and head injuries, and internal injuries.
Earlier this week, 19-year-old Christina Traylor was not as fortunate. She was in the same rugged and sometimes dangerous area known as Moss Ledge when she fell more than 80 feet and died.
Canyon Patrol Deputy Paul Christensen said, "It's just one of those areas that if you're going to go up there and climb, you ought to take safety equipment with you."
Authorities say the hiker was with family earlier today but was venturing off on his own when he fell. They can't stress enough the importance of being prepared and extremely careful when you're in the wilderness.
Dep. Paul Christiansen, with the Salt Lake County Sheriff's Office, said, "Sometimes the farther they get or the higher they get the more difficult it will become and sometimes they'll just get in over their heads."
Some say there should be more warning signs. Others say common sense is what's needed. Whatever your opinion, Moss Ledge is a talker right now after another major accident today.
Moss Ledge offers flowing water, lush trees and dynamic rock formations, but even the trail itself is no walk in the park. Hiker Erin Barraco said, "It's definitely different because it's not like a normal dirt trail, you have to climb over the rocks, get over the river kind of thing."
The sign at the Moss Ledge entrance says "no camping" but no mention of rocky terrain or dangerous cliffs.
Hiker Ryan Castillo said, "This place is right off the road, so it might be wise to post signs.
And Barraco said, "Signs could help, I don't think it would hurt.
Another hiker, Chris Farmer, said, "I don't know so much as that as they should. I mean, obviously the terrain is rugged. They should look at it and say, 'Hey this is dangerous.'"
Deputy Christiansen agrees. Common sense above all. He doesn't think people would pay attention to warning signs. However, a member of the Forest Service who we ran into feels additional signs should be considered after these two accidents, one of them fatal.
E-mail: wjohnson@ksl.com
gkennedy@ksl.com
×
Most recent Utah stories