Estimated read time: 4-5 minutes
This archived news story is available only for your personal, non-commercial use. Information in the story may be outdated or superseded by additional information. Reading or replaying the story in its archived form does not constitute a republication of the story.
SALT LAKE CITY — It's the most wonderful time of the year, n00bs.
No, it's not technically a holiday and no, this season isn't marked by gift-giving. It is, however, accompanied by the scent of cream-based face paint and wonderflex foam.
It's 2015 Salt Lake Comic Con.
Whether you're a hard-core comic mega fan or a voyeur attending for the people-watching, there's something at Salt Lake Comic Con for everyone. In between panels and contests, be sure to make your way over to Artists' Alley at the south end of the expo and check out these four exceptional Utah-based artists: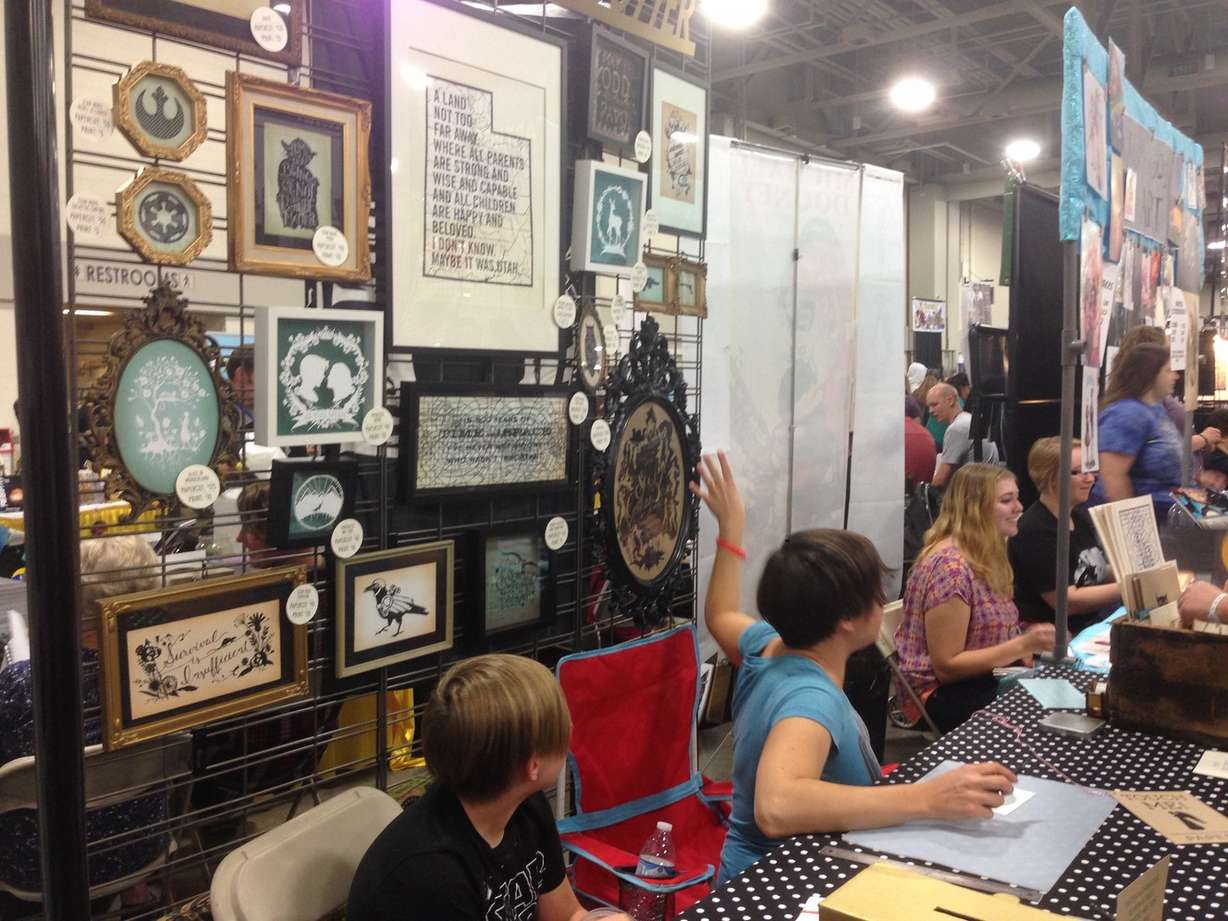 Cindy Bean is a Salt Lake artist who has been designing for 15 years and paper cutting for seven, according to her blog. Bean's painstaking paper-cut artwork is on display at Comic Con for the first time, showcasing art appealing to Star Wars, Whovian and off-beat art fans alike.
Bean said she brought a total of 20 pieces to the convention, 10 of which were made specifically for the Comic Con demographic. Her work is delicate and elegant and would fit into the dcor of any hipster with an affinity for the subculture.
Stop by the Bean Cutter booth and get a taste of her artistic process. If you're lucky, you'll get to see Bean in action, creating pieces that can take anywhere from a handful of afternoon hours to a full 30-plus hours of artistic love.
Bean's work is available at her booth both as original papercut as well as in print form, making it more affordable. Prices run from $5 prints all the way up to $300 hand-cut masterpieces. Her art is also available through Etsy and Society 6.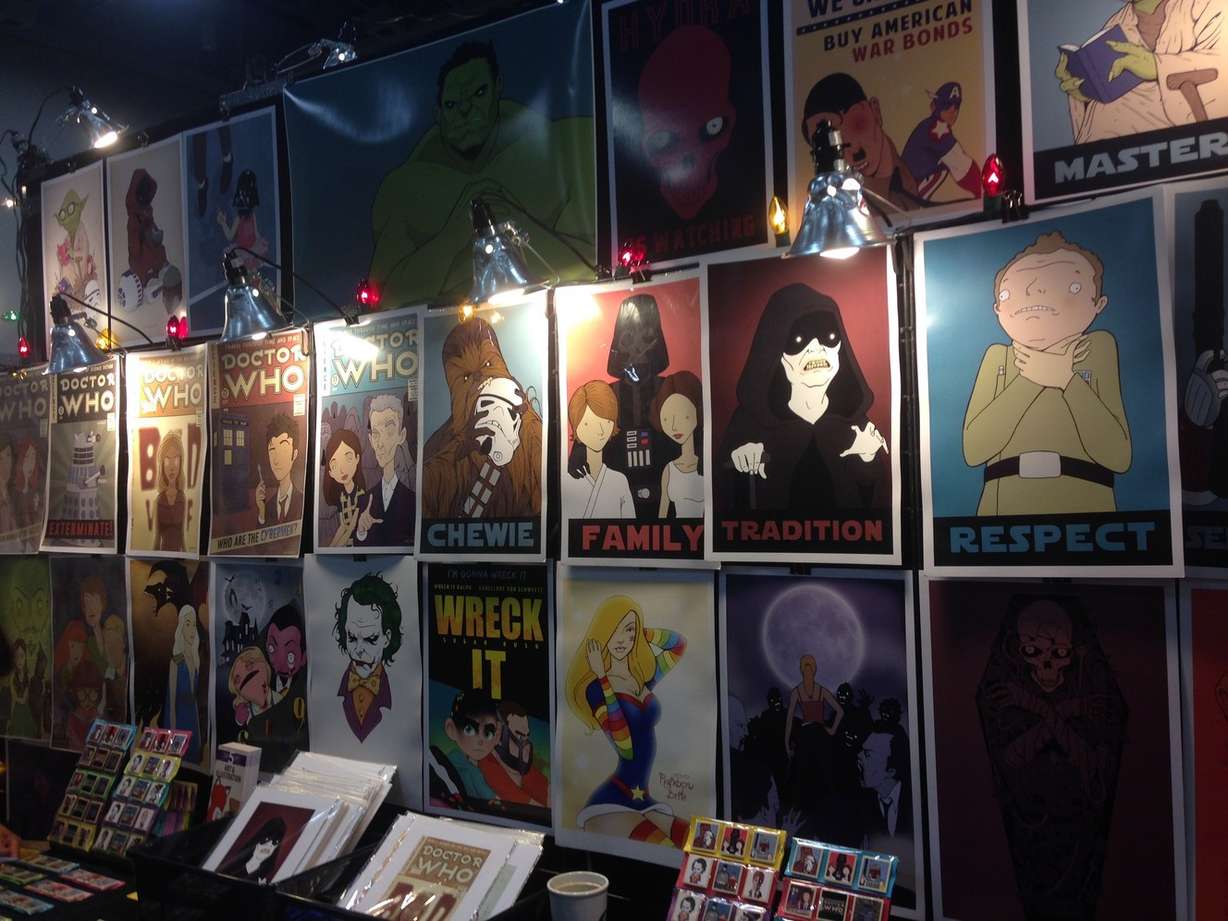 Chris Bodily is an artist from Ogden, Utah, whose illustrations turn classic characters on their heads in a graphic and endearing way. Bodily is no Comic Con newbie, having showcased his work at each Comic Con since its Salt Lake inception.
Whether you want a three-pack of magnets, a poster or numbered limited editions, Bodily's playful illustrations are frame-worthy depictions of your favorite comic characters and sci-fi movie protagonists.
According to Christian Coleman, who was at the convention representing Bodily's work, Bodily created a slew of new work specifically for this week's event, including playful takes on the Marvel universe and Star Wars characters as you've never seen them before. Bodily's work is striking and was drawing in Comic Con fans from all over the floor.
Bodily's work recently won the People's Choice Award at the Utah Arts Fest. His art can be seen and purchased at all manner of farmers markets and festivals across the Western United States, at The Hive Gallery and online.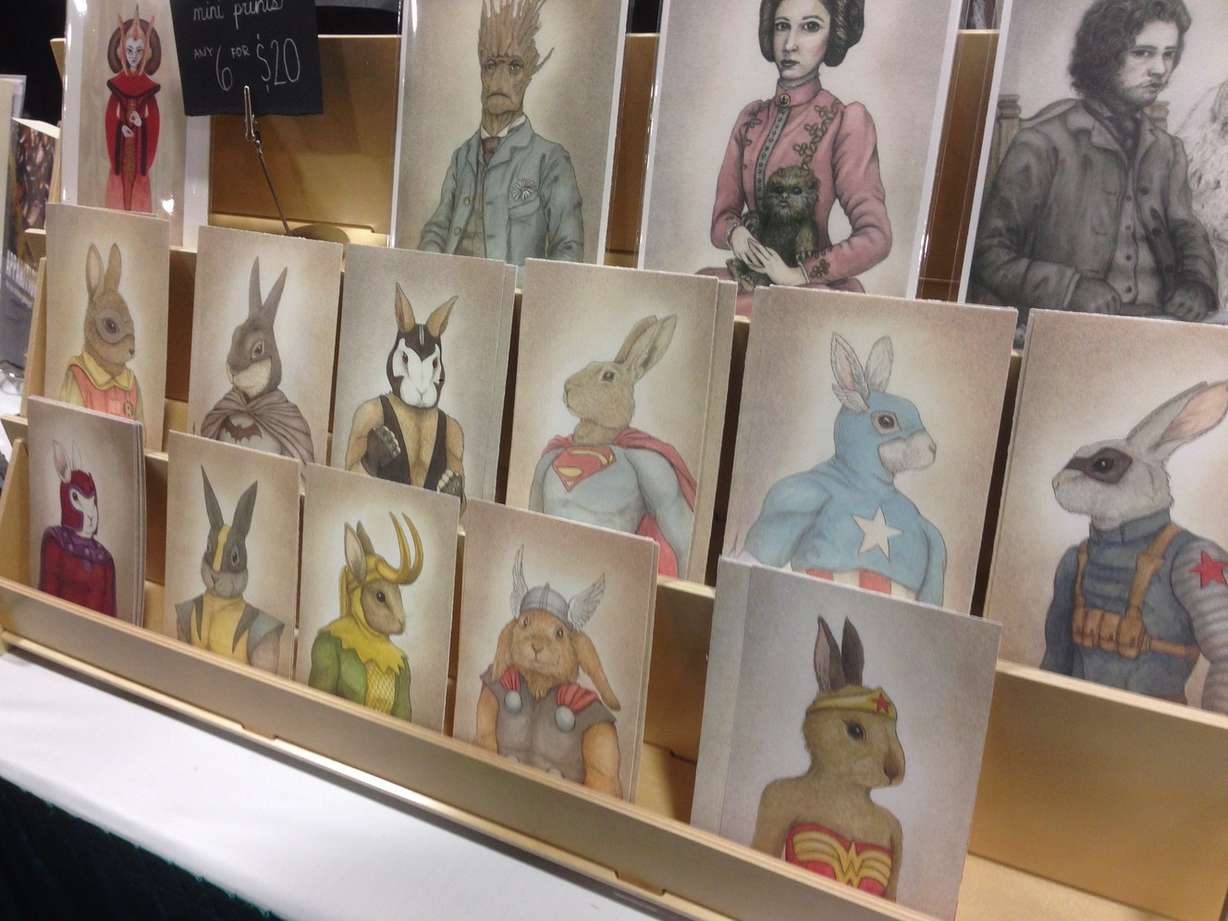 Another Salt Lake Comic Con vet, Candace Jean displayed Victorian-era inspired work done in watercolor and pencil that is whimsical and stylish. Jean said she first created Comic Con-oriented pieces when she did a series of cosplay rabbit portraits, featuring the likes of Captain America, Superman, Thor and Wolverine reimaged as hares. Yes, they are as great as they sound.
Jean also showcased other fantasy/comic-based portraiture, with depictions of Jon Snow (and Ghost) and Groot posing soberly for their illustrations. The former was printed specifically in preparation for Comic Con.
Jean said she finds that the crowd looks for fan-art as well as traditional pieces, and she is showcasing a selection of work that will appeal to both the full-on Harley Quinns of the convention as well as the cool dad accompanying his 12-year-old to the Sean Astin panel. Jean's work is also available at her website.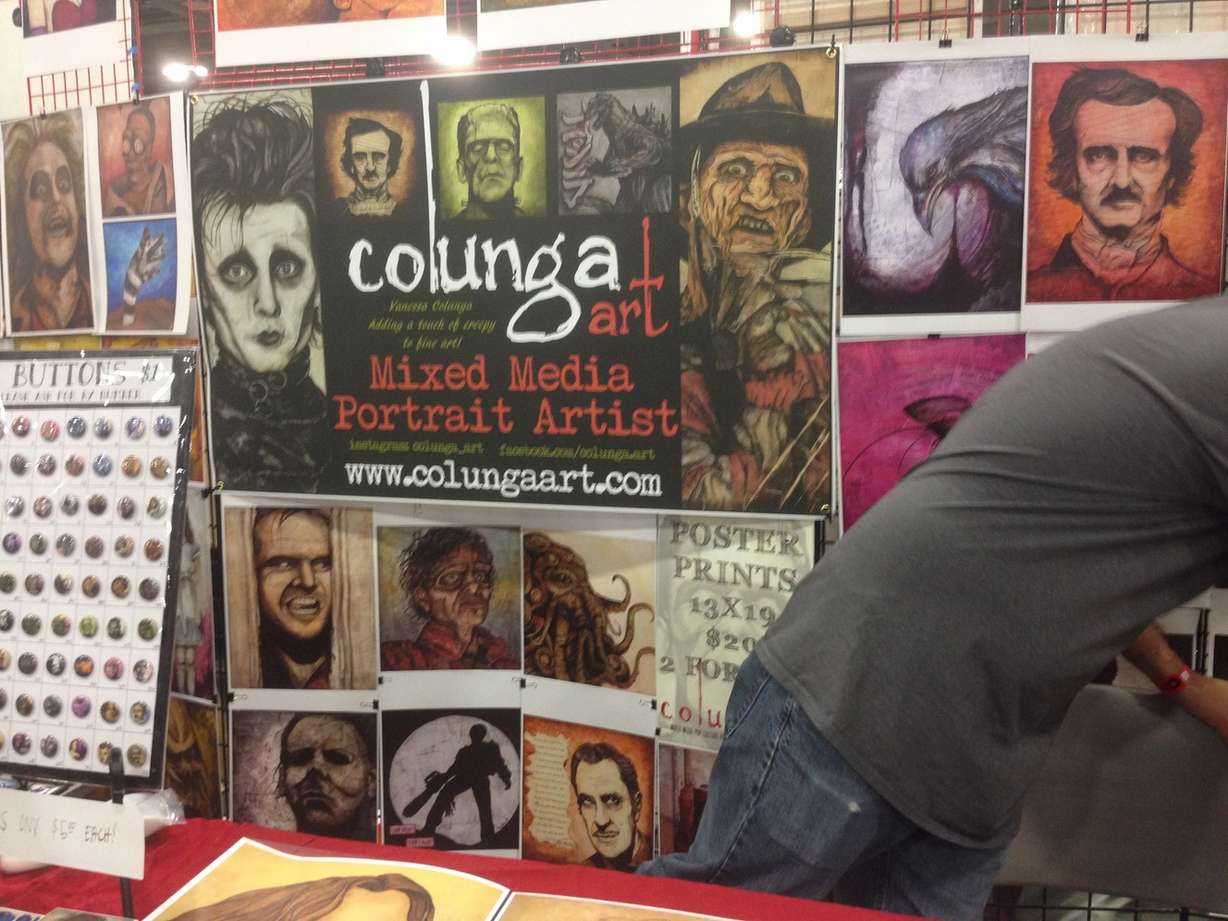 A proud Ogdenite, Vanessa Colunga is making her Comic Con debut at Artists' Alley. Colunga is a mixed media portrait and fine artist who brought a whole array of goodies for the Comic Con crowd, selling everything from buttons to coasters, trading cards and hand-painted pieces.
Colunga's work is darker in tone than some of the other artists, and has an affinity for horror movie subject matter. She said her favorite piece is a 'Bride of Frankenstein' portrait that was originally 3 feet wide before being made into a very striking print. Some of the portraits she made in preparation for the event included Linda Blair (who is appearing at Salt Lake Comic Con), Bill Nye and Tesla.
Colunga's work is currently on display at Pandemonium Art Gallery on 25th Street in Ogden and on her website.
Salt Lake Comic Con will run through Saturday at the Salt Palace Convention Center. Tickets are still on sale, and you can buy a pass that covers the entire weekend or you can choose single dates a la carte.
Attending the convention? Add your photos to the gallery through the iWitness button at the bottom of the article.
Related Story
×
Photos
Related links
Most recent Utah stories