This archived news story is available only for your personal, non-commercial use. Information in the story may be outdated or superseded by additional information. Reading or replaying the story in its archived form does not constitute a republication of the story.
SALT LAKE CITY — When Rob Landes was a young boy crying during particularly difficult music lessons, he couldn't know where his hard work and perseverance would lead him, but he certainly credits that hard work with where he is today.
Landes, 30, recently hit two milestones on his rising path. With the help of seven original videos, the Orem native recently surpassed 2 million views on YouTube, and he took home the award for Best Instrumental Video at the 2015 Utah Music Awards for his collaboration with pianist Aubry Pitcher and their one-take cover of Leonard Cohen's "Hallelujah."
Landes is a classically trained violinist who started learning on a tiny violin as a 3-year-old. After much hard work and hours upon hours of dedication in his youth, the hard work only continued. He attended Brigham Young University, graduating as a music performance major, then attended graduate school at Rice University in Houston.
It was at Rice where Landes fell in love with covering pop and rock songs within a classical framework while he was a member of a double quartet (four violins, two violas, two cellos).
"We worked really hard on doing covers of Metallica, older rock stuff and newer rock and pop stuff, and that's when I really first started loving doing that type of music," Landes said.
While he loved covering recognizable songs, an experience playing street side in Las Vegas told him he needed to push himself even further to find his niche. As he played only his violin that day, no one seemed interested in what he was doing. Dejected, he was packing up to leave when he saw another violinist with an amp. The duo improvised "Radioactive" by Imagine Dragons, which garnered a huge response.
So Landes decided to add a new element to his covers, and six months ago he started playing cover songs with a looper pedal. The pedal allows him to stack percussive sounds and melodies of the cover songs — all of which he arranges himself. He records and stacks each element on top of one another in the moment to achieve all the layers in a song without a band.
"There are other violinists, there are other musicians that use (a looper pedal), but I don't think it's gotten really, really big. Especially not with the intricate and complex arrangements of this rock and pop music that I do," Landes said. "I haven't seen much of that out there, which is one reason I'm so excited about this. And a lot of times people say they haven't seen anything like this before."
Playing with a looper pedal can be tricky, so Landes practices as much as he can at home and plays as many live shows as possible in Salt Lake and Utah counties.
"It's kind of like another instrument that I have to learn how to use," Landes said. "With live performances, if you're off even a little bit when you record yourself — if you're either a little bit late or early — that loops over and over again. It sounds like you're either missing a beat or a half a beat, and it's going to drive you crazy, and the audience isn't going to feel like it's the real music they're used to."
Landes said putting in the time to get it just right is worth it to make his live performances sound as close as possible to what his fans see and hear on his YouTube channel.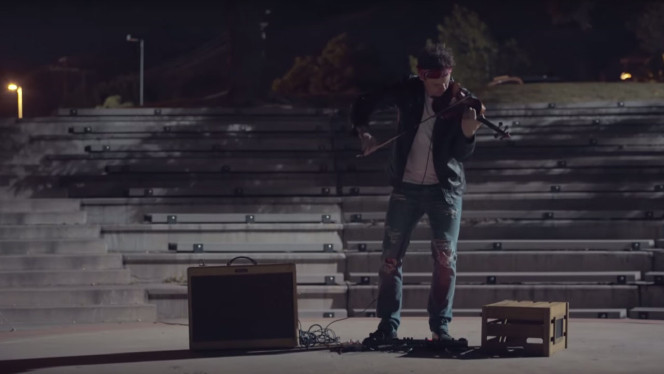 Rob Landes
If this sounds like a lot of hard work, it is, but Landes said that's what directly contributed to who he is as a musician, stating many don't understand how much work it takes day to day.
"This sounds totally cliché, but things that are worth a lot usually take a lot of work. So I may or may not have been given something that other people weren't, but I really think there's a lot that people can do with the right training and a lot of discipline," Landes said. "Don't just look at somebody and go, 'Oh, they were just blessed, and they were just given that thing, and why wasn't I lucky enough?' It takes a lot of work."
Landes' most recent video is a cover for the 25th anniversary of AC/DC's "Thunderstruck," which has garnered almost 18,000 views in a week. The cover is so true to AC/DC that Landes even got shut down by the police while recording the video. (Three noise complaints at 11 p.m. will do that, but the officer was very nice about it, Landes said.)
He is planning a release party in October for his next "Hunger Games" inspired video, which he recorded with pianist Jason Black. Details about this event and other shows Landes plays will be announced on his Facebook page.
×
Related Links
Related Stories