This archived news story is available only for your personal, non-commercial use. Information in the story may be outdated or superseded by additional information. Reading or replaying the story in its archived form does not constitute a republication of the story.
DRAPER — Corner Canyon running back Cameron Forte was getting a lot of interest from colleges entering his senior year.
After a serious injury changed his perspective by forcing him to watch from the sidelines after the first week of the year, he hopes to spread awareness about how dangerous a broken femur can be.
"I was excited for my senior year. I was the starting running back, playing a little linebacker, and then also starting at punter," Forte said. "My whole life has been built up for this year. Since Little League, you always talk about your senior year."
Forte said practices were great, and the Chargers were looking forward to a special season in Region 7.
"We were putting in work," Forte said. "I was expecting a good season.
"But then life just throws some curves at you and you have to take them."
The biggest curve came on a particularly brutal hit during Corner Canyon's opener against Pleasant Grove. It was a play that would change the course of his senior season, one in which he was fighting for offers from the likes of Utah, Utah State and Stanford.
"I knew when I got hit that something happened," Forte said. "I was in pain, and then they took me to the sidelines and I was sure I had broke my femur."
Corner Canyon coach Don Eck was stunned.
"I've never seen anything like that in 32 years of coaching," he said. "I've never seen a femur break on a football field."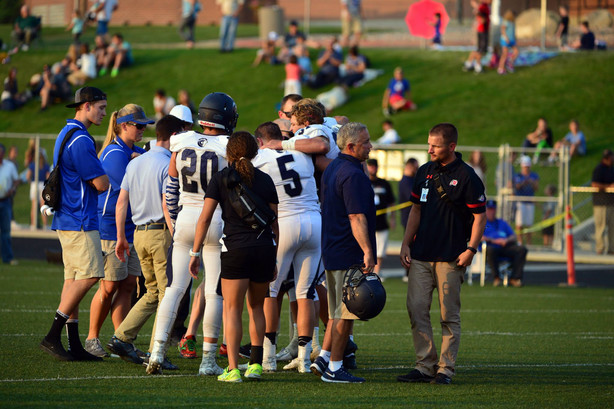 Eck isn't the only one who has never seen such an injury.
"It takes a massive amount of force to break a femur," said Dr. Nicholas Monson of Davis Orthopedics and Sports Medicine in Layton. "It's not the most common injury that we see."
Monson is an orthopedic surgeon who specializes in osteopathics and sports medicine.
"One of the biggest risks of a femur fracture is that you can lose a massive amount of blood in a quick fashion," he said. "The best thing that you can do is to immobilize him and stop it from moving further."
Cameron's father puts it in simple terms.
"He should've been boarded and brought off (the field)," said R.J. Forte, who was on the sideline taking photos when the injury occurred. "This could've been far more tragic; it could've been devastating.
"The people I've talked to who are medical were in shock. They said he should've been boarded and brought out, or he could have bled out. It's 10 minutes, and he's done. I don't think anyone had a clue."
The Fortes want to share their son's story to spread awareness about how to identify this type of injury and how to treat it when it happens on the football field.
"This is serious," R.J. Forte said. "Err on the side of caution, and I don't think that happened."
It didn't take long for the staff at Corner Canyon to recognize and re-evaluate how they handled the situation, and there's hope that other schools will learn from the situation.
"There was discussion Saturday morning," said coach Eck. "We talked to our trainers who we co-op with at the University of Utah and through the school district.
Related Story
"If there is any doubt, put the kid on a cart. There were some things that didn't go exactly the way they should've gone Friday night. Our trainers listened to Pleasant Grove's team doctor, and we probably should've carted the kid off the field and not carried him off like we did."
Everything isn't lost for Cameron Forte. Recovery will take about eight weeks, and if all goes well he could return for the Chargers' regular season finale Oct. 23 against rival Alta.
When he gets back to football, he will do so with a different perspective.
"There are other things than sports," he said. "Injuries happen, and you always have to have a Plan B. Priorities change. Education, families, friends; they all come into play.
"I love the sport; it was my life. But things happen, and everything happens for a reason. I really believe that."
×
Photos
Related Stories