This archived news story is available only for your personal, non-commercial use. Information in the story may be outdated or superseded by additional information. Reading or replaying the story in its archived form does not constitute a republication of the story.
NANA AND POP POP'S HOUSE — The end of the summer has been weak at the theater this year. There have been some really pleasant surprises like "The Man From U.N.C.L.E." and some real disasters like "Fantastic 4." But one movie people have been curious about more than looking forward to is possibly M. Night Shyamalan's "The Visit."
Shyamalan is loved and hated by audiences and some have been praying for him to just disappear from Hollywood, and others have been patiently waiting for him to return to his former glory.
There has been a fair amount of buzz surrounding "The Visit" with many calling it Shyamalan's return to form. So, is the polarizing director back? Or is this another disappointing film from a talented filmmaker?
I'm not sure I'd call it a return to form as much as I'd call it an exciting evolution.
"The Visit" is 90 minutes of laughs thrills and a few heart-touching moments. I found myself smiling nearly start to finish whether it be from laughing at the absurdity of it all or the spot-on performances from the characters. I was also smiling because Shyamalan got me to jump so much that I can't control my grin.
Here are a few reasons "The Visit" is a great little flick and why we should be excited Shyamalan is back on his game.
Funny
Humor is nothing new for Shyamalan films. One of his best films, "Signs," has some near laugh-out-loud moments and the subtle humor in "The Village," is enough to keep the movie going.
"The Visit," on the other hand, dances the line between horror and comedy incredibly well. I found myself laughing out loud at times and realized the theater was joining me.
The premise of the film is a bit ridiculous to begin with, but Shyamalan doesn't take it too seriously, so the comedy is pretty effortless and refreshing. The jokes come at stellar moments as they break the tension that's been built and gets viewers through another few minutes of clinching our fists waiting for the next scare.
Scary
Shyamalan said he made three cuts of "The Visit." One was a pure comedy, another strictly horror and the final was something that fell in between. What ended up on the screen was the latter.
As I mentioned, this is a pretty funny film, but it has equal parts screams as laughs.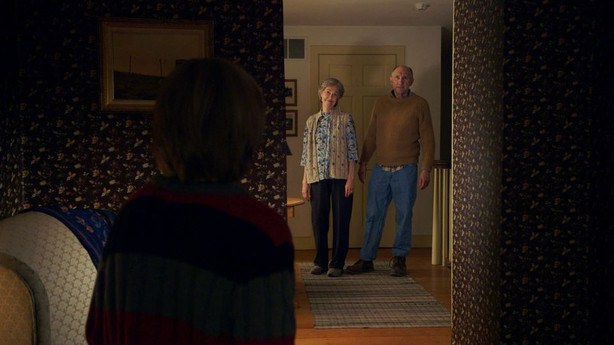 We all knew that Shyamalan could give us a jump, and he does it expertly here. You even know some of them are coming, but it's like a classic Jack in the Box. You know it's going to pop out at you any second, but no matter how prepared you are you jump every time. That's how this film felt.
Every scene was a slow build up like you were turning that lever on the Jack in the Box inching closer and closer to the surprise, and your body tenses waiting for the moment. Then Shyamalan hits you with that clown popping out of the box and you find yourself cursing under your breath as you try to relax your muscles.
The cast, especially Ed Oxenbould
The cast is primarily just four people with one extra playing a supporting role. All five players are perfect in their roles. The grandparents are the perfect amount of loving and crazy, the mom, Kathryn Hahn, is the fantastic as the laid back yet protective mother, and the two kids make the whole movie worth it.
The older sister Becca, played by Olivia DeJonge, is spot-on as an aspiring documentary filmmaker and prototypical older sister. Her younger brother annoys her, but she also loves him and does whatever she has to to keep him safe.
The real star of the movie is clear, however, and that's Ed Oxenbould. Viewers will recognize Oxenbould as Alexander from the incredibly entertaining "Alexander and the Terrible, Horrible, No Good, Very Bad Day." In "The Visit," Oxenbould has a magnetizing charisma and presence. You can't help but keep your eyes on him whenever he's on screen and long for his character when he's not.
His humor and timing are that of a seasoned pro and his dramatic moments deliver as effectively as his lighter ones.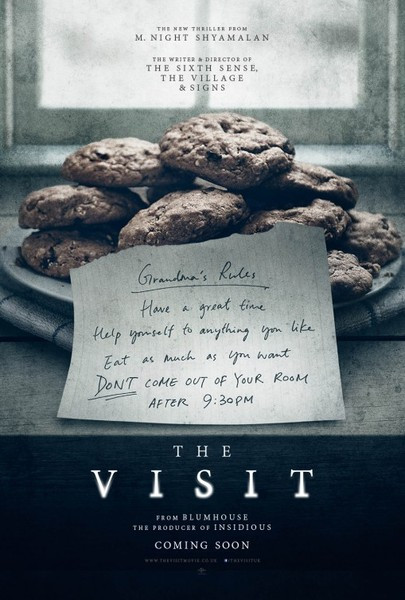 Oxenbould caught the eye of many audiences as Alexander, but "The Visit" will be his star-making role.
The script
Shyamalan had some missteps with "The Happening" and "The Last Airbender" when it came to writing. Let's not forget, however, that this is the same man who gave us juggernaut scripts like "Unbreakable" and the phenomenal "The Sixth Sense."
Shyamalan does know how to craft an expert script with great characters, interesting plot points, strong development and his classic surprise twist. All are present to one level or another in "The Visit."
The character development is intriguing and the set ups match the eventual pay offs. Is there a twist? Kind of. I wouldn't call it a twist in the classic sense, but it is a reveal that we knew was eventually coming.
We know that something isn't right, and we spend most of the movie wanting to know what is really wrong with Nana and Pop Pop. Some may figure out the "twist" before it comes, but that still doesn't make the journey any less enjoyable.
Conclusion
"The Visit" is a fun movie that will kick off the scary-movie season with a bang. Those who like Shyamalan's earlier works and have been waiting for his comeback this is for you. If you've never liked Shyamalan much, but you do enjoy a fun scary movie, then you'll likely enjoy this. If you don't like Shyamalan or scary movies then you're not going to enjoy a trip to the theater for "The Visit."
This movie may not be everyone's cup of tea, but "The Visit" truly has me excited what Shyamalan gives us next.
"The Visit" is rated PG-13 and is definitely for an older crowd.
---
![](http://media.bonnint.net/slc/2540/254022/25402278\.jpg?filter=ksl/65x65")

About the Author: John Clyde ----------------------------

John has been writing about movies, news, sports and pretty much anything awesome for more than five years. John is the co-host of the Flix Junkies podcast and will always entertain you with his stories.

×
Photos