Estimated read time: 4-5 minutes
This archived news story is available only for your personal, non-commercial use. Information in the story may be outdated or superseded by additional information. Reading or replaying the story in its archived form does not constitute a republication of the story.
BOISE, Idaho — Friday night the spotlight was on Chris Peterson and his return to the school he made a national powerhouse. His team couldn't pull it out in the end with a 16-13 loss to Boise State.
The Broncos were led by running back Jeremy McNichols, who finished with 89 yards rushing and two first-half touchdowns. The Broncos added a field goal to go into half time, with a 16-0 lead over the visiting Huskies.
Boise State was looking to blow out Peterson's Huskies in the second half and to send another strong message to football nation.
Washington hit a field goal with three minutes left in the third quarter to cut the lead to 16-3. The following broncos drive ended in a punt and an incredible 76-yard punt return for a touchdown from Dante Pettis. The Huskies offense, and overall morale, needed Pettis' return to jump-start both sides of the ball.
Boise couldn't get anything going offensively in the fourth quarter. The Huskies' defense forced punt after punt, giving their offense opportunities to pull it out. Washington added a field goal with seven minutes to go, cutting the lead to 16-13. Boise couldn't run out the clock, giving the Huskies another shot.
Washington got the ball within field goal range with 21 seconds to go. Boise State called a timeout to ice the kicker, and it worked. Cameron Van Winkle's 46-yard attempt when wide right, spoiling Peterson's return.
The Broncos will have to play better next week against BYU.
Here are the rest of the Mountain West scores this weekend: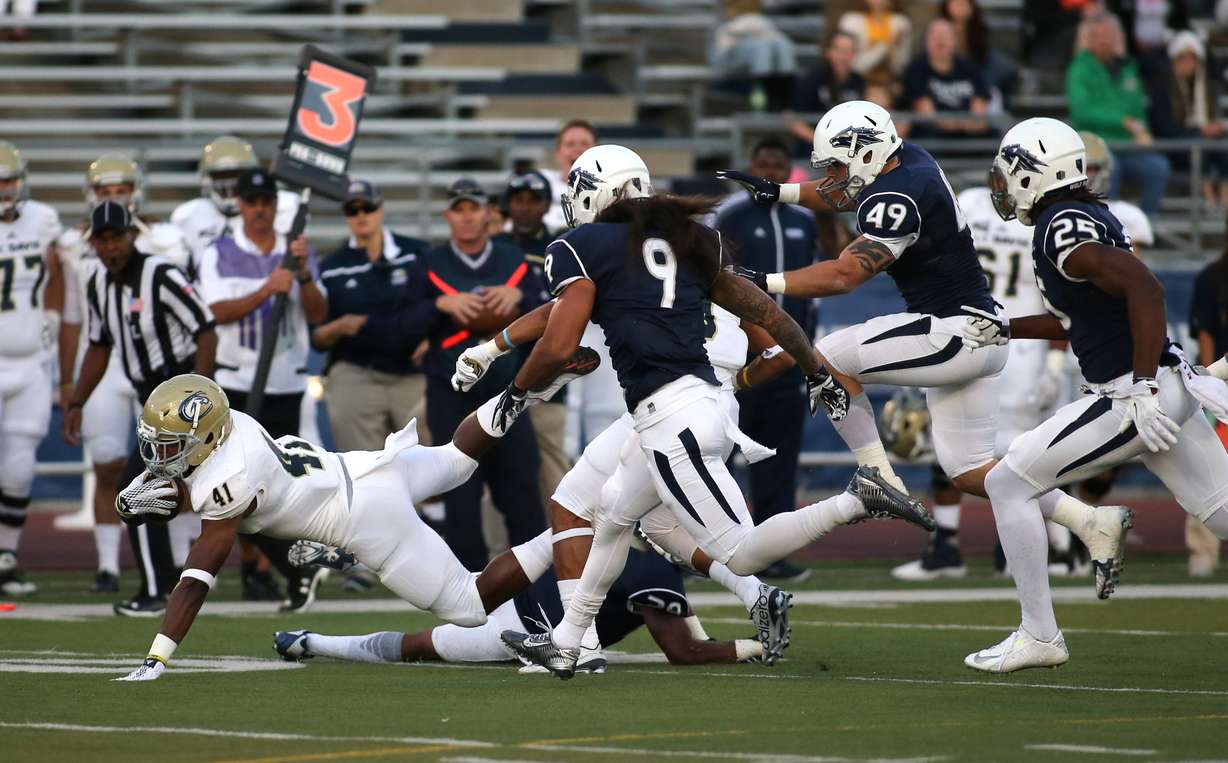 Nevada 31, UC Davis 17
Led by Don Jackson's 124 rushing yards and two touchdowns, Nevada won their home opener over UC Davis.
Quarterback Tyler Stewart played well, throwing for 163 yards and a touchdown. Stewart also rushed for 43 yards and a touchdown. His numbers don't jump off the page, but he played well enough to get the victory.
San Jose State 43, New Hampshire 13
Tyler Ervin was dominant in San Jose State's victory Thursday night. Ervin had 20 rushes for 127 yards and three touchdowns. Quarterback Joe Gray threw for 253 yards and a touchdown.
The San Jose State offense accounted for 707 total yards. The offense looks good, and the Spartans could be a sneaky good team in the Mountain West.
Fresno State 34, Abilene Christian 13
Fresno State's offense was electric. Quarterback Zack Greenlee threw three touchdowns, running back Marteze Waller ran for 154 yards and wide receiver Josiah Blandin finished with 71 yards and a touchdown.
The Fresno defense came up with two interceptions, one by Ejiro Ederaine and the other by Jeff Camilli.
Hawaii 28, Colorado 20
Hawaii's victory over Colorado was the Mountain West's second victory over the Pac-12 from the weekend.
Max Wittek played well in his season debut, throwing for 202 yards and three touchdowns. Receiver Marcus Kamp had 116 receiving yards and a touchdown to dominate the Colorado secondary.
Air Force 63, Morgan State 7
The Air Force running game was in full attack mode Saturday. The Falcons ran for 394 yards and five touchdowns, led by D.J. Johnson with 82 yards and a touchdown.
The running game will be the dominant factor all season. Quarterback Nate Romine threw seven total passes and only completed four of them for 119 yards and two touchdowns.
Colorado State 65, Savannah State 13
Nick Stevens played well in his first career start, throwing for 289 yards and five touchdowns.
It was a balanced attack from what is expected to be one of the top teams in the Mountain West.
North Dakota 24, Wyoming 13
North Dakota running back John Santiago ran for 148 yards and two touchdowns in their dominating victory over the Cowboys. The Cowboys tried to come back from their 24-0 deficit by scoring two touchdowns in the fourth.
The one highlight for Wyoming was wide receiver Tanner Gentry, who caught nine passes for 176 yards and a touchdown. Wyoming will need to show improvement offensively if they are to compete in the Mountain West.
Northern Illinois 38, UNLV 30
UNLV led 17-3 before the Northern Illinois offense took control in the second half of the Rebels' first game under new head coach Tony Sanchez. UNI quarterback Drew Hare threw for 360 yards and two touchdowns in the comeback victory.
UNLV was led by quarterback Blake Decker, who threw for 319 yards and two touchdowns. UNLV receiver Devonte Boyd played well, finishing with 107 yards and a touchdown.
San Diego State 37, San Diego 3
San Diego State's defense was on point in their opener against San Diego. The Aztecs had a total of five interceptions, returning two of them for touchdowns.
Rashaad Penny returned a kickoff of 97 yards for a touchdown.
The Aztecs looked just as dominant as advertised. They are expected to be one of the competing powers in the Mountain West.
New Mexico 66, Mississippi Valley State 0
New Mexico ran for a school and Mountain West Conference record eight touchdowns in shutout fashion over Mississippi Valley. The Lobos ran for a total of 360 yards. Nathan Harker is a sports writing intern currently enrolled at Brigham Young University majoring in broadcast journalism. Nathan can be reached at nathan.harker32@gmail.com or via Twitter @nharker3207.
×
Most recent Sports stories