Estimated read time: 3-4 minutes
This archived news story is available only for your personal, non-commercial use. Information in the story may be outdated or superseded by additional information. Reading or replaying the story in its archived form does not constitute a republication of the story.
SALT LAKE CITY — The company that runs Ashley Madison said in a new statement Monday that the cheating website is "growing," despite the recent hack that put as many as 37 million of its members at risk.
"This past week alone, hundreds of thousands of new users signed up for the Ashley Madison platform – including 87,596 women," the statement from Avid Life Media read.
The statement also noted that the site has "customers in nearly every zip code in the United States, as well as users in more than 50 countries around the world."
But problems for the site's users likely aren't over, according to Orem-based Decipher Forensics lead examiner Richard Hickman.
Utahns on Ashley Madison
Through his own analysis, Hickman said the hack revealed 150,365 registered accounts that were supposedly based in Utah — a number that includes both paying and non-paying members.
Hickman told KSL those accounts had amassed over several years and may not reflect how many active users are currently in the state. He also said the Ashley Madison site appeared not to do much to verify the individual accounts – particularly if they were non-paying accounts.
The numbers showed a distribution throughout Utah, with 41,773 accounts claiming Salt Lake City as home; 10,865 account users said they were from Ogden; 6,210 from Sandy; 6,166 from West Jordan; 6,086 from Provo; 5,076 from Orem; and 3,915 from Saint George. Payson had 789 user accounts, according to the data. Morgan recorded 229 accounts.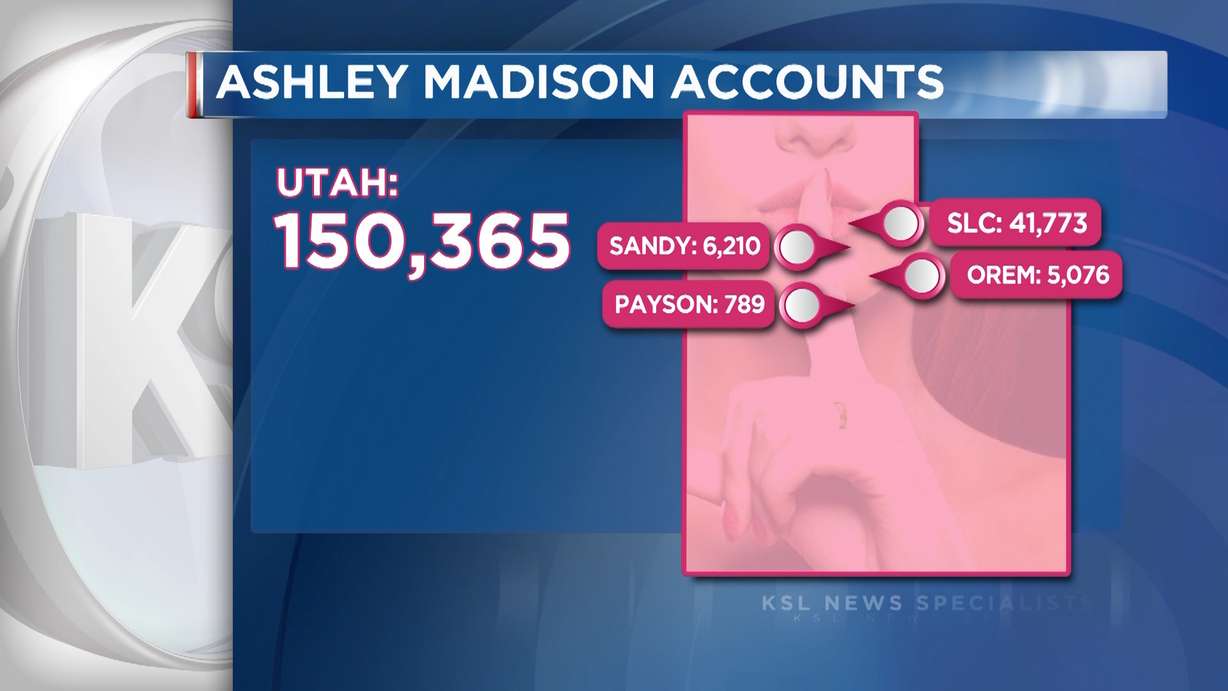 Still, Hickman said it appeared users could claim whatever locations they wanted – which accounted for 24 different spelling variations for Salt Lake City and four different variations for West Valley City. One account claimed "Somewhere Out There" as a hometown.
Many accounts, Hickman said, linked to company, state government and university websites.
"Some of those were very, very surprising," he said. "I couldn't believe it."
Problems to come
His purpose for analyzing the data was for research and to perhaps gain clues to what scams may be on the horizon. He said he expected scammers to target hacked users.
"People are going to be creating phishing emails," Hickman said. "It instead downloads a virus to a computer that then gives [the hacker] full access."
Hickman suggested Ashley Madison users may also be more susceptible to blackmail because of the secrets the site contained.
---
Your information is never safe anywhere. Never, ever think that you're anonymous online.
–Richard Hickman, Decipher Forensics
---
"Your deep, dark desire-kind-of-things," he said. "If you're a paying customer, that shows you were even more interested and took a further step into it."
Hickman said the Ashley Madison hack shows why it's important for companies — large and small — to be proactive and regularly monitor the security of their networks.
The forensics examiner said he's heard from several small companies that say hackers won't go after them because they don't have anything of value. In those cases, companies still had human resource-type records that could contain Social Security numbers and other private information belonging to their employees.
For Internet and social media users, Hickman offered a more simple caution.
"Your information is never safe anywhere. Never, ever think that you're anonymous online," he said. "You should have the mindset that if you put it on the Internet, anybody is going to see it."
×
Photos
Related links
Related stories
Most recent Utah stories