Estimated read time: 4-5 minutes
This archived news story is available only for your personal, non-commercial use. Information in the story may be outdated or superseded by additional information. Reading or replaying the story in its archived form does not constitute a republication of the story.
SALT LAKE CITY — For Larissa, Bethany and Katelyn Anderson, the world was a quiet place; lips moved in silence. But just over three weeks ago, the sisters underwent surgery at Primary Children's Hospital to receive cochlear implants.
All three sisters were born with hearing loss from a condition that makes the cochlea prone to damage. Bethany and Katelyn's was more severe, until recently when Larissa's hearing worsened too.
"A couple of months ago, I lost all the hearing in my right ear," said Larissa Anderson, age 17, who documented her journey on YouTube. "It's just gone. This made it hard to hold a conversation properly. I couldn't listen in class."
Despite their profound hearing loss, the girls have done remarkably well, their parents said, and are all attending mainstream schools. They each wear hearing aids and are good at reading lips, they said.
"Honestly, our kids are pretty amazing," said Julie Anderson, the girls' mother. Carl Anderson, their father, chimed in, "They've just done a really good job of being able to adjust to things."
Because of the sisters' resourcefulness, their parents envision a life without limits for their daughters. Larissa loves to sing and play the ukulele — talents that could be developed further with better hearing. That's why they each decided to have a surgeon put in cochlear implants.
Prior to the surgery, Larissa used her dad's smartphone to record video of herself wearing a hospital gown and smiling for the camera while and holding a stuffed animal.
"We just got to the hospital," she says. "This is Mr. Sheep."
"Right now it's feeling a lot more real," Carl said while waiting for the surgeries to be completed. "Over the past several months, we've talked about (the implants) almost as a theoretical discussion, 'Oh, it's this nice thing we're thinking about.' Now, it's setting in."
"So, Katelyn's in surgery now and we're just waiting," Larissa told her YouTube fans.
The implant looks like a snail's shell. A part of the cochlear implant coils inside the ear while another piece rests on the skull underneath the skin.
---
With the implants we bypass all of those components and we go from acoustic energy coming in to electrical energy coming out.
–Michael Page, audiologist
---
The sisters all need MRIs, which were not possible with earlier versions of the cochlear implants. The new version the girls received can withstand the powerful magnets used in imaging.
Hearing is the body's most complex sense, audiologists say. The girls have to heal, and re-learn how to hear. The new sound will be electrical impulses, not sound waves.
"With the implants we bypass all of those components and we go from acoustic energy coming in to electrical energy coming out," said Michael Page, an audiologist at Primary Children's Hospital.
The surgery took about two and half hours for each girl. Katelyn, the youngest of the sisters, woke first from surgery, then Bethany, and finally Larissa.
Then, the healing began.
Weeks later, 15-year-old Bethany mugged for the YouTube camera because Larissa had suffered dizzy spells. "Katelyn and I, we have almost completely recovered. Larissa on the other hand?"
"I feel like death," Larissa said on YouTube.
Bethany added, "We get activated the day after the first day of school."
Days passed, and Larissa finally felt better. She joined her sisters as they met with audiologists on Aug. 20 to test the volume on their cochlear implants. A series of beeps and clicks followed. Then, the moment of truth.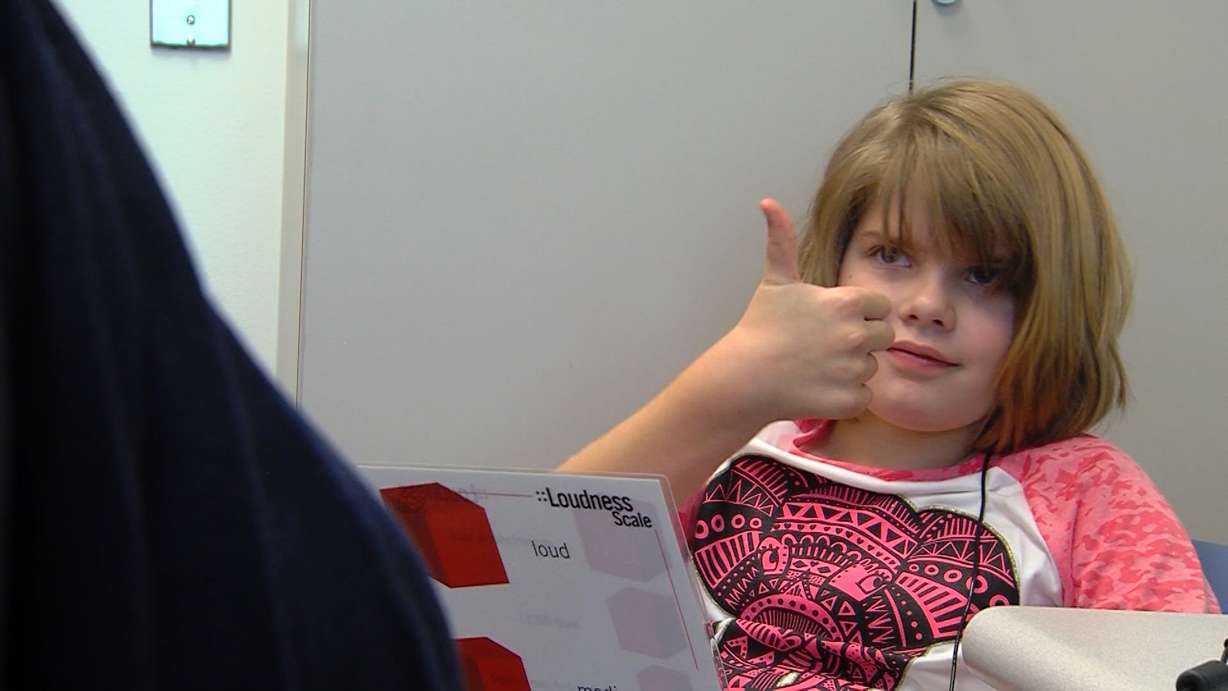 When the audiologist asked if she could hear anything, Larissa answered, "Yeah." But she said it sounded strange at first, tough to describe, robotic. But that was normal, doctors said. They expected it would take time to adjust.
"Eventually, with time, it usually becomes very, very natural," Page said.
Then, it was 9-year-old Katelyn's turn. The audiologist asked how she was feeling. "You'd have to be crazy to not see I'm excited," said Katelyn.
Katelyn gave the thumbs up, but it soon became clear that re-learning how to hear would be a process for everyone.
"It takes time also for the brain to adapt to this new signal," Page said.
For these sisters the world isn't so quiet anymore. Lips no longer move in silence. As the fine tuning continues, Larissa sings.
Related Story
×
Photos
Related Links
Related Stories