Estimated read time: 4-5 minutes
This archived news story is available only for your personal, non-commercial use. Information in the story may be outdated or superseded by additional information. Reading or replaying the story in its archived form does not constitute a republication of the story.
SPANISH FORK — From the moment they called police Friday, family members of William Evans believe they had no option to help the scared and suicidal man.
"We called the police for help and they shot him," Deborah Evans, the Spanish Fork man's mother, said as she met with her family Sunday.
Loved ones knew him as "Willie," a tender-hearted man who fell into an addictive cycle early in his life and whose psychological demons had only recently been diagnosed as paranoid schizophrenia. He was shot and killed Friday in a confrontation with a Spanish Fork police officer after family members reported to police that he had threatened to hurt himself.
Though his siblings smiled and laughed Sunday at a countless number of happy stories from Willie Evans' life, brother Russell Evans voiced frustration at the apparent ultimatum he faced when it became clear their brother was in danger: If he didn't call police, there might not be a way to keep his brother from hurting himself. If he did call police, Willie Evans, a convicted felon prohibited from possessing a gun, would end up behind bars on new charges.
"It was like, 'Am I going to send my brother to prison for 10 years, or am I going to hope he doesn't kill himself?'" Russell Evans said Sunday. "I just wish there was a law that said, if there is a wellness check and (police) see that he's got a gun, they could write it off and say, 'We're here to save you, we're not here to mess you up more.'"
"I didn't have any options," Russell Evans said.
The family chose to call police, asking them to check on Willie Evans and advising them of his mental illness and the possibility he was carrying a gun loaded with blue-tipped pest control rounds. Within an hour, the man was dead.
After getting that call, however, Deborah Evans believes police never saw her son as a mentally ill man who needed help, but treated him only as a criminal with a gun.
"He was his own hostage," Deborah Evans said, questioning why officers didn't spend more time attempting to calmly negotiate with her son before advancing on him.
Spanish Fork police say senior patrol officer Lance Rudd shot Evans as he approached the officer in a parking lot of an LDS meetinghouse at 300 E. Center St. Police were unsure Friday whether Evans brandished his handgun or fired it at Rudd, but said a handgun was found next to Evans' body.
Evans had reportedly posted on Facebook that he was going to be in a "shootout with police." Officers say he had used heroin that day and been involved in a domestic dispute with his girlfriend.
---
I just wish there was a law that said, if there is a wellness check and (police) see that he's got a gun, they could write it off and say, 'We're here to save you, we're not here to mess you up more.'
–Russell Evans, brother
---
Police said Friday that no additional information about the shooting would be released over the weekend. Investigators have not confirmed whether police body cameras or vehicle dash cameras captured footage of the shooting or whether that footage will be released.
Meanwhile, the Evans family is waiting for answers, including whether Rudd or other officers tried to speak with Willie Evans or reassure him before the shooting occurred. They question why officers got so close to the man so fast, why a professional mediator or family members weren't brought in to attempt to communicate with him, and whether officers could have used non-lethal means to subdue him.
Willie Evans' mental state had declined over the past few months, Russell Evans said. He had relapsed into his drug addiction, forcing his brother to fire him from his drywall job, and he may not have fully understood his surroundings or the situation he was in, family members said.
However, the family was keeping up hope and preparing to support him as he continued his struggle to overcome his dependency on drugs to fight his mental and emotional problems.
Deborah Evans described her son as being so caring that one year in elementary school, as cold weather began to set in, he took it upon himself to "rescue" the carp from a small pond at the apartment complex where he lived, scooping them up in a bucket and transporting them to the family's bathtub.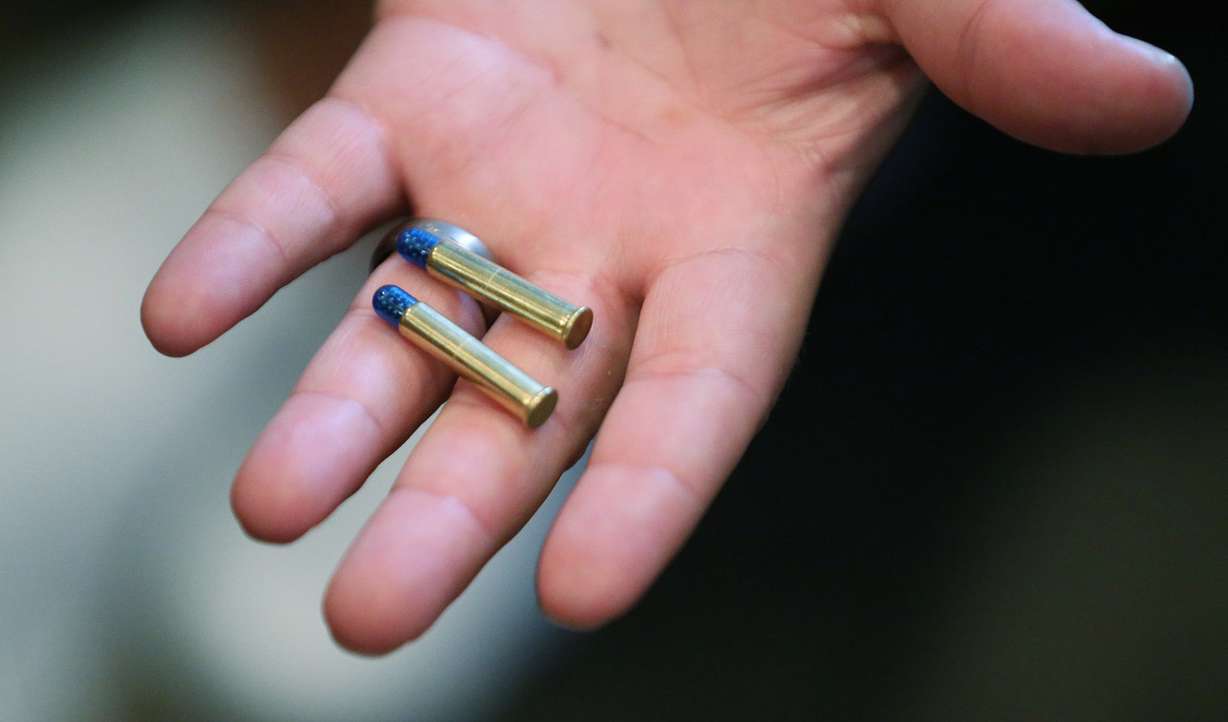 "They were saving the carp," she recalled with a laugh.
Her son carried that kindness into adulthood, she said.
Family members remembered Evans on Sunday as a prankster and storyteller with a warm, loving smile. He grew up in Provo, collected miniature figurines and had spent recent weeks cultivating a vegetable garden.
Evans was a father of one 10-year-old son, according to his family.
"My concern is that the cops aren't going to consider things like this," Amberlee Evans said of her brother's kind nature despite his mental illness. "I understand the fact that cops have family and wives and kids, but so did he."
Family members have set up a GoFundMe account* to help pay for funeral expenses.
If you or someone you know is struggling with thoughts of suicide, KSL encourages you to call the suicide prevention hotline at 1-800-273-TALK.

Crisis Hotlines
Utah County Crisis Line: 801-226- 4433
Salt Lake County/UNI Crisis Line: 801-587-3000
Wasatch Mental Health Crisis Line: 801-373- 7393
National Suicide Prevention Lifeline: 1-800-273-TALK
Trevor Project Hotline for LGBTQ teens: 1- 866-488-7386
Online resources
*KSL.com does not assure that the monies deposited to the account will be applied for the benefit of the persons named as beneficiaries. If you are considering a deposit to the account, you should consult your own advisors and otherwise proceed at your own risk.
×
Photos
Related stories
Most recent Utah stories