Estimated read time: 3-4 minutes
This archived news story is available only for your personal, non-commercial use. Information in the story may be outdated or superseded by additional information. Reading or replaying the story in its archived form does not constitute a republication of the story.
OREM — Republican presidential candidate Rand Paul had one word for the Donald Trump phenomenon that seems to be sweeping the country: "Insane."
Asked if he thought Trump would eventually flame out, the freshman Kentucky senator said, "We can only hope so."
Paul's comments came Saturday after a raucous rally at Alder Home Security that attracted about 600 Utahns who waved red and white towels and clamored for "President Paul." He only disappointed supporters when he declined to crowd surf after his speech saying, "Maybe next time."
In Utah on the last day of a five-state western campaign swing, Paul appeared to be at home wearing jeans, cowboy boots and a blue blazer. His message about freedom, returning power to states, ending government spying on Americans and lowering taxes resonated with the like-minded crowd.
Paul, an ophthalmologist, also toured the Moran Eye Center in Salt Lake City and posed for a photo across from the National Security Administration data center in Bluffdale.
In a brief news conference in Orem, Paul said people will ultimately "come to their senses" about Trump, adding voters want a candidate with substance and substantive ideas to fix the country.
"I think saying, 'Mexicans will pay for it' is an incredibly stupid thing to stay," he said of Trump's comments about building a wall to secure the border. "This sort of hostility towards Hispanics is something that is really bad for our party, bad for the country."
Related:
While Trump sits atop national polls, Paul lags well behind a long list of GOP hopefuls. A Quinnipiac University poll last week showed him running at about 2 percent. He also has struggled to raise as much money as his rivals.
Paul was quick to point out that some surveys have him beating likely Democratic nominee Hilary Clinton in five states President Barack Obama won in 2012. He said he's happy with that aspect of the polls but not so happy with other aspects, noting there's still a long time before the 2016 election and most people have yet to make up their minds.
"I think we have a great shot in Utah," said the son of former Texas congressman and presidential candidate Ron Paul.
A BYU Center for the Study of Elections and Democracy survey of Utah voters last week showed 48 percent have an unfavorable opinion of Paul, while 33 percent have a favorable impression of him.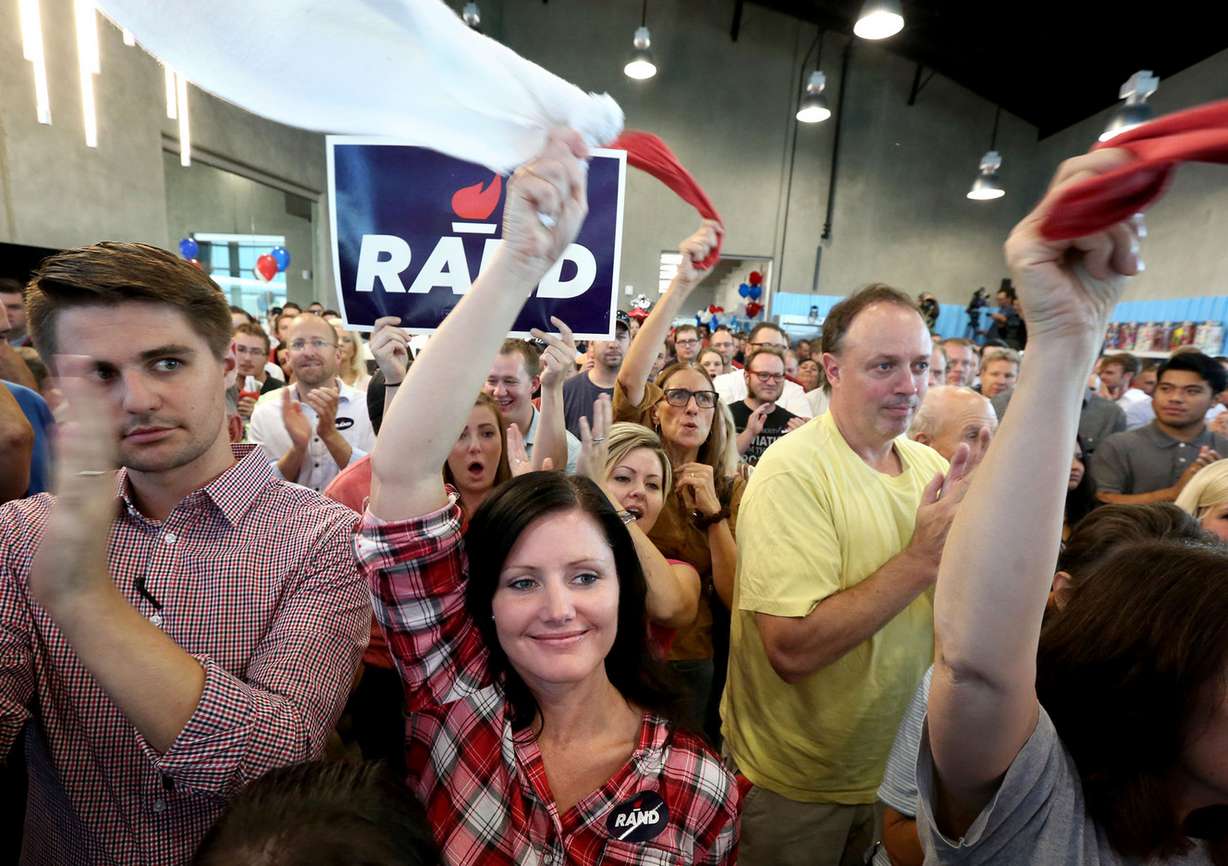 None of that negative sentiment came out Saturday as Paul drew wild cheers railing against the Obama administration and Clinton on issues such as Benghazi and government waste. His call for abolishing the IRS and the tax code in favor of a 14.5 percent flat tax and defending the "entire Bill of Rights" played well with the crowd.
"If you don't think I support the Second Amendment, come to my house unannounced," he said. "If we become a party that respects and defends the Sixth Amendment with the same fervor that we defend the Second Amendment, we're going to rock-and-roll to victory."
Elaine Andelin, a 59-year-old Orem mother of 13, said she would vote for Paul if the election were today. She said she respected Ron Paul and likes the strong constitutional principles that he and Rand Paul have.
"That's our safest way to get out of the mess we're in. I think this country is in very bad straits," she said, adding it needs to get back to principles that are "tried and true."
Roy resident Caleb Barker said he also was a fan of the elder Paul and the more he learns about his son, the more he gravitates toward him.
"He's stood up for rights that I thought were important," he said.
The 26-year-old social studies teacher said he's followed Paul closely and didn't hear much new in his speech, though the senator's appeal to his audience stood out. Paul also talked about persecution of Mormon pioneers and upholding religious freedom.
"This is Utah," Barker said. "We all love our religious liberty and that's starting to go by the wayside."
×
Photos
Related stories
Most recent Utah stories