This archived news story is available only for your personal, non-commercial use. Information in the story may be outdated or superseded by additional information. Reading or replaying the story in its archived form does not constitute a republication of the story.
LAYTON — A veteran Utah Highway Patrol trooper was shot multiple times without warning early Friday by a man who troopers say fled and died a short time later from a self-inflicted gunshot wound.
Sgt. Paul Kotter, a 15-year veteran and the man in charge of training new recruits, was wearing his bulletproof vest when 21-year-old Drew Morgan Moyer, of Layton, allegedly fired at least three shots at him as the trooper turned to walk back to his patrol car.
"The individual shot Sgt. Kotter, it appears three times — twice in the lower back, which thankfully his bulletproof vest stopped, and once in the rear. Sgt. Kotter then returned fire," UHP Col. Danny Fuhr said.
It was unknown Friday whether Kotter's shot hit Moyer or how many times Kotter fired. At least eight bullet holes could be seen in and around the driver's side door of Moyer's vehicle.
The incident began about 2 a.m. near Hill Field Road and state Route 193. Kotter and three other troopers were working an overtime shift in a construction zone, essentially staying with their patrol vehicles with the red and blue lights flashing to prompt motorists to slow down.
Moyer reportedly drove out of a nearby apartment complex and into an area of the construction zone that was closed to the public, Fuhr said. He pulled up next to Kotter.
Fuhr said Kotter could smell alcohol on Moyer's breath and told him he couldn't be in that area. Kotter is believed to have collected information from Moyer he planned to run on the laptop in his patrol car when he was shot as he walked back.
"One of the other sergeants said it sounded like a full automatic weapon going off and he ducked for cover," Fuhr said.
Nearby construction workers who also heard the shots and saw what happened ran to the other troopers to get their attention.
The trooper who had ducked for cover quickly got in his car and went after Moyer. He caught up with Moyer's car after it crashed into the back of a truck. When troopers approached the wrecked vehicle, they found Moyer dead inside with an apparent self-inflicted gunshot wound.
"It appears as though the last action was to take his own life," Fuhr said.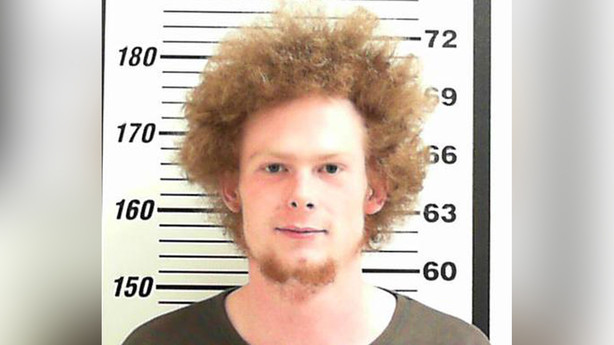 Investigators did not know Friday whether the self-inflicted gunshot wound or the crash came first.
Kotter was taken to a local hospital to have bullet fragments removed from his buttocks area. Fuhr described him as "smiling" and being in good spirits, and mostly just concerned about how his family would handle the news.
"We thank God he's OK. It could have been quite a different story. All in all, he's doing well," he said.
Kotter came out of surgery and is expected to make a full recovery. He may be released from the hospital Friday night pending his condition, according to Utah Highway Patrol.
The south gate of Hill Air Force Base was closed for several hours as troopers investigated.
Because Kotter was driving an unmarked patrol car, Layton police — who will help conduct the investigation into the shooting — said a dashboard camera was not installed in his vehicle. Video from the other patrol cars, however, will be reviewed as part of the investigation. Because Kotter was working an overtime construction shift, he was not wearing a body camera.
Utah court records show Moyer has a minor adult criminal history in Utah. He took a plea in abeyance in 2013 to misdemeanor drug possession, possession of drug paraphernalia and a misdemeanor traffic violation.
Kotter is a graduate student at Weber State, where he is pursuing a master's degree in criminal justice. He has also taught at the university's police academy for about 10 years and is involved in cadet training there, said Bruce Bayley, a Weber State professor who directs the postgraduate criminal justice program.
---
We thank God he's OK. It could have been quite a different story.
–Col. Danny Fuhr, UHP
---
On Friday, Weber State created the Officer Down scholarship for graduate students who are working as law enforcement officers and injured in the line of duty. Kotter will be named the scholarship's first recipient.
"We were trying to find a way to help him and his family to cover some of the economic burden," Bayley said. "Our intent is to take (away) one less worry."
Officers deal with unusual work hazards that warrant the community's support, which the university is trying to give by creating the scholarship, according to Bayley.
"Something as simple as working in a construction zone, and you get shot — that's the profession," he said.
Bayley praised Kotter's work with the police academy at Weber State, calling it exemplary.
"The citizens of Utah should be very proud to have Sgt. Kotter out there in the field protecting them. (He is) just very friendly, really cares about people, very professional," he said. "He's a real credit both to UHP, to the academy, to our graduate program of criminal justice and to the state overall."
Contributing: Ben Lockhart, Jed Boal
×
Photos