Estimated read time: 2-3 minutes
This archived news story is available only for your personal, non-commercial use. Information in the story may be outdated or superseded by additional information. Reading or replaying the story in its archived form does not constitute a republication of the story.
Keith McCord reportingTwo Utah National Guard Soldiers received distinguished service medals today for their extraordinary service in Afghanistan. Both came under enemy fire and acted heroically to protect fellow soldiers.
The two men were in different units in adjacent provinces in the central part of the country. The incidents they are honored for took place just a few months apart.
In November 2006, Capt. Chad Pledger of North Ogden and his unit came under fire in the southern Uruzgan Province, Afghanistan. In January, 2007, a few hundred miles to the northeast, 1st Lt. Tyler Jensen of Provo and his men were ambushed.
Today, both soldiers were honored for what they did on the battlefield during those intense situations.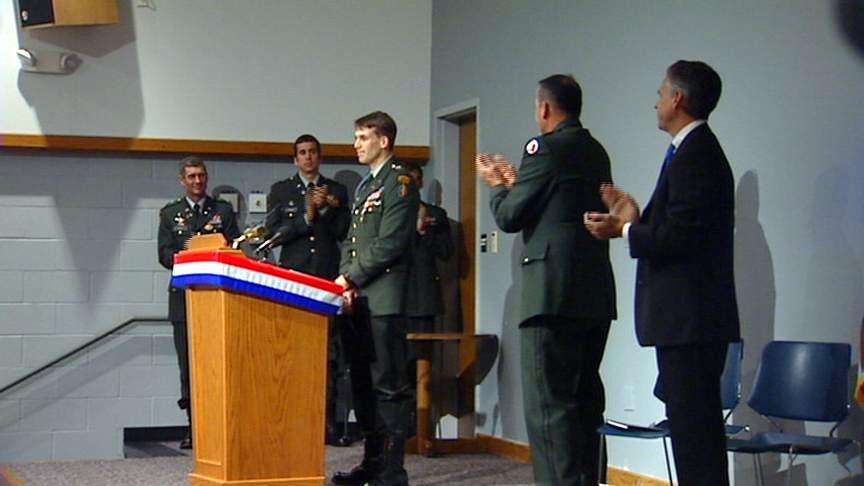 Gov. Jon Huntsman pinned the Bronze Star on Pledger, who received it for recovering the body of his friend and fellow Utah Guardsman, Scott Lundell.
Lundell was killed during a battle, and Pledger braved enemy fire to recover his body so it could be returned to his family back home.
"I wasn't expecting anything from this. I was just doing my job. I'd bring him back in a heartbeat alive if I could," Pledger said.
Jensen was honored with the Silver Star for his actions in saving a fellow soldier who had been wounded in battle. "His courage, superlative combat skills and tactical leadership under overwhelming direct enemy fire was instrumental from preventing the enemy from overrunning his patrol," said Utah National Guard Chief Warrant Officer David Parke.
Jensen said he was honored by the recognition but called it bittersweet. "It's hard because of my many fallen friends and soldiers who are not here, who were also not able to receive this award," he said.
Huntsman thanked the soldiers and their families, saying he was proud and honored to have taken part in this award ceremony. "So I'll tell you very simply, it's pretty cool to be governor, but it is exceedingly cool to be able to pin on a Silver Star and a Bronze Star with Valor, knowing what that represents," Huntsman said.
The Bronze Star with Valor award is given to soldiers for "acts of heroism involving conflict with an armed enemy." The Silver Star is for "gallantry in action against an enemy."
The Silver Star awarded to Jensen today was the first one given to a member of the Utah National Guard in recent memory.
E-mail: kmccord@ksl.com
×
Most recent Utah stories