Estimated read time: 2-3 minutes
This archived news story is available only for your personal, non-commercial use. Information in the story may be outdated or superseded by additional information. Reading or replaying the story in its archived form does not constitute a republication of the story.
Richard Piatt and Tom Callan reportingLt. Gov. Gary Herbert is keeping quiet about serious allegations in the state treasurer's race because he says he's concerned that his actions might affect the election, and the Utah Supreme Court agrees.
Despite pressure from many people, Herbert will remain silent on all issues surrounding the state treasurer's race for now. Today, Utah's high court said it's up to him when to release results of his investigation.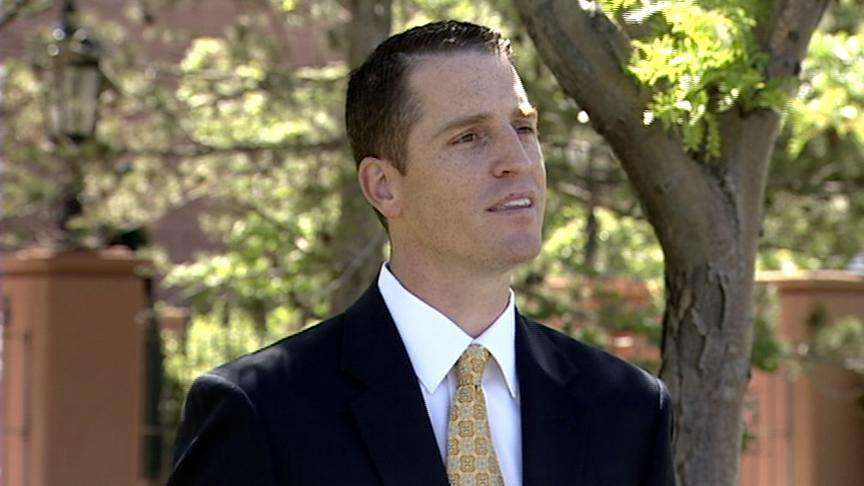 Conservative legislator Mark Walker says he may have bitten off more than he bargained for by running for state treasurer. A few weeks ago during a breakfast meeting, he says he tried to reassure his opponent, and current deputy treasurer, about his future.
"I wanted to make it clear to Richard that I had no intention of firing him if I was lucky enough to win that office, I had no intention of firing that office. And so I thought I was doing the right thing at the time," Walker said.
But for separate camps at the Capitol, there are differences over everything about that meeting. Soon after that meeting, Richard Ellis, Walker's opponent, claimed Walker offered him a 53-percent raise to remain as deputy if he would drop out of the race.
That sparked an investigation by the lieutenant governor -- the state's chief election officer. But Herbert did not want to release his findings until after the June 24 primary.
Today, Ellis asked the Utah Supreme Court to compel Herbert to do it. "If there's something there that warrants further investigation, voters should be aware of that. If I thought it was frivolous, if I thought it was 'he said she said,' then I think it would go away," Ellis said.
"The public is entitled to the lieutenant governor's determination into whether a special investigation is necessary," said Ellis' attorney, Chandler Thompson.
But the lieutenant governor argued his findings could be easily misinterpreted and might affect the primary. The Utah Supreme Court's opinion leaves that decision to him.
"That is the lieutenant governor's concern about it affecting the election when maybe it shouldn't," said Deputy Attorney General Thom Roberts.
Walker received more delegate votes during the convention and has raised more money in this campaign. But Ellis says he has more practical experience in the treasurer's office.
It looks like voters will have to rely on the issues themselves when the pick a candidate in the primary.
E-mail: rpiatt@ksl.com
E-mail: tcallan@ksl.com
×
Related links
Most recent Utah stories