Estimated read time: 6-7 minutes
This archived news story is available only for your personal, non-commercial use. Information in the story may be outdated or superseded by additional information. Reading or replaying the story in its archived form does not constitute a republication of the story.
HUNTSVILLE, Weber County — Utahns are frequently bombarded with water conservation messages encouraging them to "Slow the Flow" of water to their lawns. But many residents might be surprised to learn where most of Utah's water actually goes.
Only 6 percent of it is used on residential lawns and gardens.
The lion's share — more than 4/5 of the state's water — is used by the agriculture industry.
On an old-fashioned pie-chart, residential use is just a small piece of the pie. Four percent of Utah's water is used indoors at residences and 6 percent outdoors for a residential total of just 10 percent. Commercial, industrial and institutional users consume another 8 percent.
The remaining 82 percent — more than four gallons out of every five — goes to farms and ranches. Historically, much of that water has gone to waste. But in recent years, farms in Utah have made major progress — much better than some Western states — at making more efficient use of water.
In the Ogden Valley, farmers wasted more than half their water for 150 years, according to Rex Mumford, president of the Huntsville Irrigation Company. It's not because they meant to, but because old-fashioned irrigation is inefficient.
"Quite inefficient, actually," Mumford said.
Advanced sprinklers
His company's farmer-shareholders started installing pipelines and pressurized sprinklers two years ago. Before that, they relied for 150 years on unlined dirt ditches, which lose a lot of water through leakage and evaporation and to trees and other plants living near the canals. Farmers typically watered their fields using a technique called "flood irrigation" in which the farmer opens a head gate to flood the ground.
"So you over-watered the low spots," said Huntsville farmer Kelly Wangsgard. "The high spots never really got any water in them. A lot of wasted water off of it."
Walking through a field newly equipped with sprinklers, Wangsgard explained why it's so much more efficient. "Well, you know, you're putting an even amount of water across the whole thing."
The new sprinklers — fed by pipes instead of ditches — have computerized remote controls and buried sensors. "These moisture sensors are telling you exactly how much water each crop needs," Wangsgard said, and can be operated from distances far away with a tap of a cellphone.
Across the state, slightly more than half of the irrigated acres in Utah use these advanced sprinkler savings that boost conservation, according to the Utah Division of Water Resources. The division has 40 efficiency projects underway.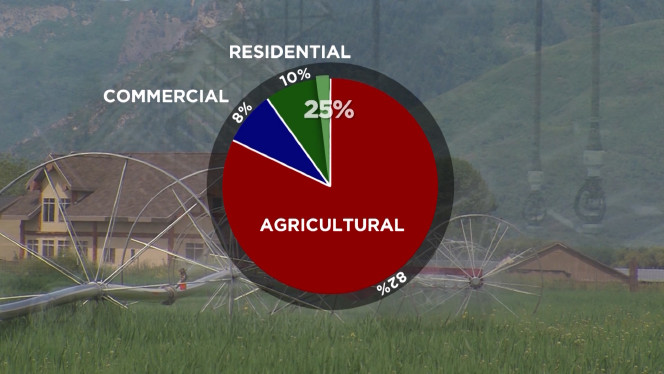 John Hollenhorst/KSL
Before the Huntsville district's conversion, Mumford said studies indicated that 54 percent of the irrigation company's water was being wasted.
"That's a huge amount of loss," Mumford said.
In the context of recent discussions about water conservation, such losses loom large as a debating point. If urban residents ever achieve the state's conservation goal of cutting water use by 25 percent, that's just a sliver of pie in the water-use pie-chart: ¼ of 10 percent or — from a statewide perspective — a savings of just 2.5 percent.
'Management crisis'
Farmers, though, have such a huge piece of the pie that even a small percentage of conservation can make a big difference. In fact, if farmers were to save just 10 percent of their water and pass it on to cities, it would almost double residential supplies.
"Just 10 percent of it would solve a lot of our problems," said Professor Daniel McCool of the University of Utah, a long-time critic of water policy in the Western states who wants to see changes in water laws.
"In fact, we have plenty of water," McCool said. "We do not have a water crisis. We have a water management crisis."
He said agriculture has so much water — and farmers get it so cheaply — that there's no incentive to conserve. McCool also argues that traditional Western water law discourages conservation.
"The water that's saved as a result of their increased efficiency, they lose their title to it," McCool said. "So we punish them for being efficient. That's the way the law is right now."
Mumford acknowledges some farmers resisted their irrigation company's modernization program. "It's definitely an educational thing that they have to see (the value of it)," Mumford said. "And initially as we proposed going to a pipe project, it was not universally understood or broadly accepted."
Ultimately, the farmers did accept it because they realized that some of the water they saved could be held back and kept in Causey Reservoir for later use. That will allow many farmers to extend their growing season, increasing productivity and presumably profitability. Also, most of the cost of the pipe-and-sprinkler project was paid for with grants and loans from state and federal agencies. Mumford said his company's farmer-shareholders would have had trouble paying for it themselves.
"We could not have," Mumford said. "Without that partnership of those (agencies) we would still be a flood-irrigation company."
---
It is no question that water is important in Utah and in a year like this it makes it evident that every drop counts. We have done a lot work, but there is a long way left to go.
–Dave Brown of the Utah conservation service.
---
The federal agencies that provided funds were the U.S. Bureau of Reclamation and the U.S. Department of Agriculture's Natural Resources Conservation Service.
"It is no question that water is important in Utah and in a year like this it makes it evident that every drop counts. We have done a lot work, but there is a long way left to go," said Dave Brown of the Utah conservation service.
Brown said the agency on any given year spends between $8 million and $10 million on "on farm" irrigation improvement projects to boost water conservation efficiencies.
Now during peak season, the Huntsville Irrigation Company is using only about one-third of the water they used to. Some of the saved water will be used to grow more crops later in the year, but not all of it.
"There's additional water that is saved as a result of this type of a project that ultimately can flow downstream to other users," Mumford said. The excess water flows downhill to Pineview Reservoir and Mumford said it can later be used by urban areas in the vicinity of Ogden.
McCool says permanent farm-to-city transfers are relatively rare because of 19th century laws protecting water rights and because many farming communities are so protective of their agricultural traditions. He said the growing need for water in cities could benefit farmers if they were allowed to cash in on it.
"It is their water," McCool said. "We should be working with them— when they choose on an individual level — to work out a market agreement."
Wrong crops?
McCool also argues that water-rich farmers often grow the wrong crops. He says most of Utah's water is used to grow alfalfa hay — which consumes relatively high amounts of water — and much of the hay is sold to China to feed dairy cows. McCool said that's equivalent to exporting Utah's water to China with a relatively low financial return.
The water would be worth a lot more to Utah farmers if there was a free and open market, McCool said.
"Farmers are using thousands of dollars of water to grow hundreds of dollars of hay," he said.
Brown, who oversees water conservation programs for the Natural Resources Conservation Service, defended the farmers' choice of crops.
"Alfalfa is a valuable crop," Brown said. "It feeds our dairy industry both here in this and in surrounding states."
As for hay exports to China, Brown said, "As a country, we value exports."
Over the last 20 years, he said the move to more efficient farming systems has steadily increased, but McCool said the effort is just a fraction of what it should be.
Brown said the conversions are expensive, and take time. On average, the Huntsville project cost about $2,000 per acre. The Natural Resources Conservation Service spends 60 percent of its conservation funding to assist with irrigation projects, he added.
Contributing: Amy Joi O'Donoghue
×
Photos
Related stories
Most recent Utah stories