Estimated read time: 7-8 minutes
This archived news story is available only for your personal, non-commercial use. Information in the story may be outdated or superseded by additional information. Reading or replaying the story in its archived form does not constitute a republication of the story.
SALT LAKE CITY — Memorial Day weekend will start out rainy for most areas in Utah, with many travelers on the road facing gas prices that have been rising for weeks. But neither appears to be stopping Utahns from carrying out their holiday plans.
"Many Mountain West residents are eager to take that long-overdue weekend getaway," said AAA spokeswoman Rolayne Fairclough.
The average gas price in Utah is currently $2.99, among the highest in the country, according to AAA.
Shannon O'Donnell is traveling to Moab to camp and go four-wheeling this weekend. She said she won't be happy if it rains, but she's optimistic. The Taylorsville woman isn't planning on bringing anything to occupy her time if it rains on her trip, trusting that the weather will align to recent forecasts.
Unfortunately, many travelers in other parts of Utah will face showers and thunderstorms at the onset of the holiday weekend, which is causing some to create last-resort alternate plans that are appropriate for the indoors.
"I will probably sit inside and do puzzles, which is what I normally do up there during the winter," said Sydney Vickery, referring to her family's cabin in Huntsville. "I originally wanted to ride ATVs the whole weekend."
#poll
Utahns should expect to see a series of rainstorms throughout the weekend with a chance for drier weather on Memorial Day, said KSL meteorologist Kevin Eubank. The majority of the rain will fall on Saturday.
Northern Utah will see temperatures in the 60s this weekend, although the high temperature may only reach the high 50s on Saturday.
Anyone camping above 9,000 feet may even see some snowfall, Eubank said.
Southern Utah should be drier and a bit warmer. St. George will see partly cloudy skies with highs in the low 70s, reaching the low 80s by Monday. Moab should see highs in the 70s with slight chances of thunderstorms Friday and Monday.
In addition to rain this weekend, travelers should also plan for delays on major roadways.
Nearly 270,000 cars are predicted to travel throughout the I-15 corridor during Friday's evening commute, causing congestion, according to the Utah Department of Transportation.
"I'm not super keen about driving in the rain with the construction and traffic over Point of the Mountain," said Vickery about her commute to Huntsville.
But UDOT has suspended all construction to help ease the congestion.
The I-80 freeway, however, is reduced to one lane in each direction from the U.S. 40 interchange to Wanship in Summit County. All traffic has been shifted to the eastbound lanes, and the speed limit is reduced to 45 mph. The westbound on- and off-ramps at Exit 150 (Tollgate/Promontory) are closed.
To reduce delays, drivers can use I-84 through Ogden as an alternate route.
All lanes will remain open on I-15 from North Salt Lake to Farmington. Lanes have been narrowed to 11 feet.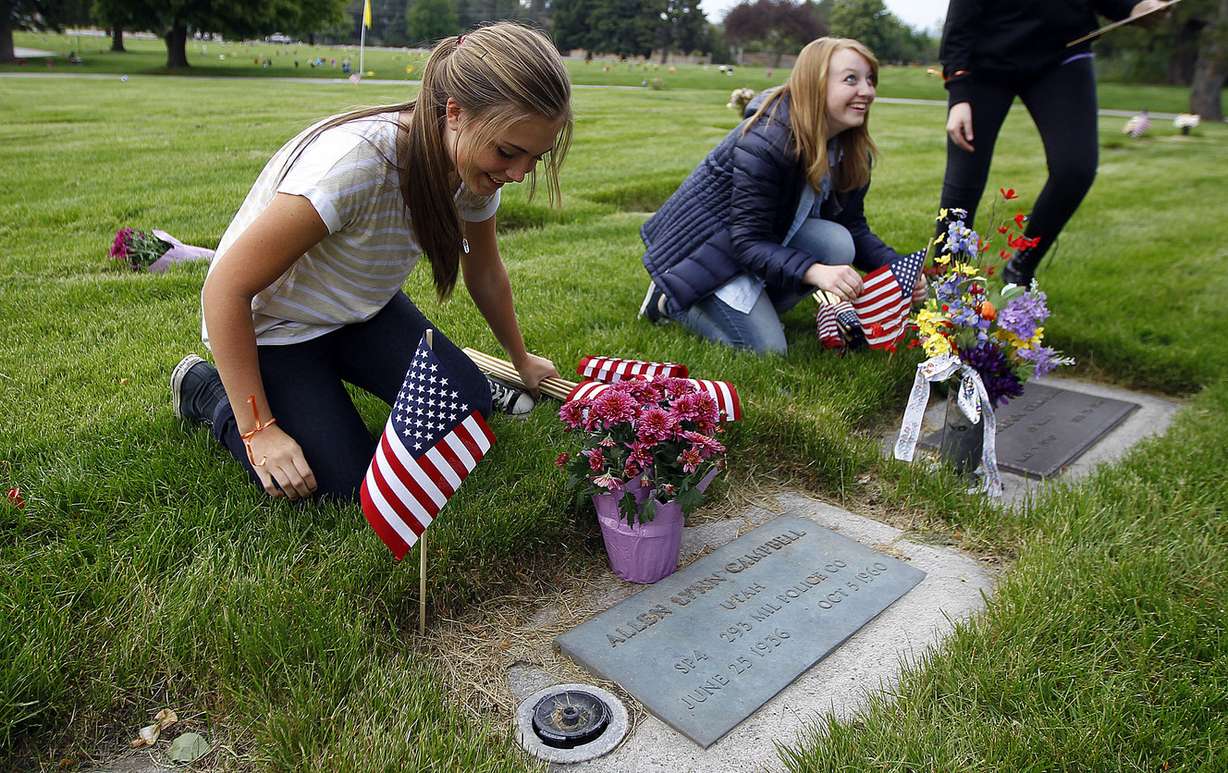 At Point of the Mountain, all four lanes will remain open on southbound I-15 this weekend. Northbound I-15 is reduced to three lanes at state Route 92 in Lehi to improve the flow of traffic from state Route 92 onto the freeway. The speed limit has been reduced to 55 mph.
Camping
Camping remains a popular activity over Memorial Day in Utah. Many campsites have been reserved for the weekend. However, there may still be a few spots available for multiple day use, but only on a first-come, first-served basis.
"We want people to be excited to come and visit the parks," said Eugene Swalberg from the Utah State Parks Department, "and campsites are filling up for this weekend.
Swalberg said the weather may scare off some campers, which may open up sites from unclaimed reservations.
"It's really difficult to read what is available," he said. "The general rule is that people get in a spot and hunker down for the weekend."
All campsite reservations require a two-day advanced notice. There are also many day-use pavilions still available for larger group gatherings.
Campers have also been asked by the National Forest Service to keep an extra watchful eye on children playing near rivers and streams because of high water levels.
For the most current information regarding the listed campsites, visit the Utah State Parks website or call its office, 801-538-7220.
Memorial Day programs
To honor veterans, many cities will hold programs at their local cemeteries on Monday.
"We want to make sure that veterans get the respect they have earned and deserved," said Whitney Booth, the public relations coordinator for Provo, about its Memorial Day program. "The program will focus on veterans of the Vietnam war, because of the 50th anniversary."
Many programs will feature a 21-gun salute, a musical program and a keynote speaker. Cities holding programs include: Alpine, American Fork, Orem, Herriman, Lehi, Moab, Pleasant Grove and Spanish Fork.
Memorial Day weekend forecast
More information about such programs may be found on the city websites or by calling city offices.
Weekend events
• The Salt Lake Bees will be holding a Military Appreciation Night Saturday during a game against the Colorado Springs Sky Sox. Military personnel and veterans will be offered free tickets, and their family members can buy tickets at half price. Following the game, all fans are invited to stay for a patriotic themed fireworks show — weather pending.
"If it rains a little, we may still play and shoot off fireworks, it's tough to say," said Kraig Williams, communications director of the Salt Lake Bees. "We can always reschedule the event."
Besides the fireworks, an active-duty military member will sing both "The Star Spangled Banner" and "God Bless America." There will also be a color guard, and players will be wearing camouflage uniforms to honor veterans.
• The 10th Annual Cowboy Legends, Cowboy Poetry and Music Festival will be taking place throughout the weekend at Fielding Garr Ranch on Antelope Island. Saturday through Monday, there will be an all-you-can-eat pancake breakfast for $5 beginning at 7 a.m.
• The Sugar Space Studio for the Arts, 616 Wilmington Ave. in Salt Lake City, will present "America the Beautiful" at 8 p.m. Friday and Saturday. The performance revolves around the theme of how female beauty plays in American Society. Tickets are $10.
• The Schubert Singers, a women's chorus from the Salt Lake Valley, will perform their spring concert, "God Bless America" at Waterford School, 1480 E. 9400 South in Sandy, 7 p.m. on Saturday. Admission is free.
• On Monday, Rocky Mountain Raceway will be hosting Military Appreciation Day. Military personnel and veterans get free admission, with their family members qualifying for half-priced tickets. Gates open at 4 p.m., racing begins at 6:15 p.m. with tickets ranging from $10 to $20.
• In Herriman, the city will be holding a Chuck Wagon Breakfast in Main Street Park beginning at 9 a.m. Tickets range from $4 to $6.
• American Fork will have its annual Memorial Day breakfast at the fire station on 96 N. Center St. Ticket prices range from $4 to $6 and approximately 2,000 to 3,000 people are expected to attend the event which begins at 6 a.m. on Monday.
The breakfast originated in the 1960s, and was organized by the Women's Auxiliary — a group of American Fork firefighters' wives — but now, firefighters themselves organize and cook the pancakes rather than their spouses.
"It's something that we do one, for Memorial Day to help celebrate our veterans, and two for the community," said firefighter Austin Knight, director of the event.
• The Pony Express Rodeo will also be held Friday through Monday in Eagle Mountain. Gates open at 6 p.m. both Friday and Saturday, and at 5 p.m. on Monday. Ticket prices range from $6 to $12, and military members will receive a discount on tickets on all days except Saturday.
Athletic activities
There are several races and athletic events varying in length and location across the Wasatch Front over the holiday weekend.
While some of the featured races are competitive and have causes unrelated to Memorial Day, runs like the Honoring our Heroes 5K and Kids Run in Mona and the 4th Annual Run for the Wounded in Ogden are devoted to having fun and supporting veterans.
"We have an official clock and track what place you came in, but there are no awards, just drawings for prizes," said Shawna Keyte, who originally helped organize the run in Mona with her son for an Eagle Scout project last year. "It's very low-key — just come and have fun!"
Funds from the all-skill level run in Mona will go towards a veterans' memorial in Mona's small cemetery. Funds from the Ogden race will be donated to the Wounded Warrior Project.
A comprehensive list of all the races occurring this holiday weekend, and costs can be found at UtahRunning.comEmail: chansen@deseretnews.com
×
Photos
Related links
Most recent Utah stories