Estimated read time: 2-3 minutes
This archived news story is available only for your personal, non-commercial use. Information in the story may be outdated or superseded by additional information. Reading or replaying the story in its archived form does not constitute a republication of the story.
CORDOBA, Argentina — Líderes de La Iglesia de Jesucristo de los Santos de los Últimos Días dedicaron un nuevo templo en América del Sur el domingo.
El Templo Córdoba Argentina se convirtió en el templo SUD número 145 en el mundo y el primero de los cinco templos SUD programados para ser dedicados antes de finales del 2015.
El Presidente Dieter F. Uchtdorf de la Primera Presidencia llevó a cabo los servicios del domingo.
Situado en el corazón de la Argentina, el Templo de Córdoba es el segundo templo SUD en el país, que es el hogar de los 380.000 Santos de los Últimos Días. El nuevo templo servirá miembros de la iglesia en la parte noroeste de la Argentina que anteriormente tenían que viajar cientos de millas a Buenos Aires.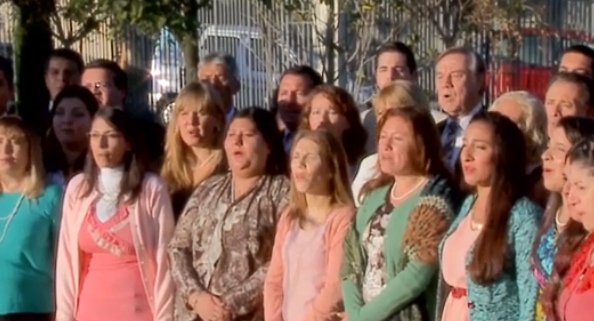 El presidente Uchtdorf encabezó la ceremonia tradicional de la piedra angular, que significa la terminación del templo, que fue anunciado en el 2008.
Fue un regreso a casa para Élder D. Todd Christofferson, quien se desempeñó como misionero en Argentina en la década de 1960. Regresó al país como un apóstol al unirse a los Santos de los Últimos Días en la Argentina para el servicio del domingo.
"Algo que va más allá de mi imaginación más preciada, que estaríamos aquí dedicando un templo, unos 50 años, más o menos, luego de mi servicio misional", dijo el élder Christofferson.
Líderes de la iglesia creen que el nuevo templo ofrecerá fuerza para los Santos de los Últimos Días en el país, especialmente las generaciones futuras.
"Estoy muy esperanzado y confiado en que a los jóvenes de Argentina les va a ir muy bien en la construcción de la iglesia y de esta nación de una manera maravillosa", dijo el presidente Uchtdorf.
El próximo templo de la iglesia será dedicado en tres semanas en Payson, Utah. La casa abierta termina este sábado con los servicios de dedicación establecidos para el domingo 7 de junio.
La iglesia ha anunciado que la palada inicial para el Templo de Cedar City se llevará a cabo el 8 de agosto.
×
Most recent News stories