Estimated read time: 2-3 minutes
This archived news story is available only for your personal, non-commercial use. Information in the story may be outdated or superseded by additional information. Reading or replaying the story in its archived form does not constitute a republication of the story.
EVANSTON, Wyoming — Some residents say they are livid. Others are just disappointed.
But many residents and businesses Sunday rallied to support an Evanston woman who is also a U.S. military member after anti-military messages were spray painted across the front of her home.
In black spray paint, a person or people wrote, "Home of a soilder" (sic) across the window and again on Cassie McEuen's door. The vandals also wrote "Die for what?" as well as derogatory comments.
McEuen seemed to take the incident in stride, posting on social media, "I've been attacked, and the vandal can't spell. Apparently I'm a 'soilder' instead of soldier."
Sunday morning, about 100 Wyoming residents, most from Evanston but some from as far away as Rawlins, and about half of them military members themselves, went to McEuen's house to erase the graffiti.
Nick Arnold, of the group 307 Long Range who helped organize the cleanup, said he didn't know McEuen or even what unit she served with, "(but) what I do know is that somebody disgraced soldiers, and it happened right here in our community, and we can do something about it.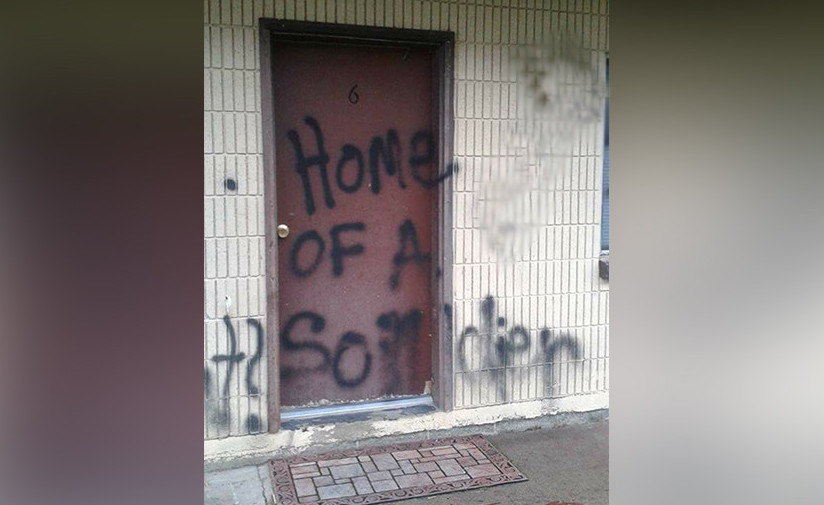 Photo credit: Cassie McEuen
"I have never heard of anything like this happening here," he said.
When asked what prompted him to rally people to clean McEuen's home, Arnold replied, "I guess it wasn't so much anger. It was more of a chance for the community to come together when something like this happens. We know there are people out there like this. But we also know there are a thousand times more people who support soldiers and support our U.S. Constitution and everything that they fight for."
Several local businesses also helped by donating the cleaning supplies that were used.
As for who may have committed the crime, Arnold said, "it's hard to speculate. If you're not a vandal, it's almost impossible to think like a vandal."
McEuen would also like to know who is responsible, and she requested leads on social media. She said she also filed a case with the Uinta County, Wyoming, Sheriff's Office. A call placed to the sheriff's office by the Deseret News was not immediately returned.
According to McEuen's Facebook page, she is originally from Willard and served as an automated logistical specialist for the U.S. Army Reserve.
---
Photos edited for vulgar language

×
Photos
Most recent Utah stories