Estimated read time: 4-5 minutes
This archived news story is available only for your personal, non-commercial use. Information in the story may be outdated or superseded by additional information. Reading or replaying the story in its archived form does not constitute a republication of the story.
SALT LAKE CITY — One day about five months ago, 80-year-old Dennis Fay received a telephone call from a man in Chicago that started like this:
"Hello, is this Dennis? I think I might be your son."
Fay didn't believe him. He thought it was some kind of scam on an old man.
But the more the man talked, the more he made sense. They spoke for a long time that day and then repeatedly after that. A DNA test a couple of months later showed that he is Michael Reed's father.
"He has been looking ever since he was 12 years old for his birth father, and that's me," Fay said proudly.
And on Friday, father and son met for the first time at Salt Lake City International Airport.
"Hi, Dad," Reed, 60, said as they embraced, and Reed kissed Fay on the cheek.
Reed's eyes welled with tears when he tried to explain what it means to him to know his father.
"The father quest is all over myth and legend and stories from 'Star Wars' to ancient mythology, and my quest is over," he said.
But Reed's life with his newly found family is just beginning. He now has seven brothers and two sisters along with a passel of nieces and nephews.
"As an only child, I always wanted a brother or sister. Now I have nine," Reed said.
---
As an only child, I always wanted a brother or sister. Now I have nine.
–Michael Reed
---
Mike Fay — Dennis Fay now has two sons named Michael — said the family is welcoming Reed with open arms and they're excited to have him. He and some of his siblings were at the airport holding blue balloons and yellow banner that read, "It's a boy!"
A little skeptical about Reed's claim at first, Mike Fay said once the DNA test came back, "we knew he was our brother."
Though he admittedly did a lot of "running around" and was a "fast mover" in his younger days, Dennis Fay said, he had no idea he had another son until Reed called him.
Fay lied about his age to join the Marines at age 17 during the Korean War.
After a couple of years in the service, including 13 months in combat, he returned to Southern California, where his life looked like a scene out of "American Graffiti."
Cruising the streets of Long Beach and Downey and Bellflower in his 1950 customized Chevy Club Coupe. Hanging out at drive-ins. Picking up girls.
"She happened to be one of the carhops," Fay said. "If you dated a carhop back in those days, you were pretty macho because they had their pick of men, and I dated her."
The relationship was brief. She quit her job at the drive-in and moved away. Dennis Fay didn't know she was pregnant or that she had placed the baby for adoption.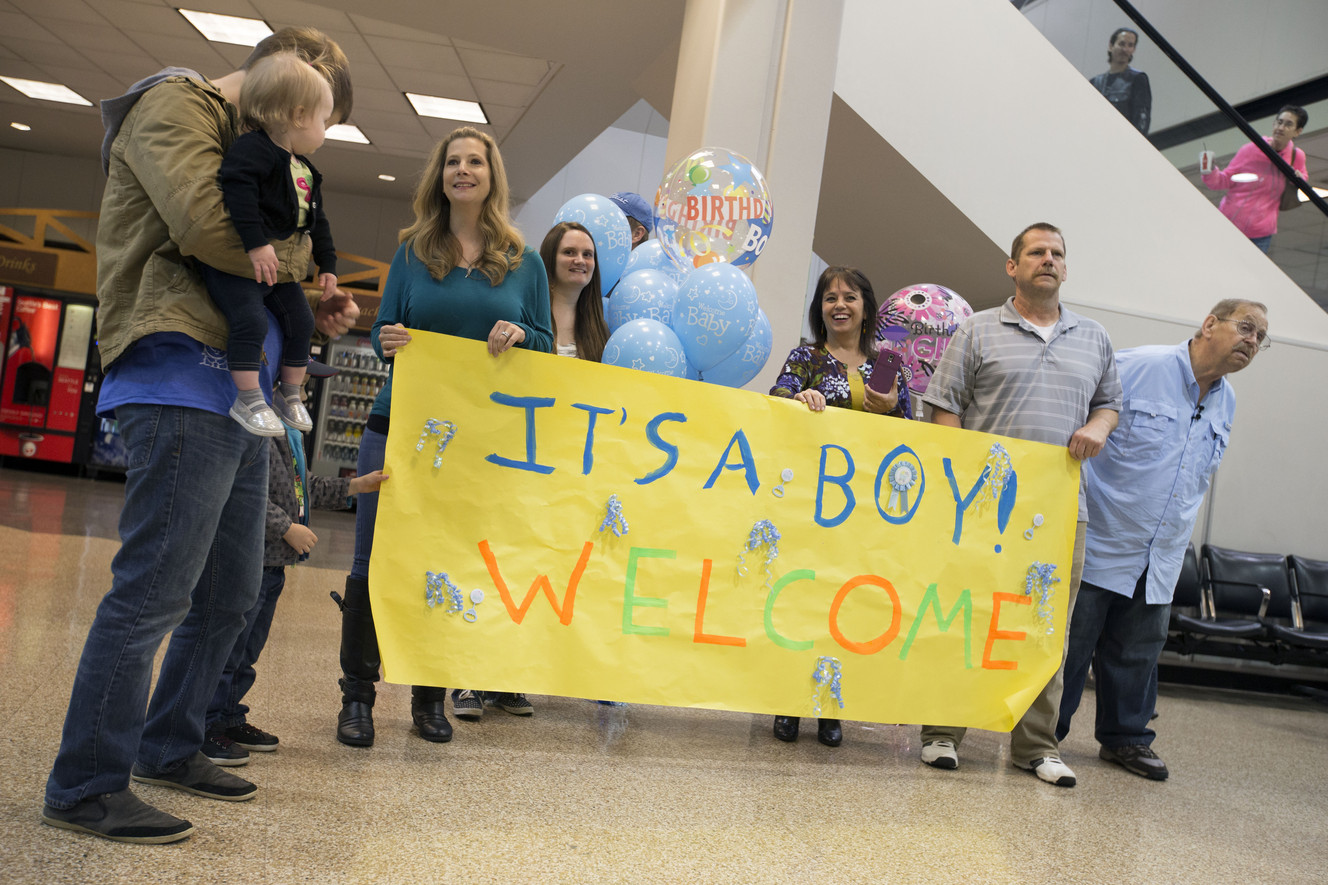 Photo credit: Laura Seitz/Deseret News
Fay settled down a year or so later. He and his wife of 56 years, Patsy, had nine children. She died in 2011. Fay now lives with his son Michael in Murray.
Reed said he found out at age 10 that he was adopted. His parents, who died about 25 years ago, gave him the adoption papers when he was 30.
He set aside his search for his biological parents while he and his wife, Susan, reared two children. He served 11 years in the Navy and now works in the banking industry in Chicago.
Reed took a DNA test through a website to learn about his background — he's Irish — and through genome sharing came across Dennis Fay's cousin. She led him to his birth father.
He made that first phone call to Fay with trepidation. He didn't want to upset anyone. He worried that coming out of the woodwork after all those years would cause problems.
"I really prayed about it," Reed said. "I didn't want to hurt his feelings or interject myself or really do any harm at all to the Fay family."
But the reaction couldn't have been more loving or accepting. Fay said he's sorry he didn't know Reed sooner.
"This is probably the most important day of my life, to meet him," he said. "I'm proud of him. There's not many people that would go through what he went through to find me."
×
Photos
Most recent Utah stories