Estimated read time: 5-6 minutes
This archived news story is available only for your personal, non-commercial use. Information in the story may be outdated or superseded by additional information. Reading or replaying the story in its archived form does not constitute a republication of the story.
SALT LAKE CITY — Nearly 1 million people along the Wasatch Front are relying to some extent on diverted Colorado River water in a state that experienced the nation's third-fastest population growth from 2000 to 2010.
The numbers, the latest released in the U.S. Bureau of Reclamation's ongoing basin study, illustrate the strain on the Colorado River, which could face a shortfall of nearly 7 million acre-feet by 2060.
While that shortfall is a worst-case scenario, hydrologists say rampant population growth in the seven basin states that rely on the Colorado River — coupled with the volatility of a changing climate — means effective river preserving strategies should be a priority.
Phase One of the analysis convened by the federal agency is called Moving Forward. It was launched 18 months ago.
Key recommendations from three working groups were released and are designed to boost conservation efficiencies among the primary demands: municipal and industrial, agricultural, and environmental and recreational.
The report acknowledges the potential for tough choices given the reality of the regional population growth that has been accompanied by the lowest Colorado River flows experienced in 100 years over a 15-year period from 2000-14.
None of the seven states were forced to take shortages on their deliveries of water, but only because the majority of dams and reservoirs along the system were full at the start of the drought, the report said.
The lack of actual shortages being declared on the river may not exist much longer, with states that are at the bottom of the "straw" already girding for such a possibility.
A 2007 agreement means Arizona is bracing for a 20 percent reduction in river water if Lake Mead drops below 1,075 feet, which could result in a shortage declared as early as this August. Such a benchmark would mean half of central Arizona's farmers would go wanting for river water.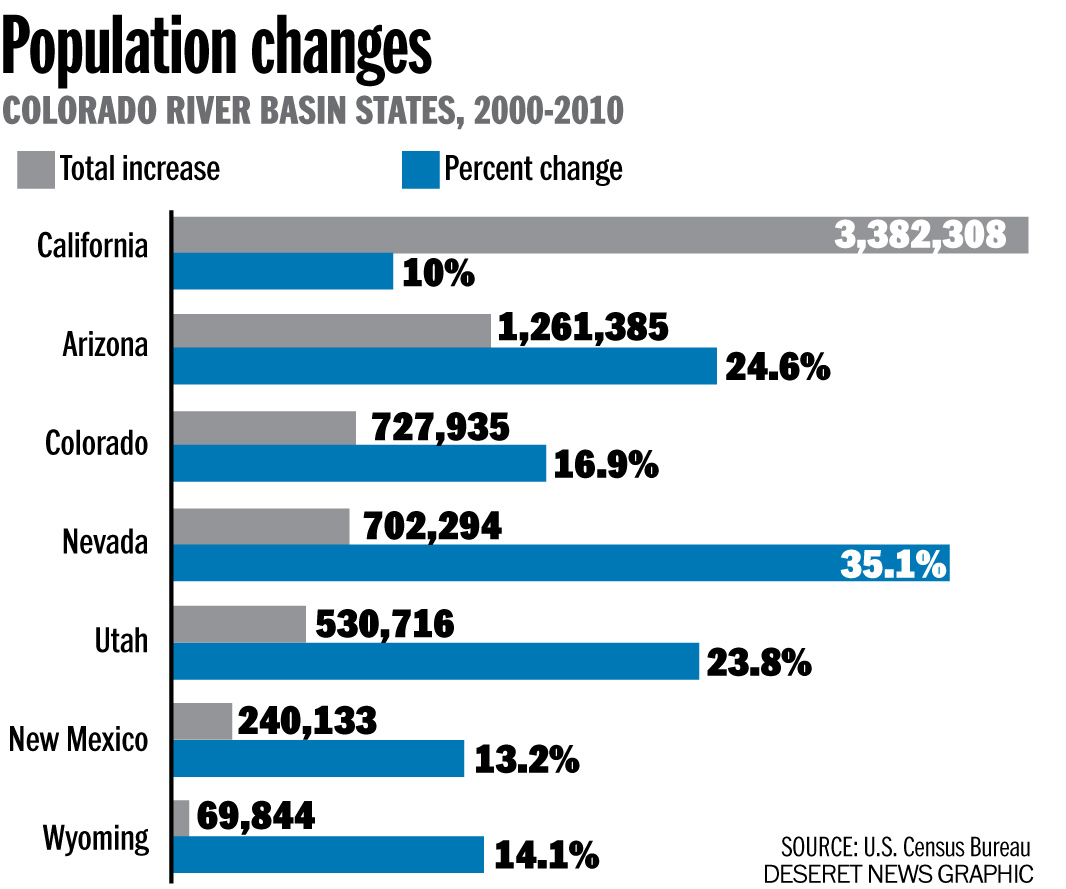 Photo credit: Joseph Tolman
The report points out that Denver, Salt Lake City, Albuquerque, Los Angeles and San Diego all get a signficant portion of their water from the river, and places such as Las Vegas get nearly all their water from the Colorado River. None of those are actually in the hydrologic basin of the river.
Overall, 35 million to 40 million people in the West rely on the region's largest river, which irrigates 4.5 million acres of farmland.
In this stage of the bureau-led effort looking at the river and its supply challenges, the three groups were tasked with examining current practices and identifying "next steps" for boosting available water supplies.
Three major, broad recommendations emerged from the workgroup's individual probes:
• Increase water use efficiency. Make the best use of supplies available for municipal, industrial and agricultural purposes, while aligning management of supplies with the environment and recreation in mind, where possible.
• Reduce system losses. Identify and reduce conveyance and distribution system losses. By minimizing those losses, costs can be reduced and water conservation, revenue and water availability for others increases.
• Maximize reuse of supplies. Reuse supplies more than once, especially outside the hydrologic basin.
The report notes that generally across the basin's major metropolitan areas, per-capita use has decreased anywhere from 11 percent to 38 percent since 1990 and by 10 percent to 26 percent since 2000.
Those consumption rates have declined even in the face of growing populations and persistent drought and are in part due to conservation efforts mounted by water providers.
At Jordan Valley Water Conservancy District, serving two-thirds of the Wasatch Front's population, the report notes that $19 million in conservation efforts have been spent since 2001, and there are plans to implement metering for secondary water over the next five years.
Water conservation and reuse has reduced municipal and industrial use of Colorado River water by as much as 2.4 million acre-feet compared with 2010 use rates, the report said.
The report does note that not all water savings can be laid directly at the feet of water districts, but instead points to reductions made by behavioral shifts, the advent of more water-efficient technology and urban planning that has shaved lot sizes and embraced water-saving vegetation.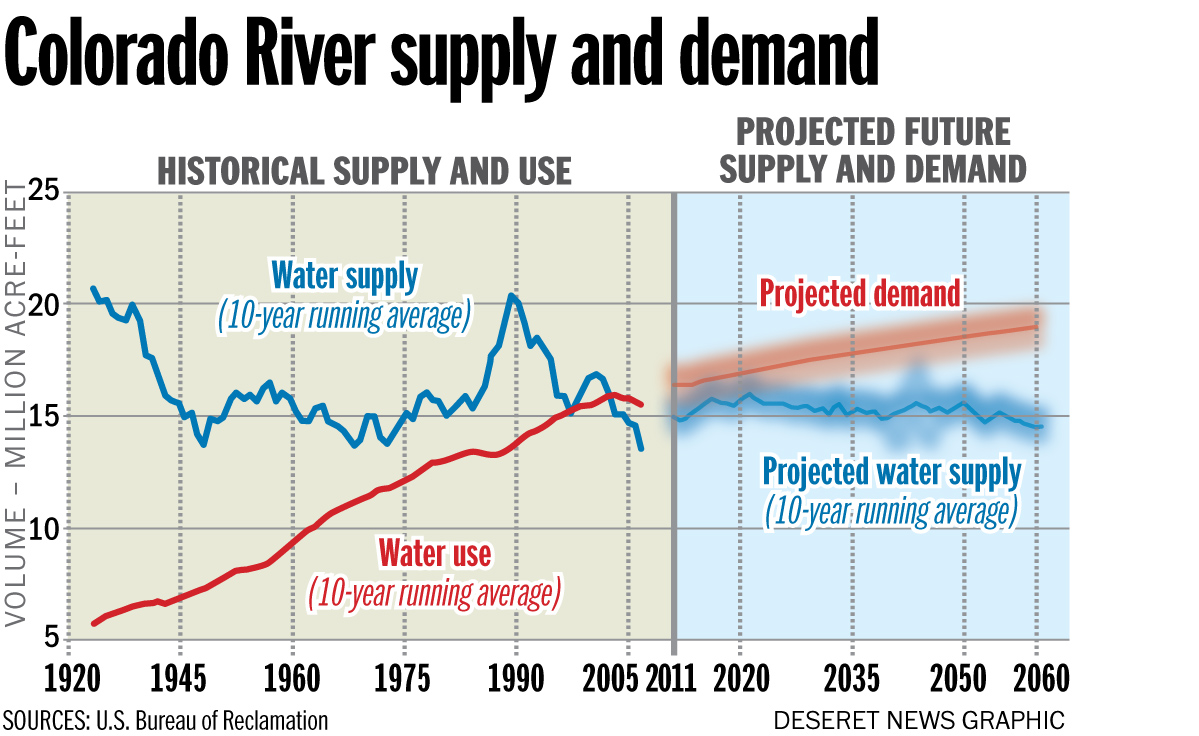 Photo credit: Joseph Tolman
"There are no basin-wide silver bullet solutions for water efficiency, or protecting environmental and recreational resources," the report said. "Efforts that are effective and relevant in one location may not be as affective or acceptable in another."
Reuse of Colorado River water, too, has to be a higher priority for some regions.
Central Arizona built the nation's first reuse water plant in 1926, with the area now achieving a 95 percent reuse rate for Colorado River water, while Utah's Wasatch Front stands at just 1 percent.
The report does note that abundant secondary water has allowed the Wasatch Front to delay costly reuse projects and acknowledges plans are underway at both the Jordan Valley and Weber Basin districts to bring reuse projects online for a potential savings of 15,000 acre-feet.
---
"There are no basin-wide silver bullet solutions for water efficiency, or protecting environmental and recreational resources. Efforts that are effective and relevant in one location may not be as affective or acceptable in another."
---
The Weber Basin district's relatively new metering program for secondary water was among 34 case studies highlighted for successful water-savings efforts, as was the enclosure of the Provo Reservoir Canal.
The Moving Forward Phase 1 report is a follow-up to the 2012 Colorado River Basin supply and demand study, which was the most comprehensive analysis of a river system taken to date.
Multiple groups and agencies with an interest in ensuring the long-lived vitality of the river say this most recent installment provides a good blueprint for the next phase of the study, which will synthesize the recommendations identified and recommend pilot projects for implementation. That phase is to begin this year.
"The 2012 study was a wake-up call and highlighted the importance of getting ahead of a crisis," said Taylor Hawes, Colorado River program director for The Nature Conservancy. "We must expand flexible water management solutions that benefit people and nature in order to ensure the Colorado River can thrive in a warmer and drier future. The Moving Forward report provides promising opportunities for collaboration to develop such solutions. The good news is that solutions do exist."

×
Photos
Related stories
Most recent Utah stories