Estimated read time: 4-5 minutes
This archived news story is available only for your personal, non-commercial use. Information in the story may be outdated or superseded by additional information. Reading or replaying the story in its archived form does not constitute a republication of the story.
WEST JORDAN — A treasured saddle bronc belt buckle, lost for almost 60 years, recently made its way home to its owner after a Utah man discovered it in the Nevada desert.
Ovando, Montana, resident Karen Hooker said her husband Jack Hooker started working on a cattle ranch when he was 13 years old. He learned to train horses and gained a reputation as a "good bronc horse rider," Karen said. Jack worked on several ranches in Nevada and Montana and began to compete in saddle bronc at local rodeos.
In 1955 when he was 25, Jack won several rodeos as a saddle bronc rider including the Calgary Stampede, the Nevada State Championship and a rodeo in Toppenish, Washington. At each rodeo he won, he was awarded with a saddle bronc champion belt buckle.
However, later that year, he had an accident at the Pendleton Round-up rodeo and badly broke his leg, ending his saddle bronc career, Karen said.
"He was on his way to being a world champion saddle bronc (rider,)" Karen said.
Jack continued working as a cowboy and began rounding up wild horses in the deserts of Nevada for a ranch that would sell the horses. In the spring of 1959, he worked at the Winecup Gamble Ranch near Wells, Nevada, gathering wild horses.
"They would sneak up on a herd and they would bust out after them and they would rope a horse," Karen said.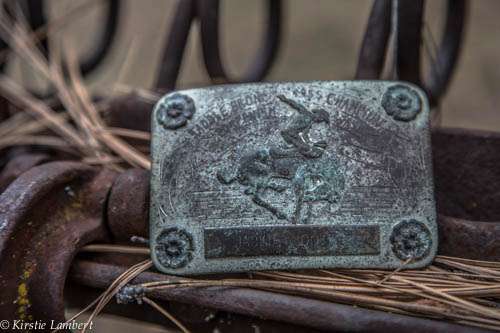 However, when Jack roped one of the wild horses, his own horse started bucking and got caught in the rope, causing it to flip onto its side, Karen said. Jack was thrown off the horse and broke his arm. After he cut the wild horse loose, he rode his own horse back to the camp and had to drive 60 miles to the nearest doctor.
The next day, Jack realized his prize Toppenish, Washington, belt buckle was missing and because he had been riding in such a large area, he figured he would never see it again.
"It's kind of like going out in a big pasture and trying to find a belt buckle out there," Karen said. "But this was like sections and sections of land."
However, on March 29, West Jordan resident Nick Burbidge, his brother and his two sons found the long-lost item. Burbidge said they were near the Winecup Gamble Ranch shooting guns on Bureau of Land Management property when his brother, Kenny Burbidge, found the belt buckle.
"We couldn't really read the inscription when we first found it," Burbidge said. "We didn't really realize it was anything special until we got home that night and was (sic) able to look at it and get it wet..."
---
I really feel Nick and Kenny are Christians, because if they weren't, they would have kept that belt buckle.
–Karen Hooker
---
The belt buckle was worn and faded from 56 years of sitting in the desert, but Burbidge was able to make out the words "Saddle Bronc Champ," "1955," "Toppenish, Washington," and "Jackie Hooker." Burbidge immediately got online and Googled the words and discovered Jack and Karen Hooker, owners of the Montana Mountain View Ranch.

"He's kind of famous for being an outfitter in Montana," Burbidge said. "I automatically just thought, 'We've got to find this guy and get him his belt buckle back. This is too cool to find something like that.' "

Karen said she was shocked to get the call from Burbidge.

"I really feel Nick and Kenny are Christians, because if they weren't, they would have kept that belt buckle," she said.

When Karen received the package with the belt buckle in April, she said Jack, now 84 years old, broke down and cried when she showed it to him. The couple plans to display it in their home with the rest of Jack's championship belt buckles.

[listen to 'Utahn finds belt buckle missing for 56 years, returns to owner' on audioBoom](https://audioboom.com/boos/3164386-utahn-finds-belt-buckle-missing-for-56-years-returns-to-owner)

![](http://beacon.deseretconnect.com/beacon.gif?cid=280217&pid=4)

×
Photos
Related links
Related stories
Most recent Utah stories