Estimated read time: 4-5 minutes
This archived news story is available only for your personal, non-commercial use. Information in the story may be outdated or superseded by additional information. Reading or replaying the story in its archived form does not constitute a republication of the story.
SALT LAKE CITY — Standing at a podium on the steps of the Utah Capitol on Thursday morning, Michael Barney gestured toward his wife, Jodi, and their three daughters.
"This is my world. This is the most important thing in my life right here around me. I do what I do every day for these guys," he said of his family.
Dressed in identical T-shirts adorned with a "Living Proof" logo, the Barneys took part in an event to celebrate and kick off Utah's new seat belt law, which goes into effect May 12.
Failure to wear a seat belt became a primary offense for all drivers with the approval of HB79, passed by the Utah Legislature earlier this year.
Previously, law enforcement officials could cite adult drivers who didn't wear seat belts only if they had been pulled over for some other violation. Failing to use a seat belt was already a primary offense for drivers and passengers 18 and younger.
The Barneys have always made wearing seat belts a priority, Barney said. But it wasn't until their family was involved in a rollover accident on Dec. 15, 2012, that they fully understood the habit was a lifesaving practice.
The family was en route to their South Jordan home after spending time at a cabin with friends. Their car rolled on I-215 when Barney over-corrected after sliding on an icy bridge deck over 3900 South.
"We're here today because we truly were saved by the belt," Barney said.
---
The reason we're here today isn't because now we'll be able to write more tickets. It's because we'll be able to save more lives.
–Keith Squires, Department of Public Safety commissioner
---
Rep. Lee Perry, R-Perry, sponsor of HB79, said there had been several attempts over the years to amend Utah's law to make failure to wear a seat belt a primary offense.
But the legislation often ran into opposition that a primary seat belt law would infringe on personal liberties.
But Perry, who is a lieutenant in the Utah Highway Patrol, countered the opposition with a bevy of traffic safety statistics that demonstrate wearing seat belts save lives.
Over the past five years, for example, nearly half of all people who died on Utah's roads weren't buckled. Three-fourths of people who are ejected during a car crash die from their injuries.
Moreover, when a driver is unbuckled, 76 percent of children also ride unbuckled.
"We know from all the statistics, the data we were able to present to the Legislature that wearing seat belts will save lives," Perry said.
Perry said two constituents, Melissa Brown and Kelli Stuart, two Brigham City mothers whose teenage children died when they were ejected from a pickup truck in a rollover accident near Tremonton the summer of 2013, urged him to sponsor primary seat belt legislation this year.
Brown said lobbying for the legislation has helped her cope with the grief of losing her 16-year-old daughter, Mandi, and her dear friend Tyler Stuart, also 16.
Related:
"I want to see something good come out of this tragedy. I want to see other lives spared," she said, clutching a picture frame that contained several photographs of her daughter.
To help allay concerns about government overreach, the bill was amended to allow officers to issue warnings on a first offense. On the second offense, an offender can be fined $45, but that can be waived if he or she completes a 30-minute safety course online.
About 17 percent of Utahns do not wear seat belts and that group accounts for about half of all highway fatalities, said Carlos Braceras, executive director of the Utah Department of Transportation.
"That's a disproportionately high number. So parents, ask your children: Are they wearing their seat belt every time they get in the car? Ask your friends. Make it your personal mission to make sure everyone you know understands why wearing a seat belt is so critical," Braceras said.
Department of Public Safety Commissioner Keith Squires said traffic safety partners will participate in a concerted effort to encourage compliance with the new primary seat belt law.
"The reason we're here today isn't because now we'll be able to write more tickets. It's because we'll be able to save more lives," Squires said.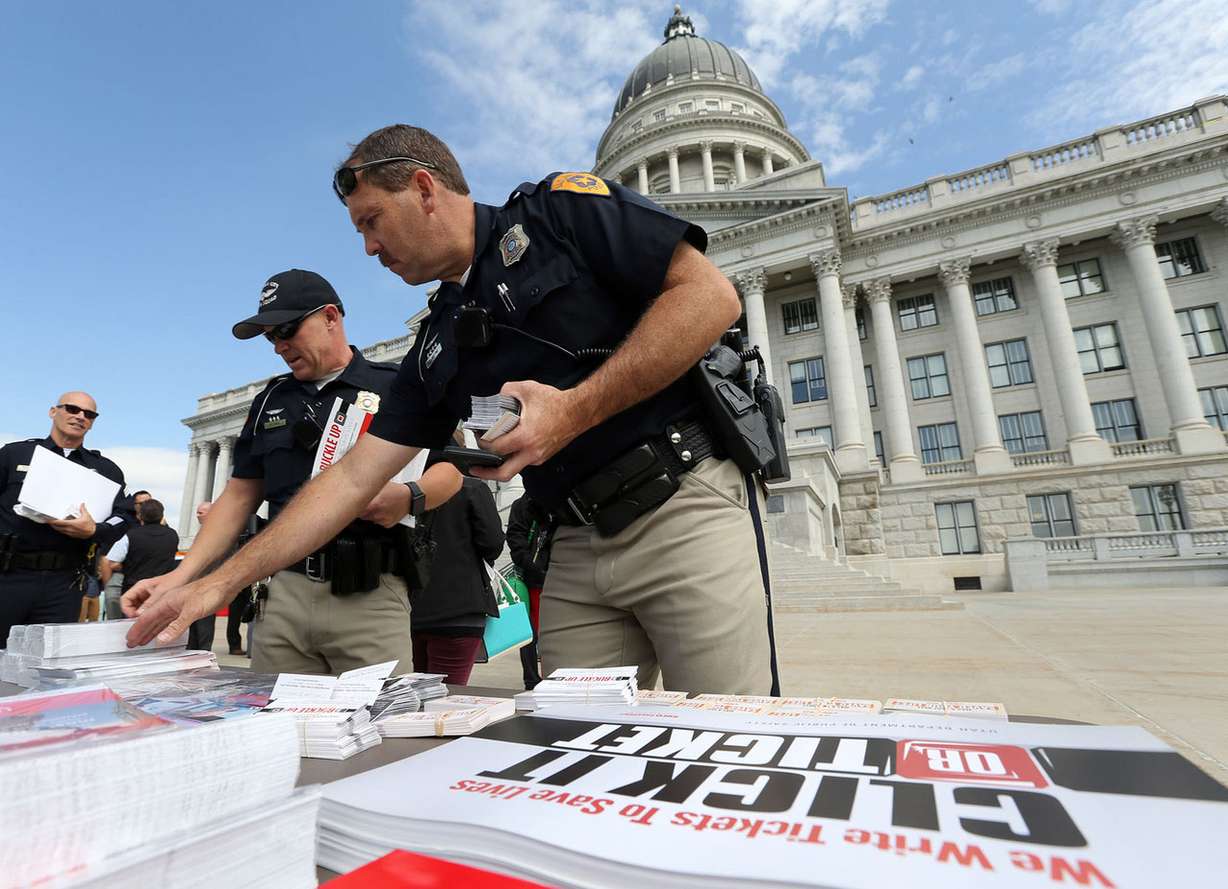 The Utah Highway Safety Office's annual Click It or Ticket campaign, starting May 18, will place "a greater emphasis on educating the public about the importance of wearing seat belts," he said.
Utah experienced a 41 percent decrease in motor vehicle fatalities between 2000 and 2012, dropping from 373 to 217, the lowest number in 50 years, Braceras said.
But in the past two years, there has been an uptick in the number of people killed in car accidents. There were 256 fatalities last year.
So far this year, there have been 79 auto fatalities, compared with 54 for the same time period last year, Braceras said.
"That increase of over 33 percent is a disturbing trend. There's still a lot of work for us to do. We know by helping people understand the importance of wearing seat belts that we're going to be able to get to zero," he said, referring to the state's Zero Fatalities campaign.
×
Photos
Related links
Related stories
Most recent Utah stories