Estimated read time: 5-6 minutes
This archived news story is available only for your personal, non-commercial use. Information in the story may be outdated or superseded by additional information. Reading or replaying the story in its archived form does not constitute a republication of the story.
MAGNA — For Cyprus High's principal, the day begins before sunrise.
"The first thing before school, it's about the only quiet time," Rob McDaniel said as he stepped inside his alma mater in Magna.
Pressing demands pierce the 6:15 a.m. solitude. Vice principal meetings await before the school bell. Recent revenue projections and school-wide test scores need looking over. Several teachers called in sick, leaving the Pirates two substitutes short. It's mid-winter and the broiler used to heat the school went out overnight.
"People think administrators just deal with discipline," McDaniel said. "There are days we spend a long time dealing with discipline but the bigger things we do are getting people into classes, making sure we know what kind of teaching is going on.
"There's a balance with the job, from being reactive to proactive. Our calendars are filled."
'I always wanted to be a vice principal but being a principal is better '
Cyprus High currently has about 1,800 students. In these hallways nearly three decades ago, McDaniel forged a bond with the school's then-assistant principal.
"He was one of my heroes; I thought I could be like that guy someday," McDaniel said. "I always wanted to be a vice principal but being a principal is better. You have a little more control. You work with teams to try to make a difference."
From the early mentor, McDaniel kept the open-door policy for students and parents. "The best part of the day is having a student come up to you and give you a high five and tell you their day is going well," he said. "You're just hoping you have enough influence to keep them in school and going to college — giving them some kind of opportunity to help them turn things around in their life."
Administrators: education's highest earners
Before a career in education, McDaniel was a stand-up comedian. The change brought a steady paycheck: $19,000 at first, according to McDaniel. A KSL state records request with Granite School District shows Cyprus High's second-year principal made $96,248 in base salary last year.
---
He was one of my heroes; I thought I could be like that guy someday. I always wanted to be a vice principal but being a principal is better. You have a little more control. You work with teams to try to make a difference.
–Rob McDaniel, Cyprus High's principal
---
On this Tuesday night, McDaniel day ended at 10 p.m. after closing night on the school's play. Afterwards, the principal mingled with parents and students. For 15 ½ hours, McDaniel was on campus. Another pre-dawn arrival back at Cyprus High awaits tomorrow.
"It's a tough job, it's a demanding job," Granite School District communication director Ben Horsley said. "It's time-consuming, it's very stressful."
Utah: America's most frugal education spender
The latest U.S. Census Bureau report puts Utah at the bottom for spending — both in the classroom and in administration costs. Utah spends $447 in per student administration spending, the nation's lowest.
"All of our administration costs compose one-half of 1 percent of our overall budget," Horsley said in regards to the Granite School District books. "People get concerned that we are top-heavy, and that certainly is not the case here in the state of Utah. And that certainly is not the case here at Granite."
Utah spent $2,397 in instructional salaries per student according to the report, also the nation's lowest.
"I think people have this perception that we're top-heavy and these people are making a lot of money," Horsley said. "We're not paying market value for employees. If we were, we'd be paying higher salaries. Not just for teachers, but administrators as well."
In the Granite School District, six employees earn over $100,000 in salary, without bonuses or benefits factored in. Superintendent Martin Bates paces the district's list at $207,431.
"If you look at his salary as the CEO of the school system, his salary is not nearly commiserate with what other top-10 employers' CEOs are making," Horsley said. "I'm not complaining about his salary, but I'm saying it's not indicative of what the market would bear in the market sector."
Added Horsley: "When Granite's last (superintendent) opening occurred, we had only a handful of candidates despite the fact we were soliciting candidates nationally."
Would salary cuts hurt Utah's ability to hire and retain the best?
Alpine School District superintendent Vernon Henshaw paced KSL's in-state rankings with $224,788 in base pay last year.
"All school administrators are salaried employees, so that means they are hired to get the job done no matter what amount of time it takes," Alpine School District spokesperson John Patten said. "If we're not somewhat in the ballpark with other comparable positions, then we really lose on any competitive edge we have to hire and retain the best."
The state's superintendent of the year in 2008, Henshaw has spent 38 years in public education. He recently announced his retirement.
"This is a good job," Patten said. "It's hard, it's complicated, but it's awesome."
The Alpine School District oversaw 73,724 students in 2014. The district has a $634 million budget. Of the district's 8,268 employees, 17 earned over $100,000.
Compared to the highest earners in Arizona and Nevada from school districts with similar budgets, Henshaw's base pay is comparable: the highest-paid in Mesa, Arizona, made $180,000 last year while a Washoe County, Nevada, superintendent made $269,980.
"Would cuts to those salaries bring on a new problem of being able to retain and hire the best?" Patten said. "It takes about five minutes in a school to understand the complexity of the job and the many hats all of us wear."
Who are the high-earners in your school district? What do they make?
KSL filed GRAMA requests with the Utah State Office of Education and 18 in-state school districts. For a state-by-state comparison, KSL also filed records requests with school districts in Nevada and Arizona.
Check out the database below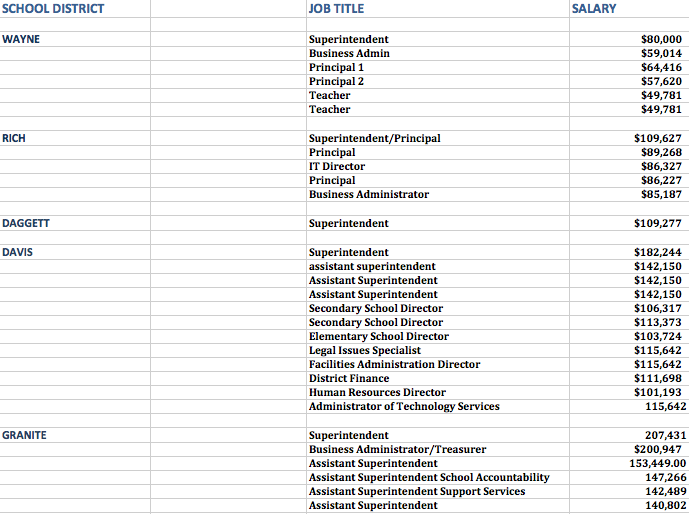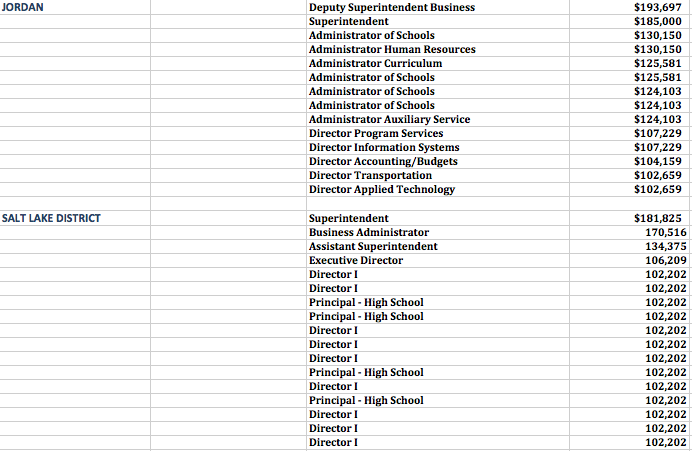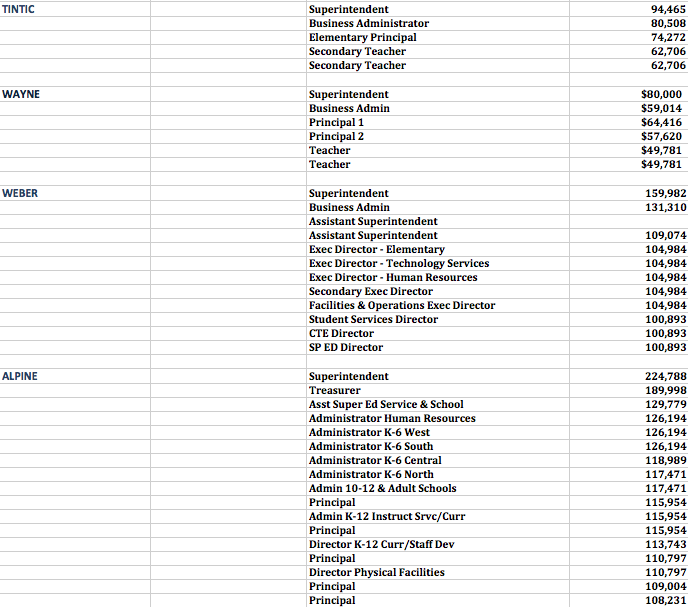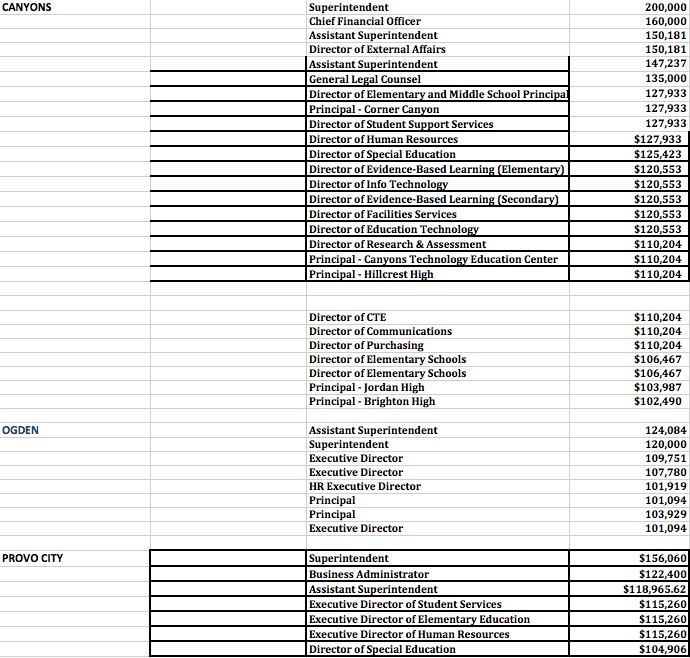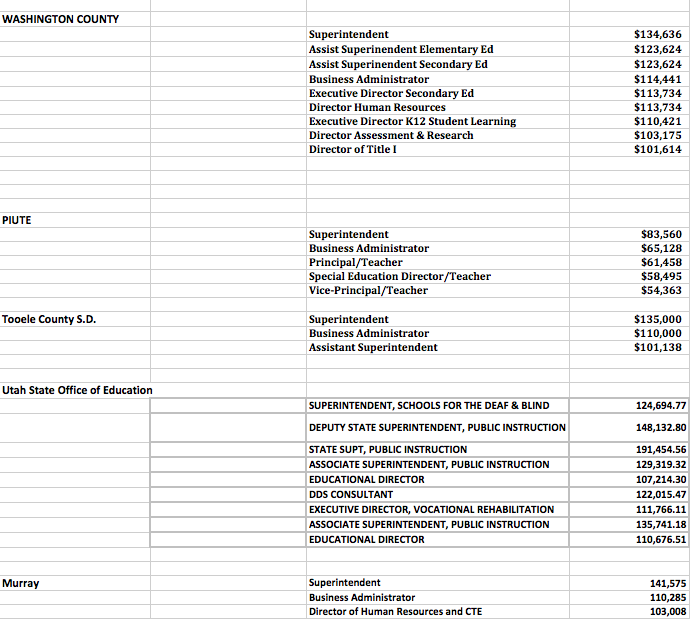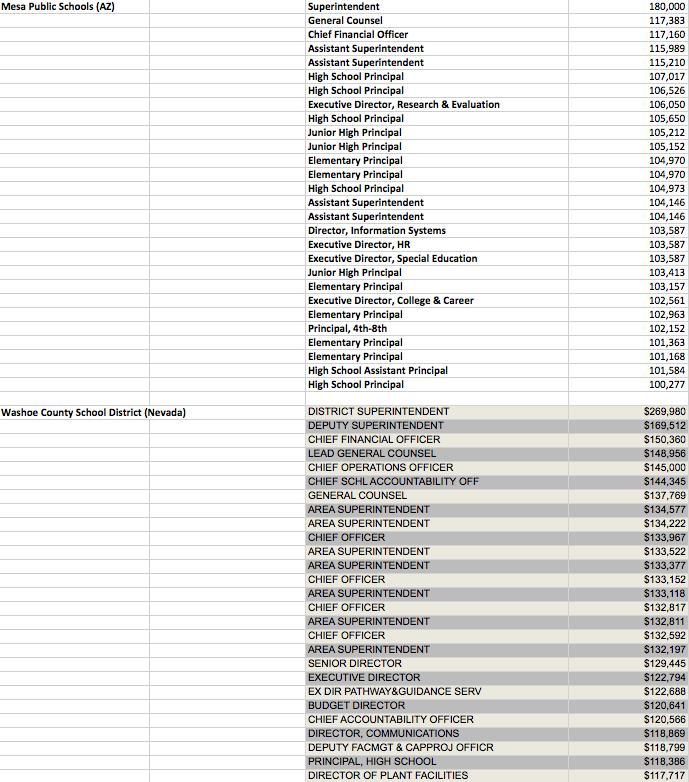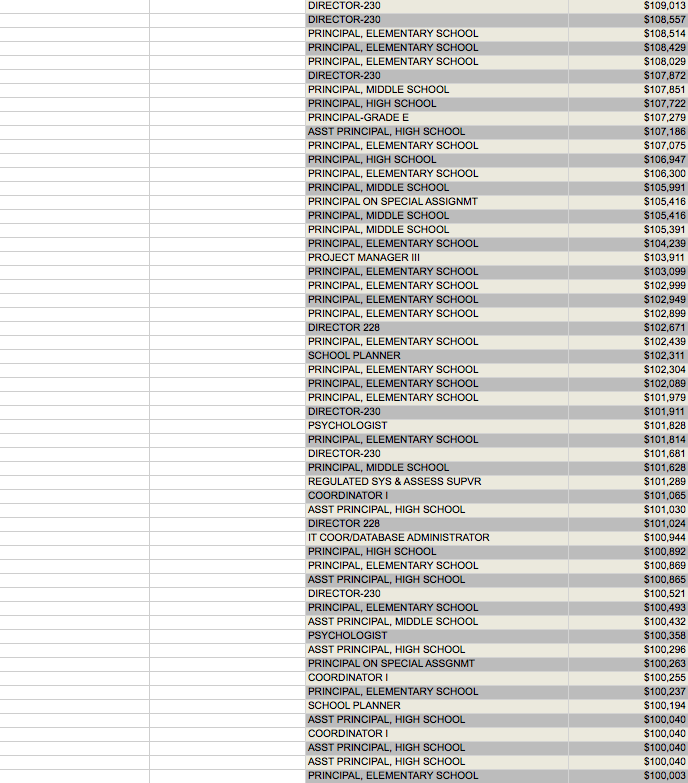 Contributing: Torin Koos
×
Photos
Related stories
Most recent Utah stories