Estimated read time: 4-5 minutes
This archived news story is available only for your personal, non-commercial use. Information in the story may be outdated or superseded by additional information. Reading or replaying the story in its archived form does not constitute a republication of the story.
PROVO — Meagan Grunwald's testimony crumbled Thursday as prosecutors pressed her about her relationship with the man who she says threatened her to stay with him during a deadly crime spree last year, implying she remained committed to him a year after her arrest.
Prosecutor Sam Pead showed Grunwald and the jurors considering her case a letter dated March 2015, with a drawing depicting two hands cupped together to form a heart. One hand is feminine, wearing a ring that says "love." The other is a skeleton.
"Aren't you still in love with Jose Angel Garcia?" Pead asked.
A weeping Grunwald answered, "No."
Grunwald is being tried as an adult for aggravated murder, attempted aggravated murder and several other charges in connection with the shots that Jose Angel Garcia-Juaregui fired, including the fatal shots that took the life of Utah County Sheriff's Sgt. Cory Wride.
Garcia died following a shootout with police.
Grunwald was 17 on Jan. 30, 2014, sitting behind the wheel of her new Toyota Tundra when Wride stopped to see why the truck was parked on the side of the road. Dashboard video played throughout the trial shows her speeding off just as Garcia opens fire out of the truck's back window.
Grunwald continued to drive as Garcia shot and wounded Utah County sheriff's deputy Greg Sherwood, then fired more shots at pursuing officers and passing motorists. She stayed with him as he carjacked an SUV in Nephi and appeared to be following him as he later ran from police and was gunned down.
The 18-year-old testified for more than five hours on Wednesday that she and Garcia were breaking up and that he had threatened her at gunpoint to drive the truck for him, indicating he would also harm her mother and uncle if she didn't comply. With Garcia dead, it's a story that cannot be corroborated, Pead noted.
"Is it your general explanation that the dead guy who can't contradict anything I say made me do it all?" the prosecutor asked.
Grunwald was left little room to respond throughout the questioning, responding mostly with mumbled "yes" or "no" answers.
Pead pressed Grunwald about minimizing her relationship with Garcia during her testimony, indicating that the two were simply friends for much of the time they knew each other and downplaying their sexual relationship.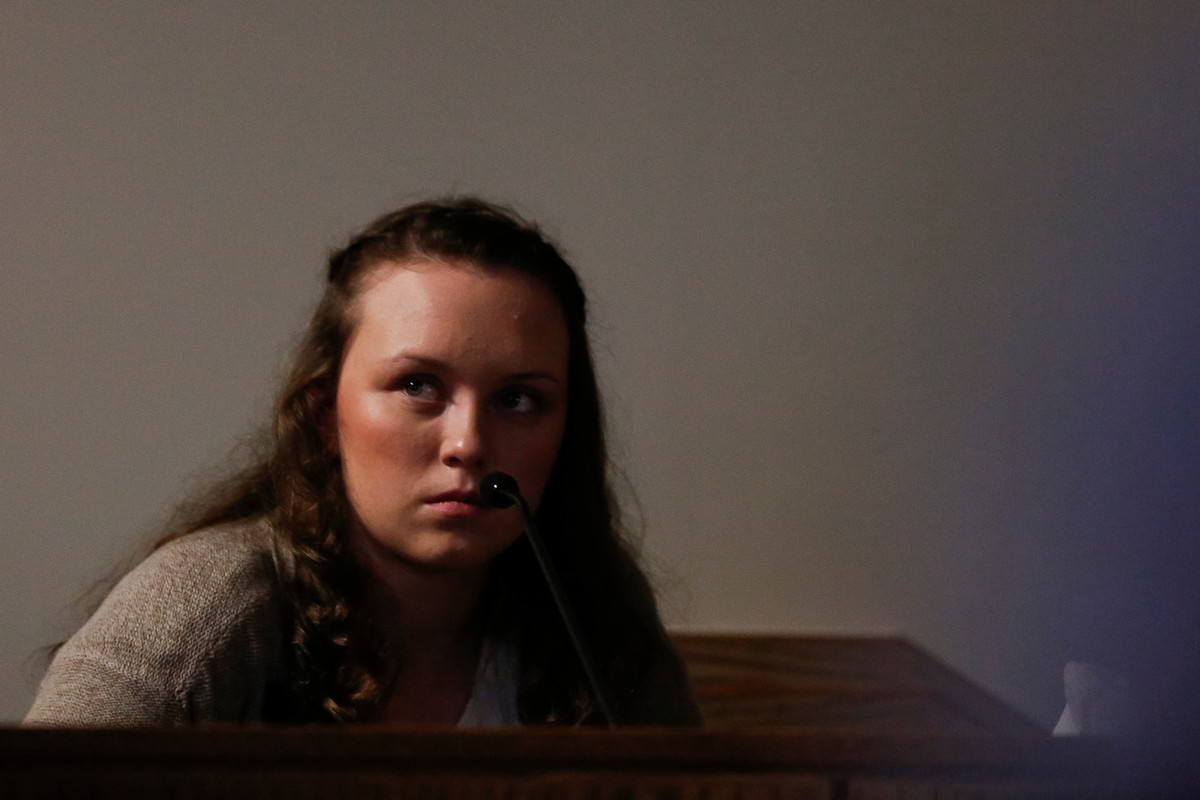 In fact, he noted, she had searched online for wedding dresses, wedding cakes, and "how to give a guy a ring." She also stood by Garcia rather than her parents in disputes in her home, and attempted to hide her physical relationship from her family and from police following her arrest.
During the firm and unflinching cross-examination Thursday, Pead emphasized that Grunwald skillfully drove the truck without hesitation in footage captured by police, not as someone who was distraught and under pressure might. She appeared to show no concern over whether anyone had been shot.
Grunwald said she thought the officers her boyfriend fired upon had been protected by bulletproof glass. Though prosecutors emphasized Garcia didn't appear to be following through with any of his threats against her, Grunwald insisted she was terrified about what would happen if she didn't follow his orders.
"I don't know how to explain it, you just had to have been there inside that cab," Grunwald said, the emotion heavy in her voice.
Grunwald also made no attempt to run toward police when she had the chance and never thanked "the officers who saved you" after Garcia was shot, Pead said. As she sat in a patrol car, she whispered her concern for Garcia as he was loaded into an ambulance.
Grunwald's attorney, Dean Zabriskie, highlighted in his redirect questioning that Grunwald had been held at gunpoint by officers and handcuffed. Grunwald said she felt at the time that the officers treated her "pretty badly."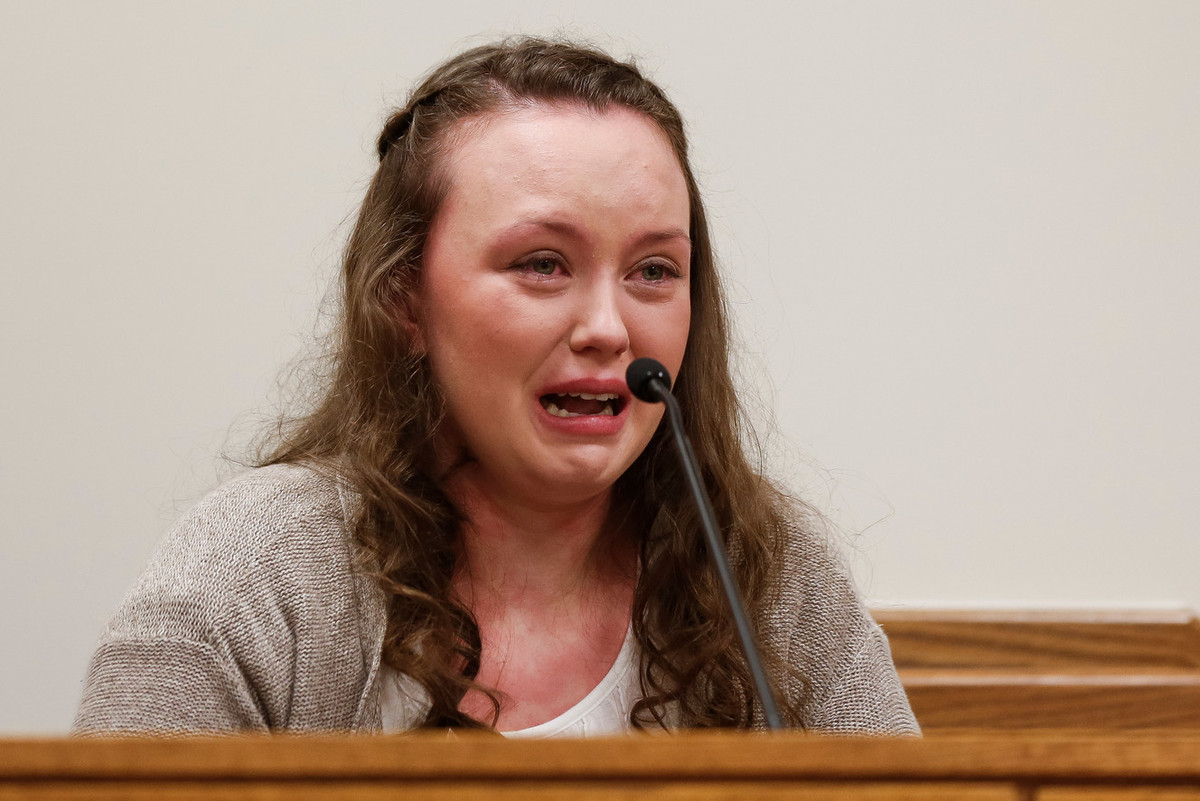 "Have you ever in your life been as afraid as you were that day?" Zabriskie asked.
"No, sir," Grunwald replied, weeping.
Following closing arguments on Friday, the case will be given to the eight-woman, two-man jury, which will have the option to consider reduced murder and attempted murder charges if it chooses. Finding Grunwald guilty of murder instead of aggravated murder would eliminate the possibility of a sentence of life without parole.
Tori Grunwald, Meagan's mother, broke down as jury instructions were prepared Thursday, briefly leaving the courtroom in tears. Tori Grunwald gave a reluctant testimony under order of a subpoena during the trial, claiming not to remember details she had told police about her daughter's relationship with Garcia.
The mother suffered a serious head injury as a teenager and, following a coma, has short-term memory problems.
Meagan Grunwald is charged as an adult with aggravated murder, two counts of attempted aggravated murder, aggravated robbery and felony discharge of a firearm with serious bodily injury, all first-degree felonies. In addition, she is charged with criminal mischief, a second-degree felony; two counts of felony discharge of a firearm, possession or use of a controlled substance, and failure to respond to an officer's signal to stop, third-degree felonies; criminal mischief, a class A misdemeanor; and violation of operator duties for accident involving property damage, a class B misdemeanor
Contributing: Sam Penrod .

×
Photos
Related stories