Estimated read time: 8-9 minutes
This archived news story is available only for your personal, non-commercial use. Information in the story may be outdated or superseded by additional information. Reading or replaying the story in its archived form does not constitute a republication of the story.
PROVO — Meagan Grunwald was caught in a nightmare she didn't think she would survive.
At 17, the quiet, shy teen was speeding down I-15, fleeing from police. The man whose kindness and affection had been a haven from her dysfunctional home had just shot a police officer and was threatening to kill the two people waiting at her house if she didn't comply.
"It was like looking at the devil," Grunwald said, describing her boyfriend's demeanor as he pointed the gun at her head before gunning down Utah County Sheriff's Sgt. Cory Wride.
Sobbing throughout her narrative, Grunwald described how Jose Angel Garcia-Juaregui, 27, threatened to kill her and her family throughout a terrifying chase that started in Eagle Mountain with Wride's shooting death, left deputy Greg Sherwood clinging to life in Santaquin, and ended in a shootout with police in Juab County.
Grunwald was behind the wheel on Jan. 30, 2014, while her older boyfriend fired shots from the passenger seat. Fearing for her family, she kept driving.
"That's when I decided to risk my own life to save my uncle Buck and my mom," Grunwald said through tears as she testified in court Wednesday.
Over the course of five hours Wednesday, Grunwald described the threats Garcia made between pleas of love as they drove for more than two hours, crossing two counties and evading officers. Grunwald testified Tuesday that she followed Garcia's orders and stayed with him as they hijacked a second car out of fear, not because she loved him, as prosecutors have said.
Garcia died after being shot by police.
Now 18, Grunwald is charged as an adult with aggravated murder in connection with Wride's death and attempted aggravated murder for the shots Garcia fired at Sherwood and others along the way.
An eight-woman, two-man jury will soon decide whether she willingly assisted Garcia in the shootings, or if she was compelled by the older man's threats.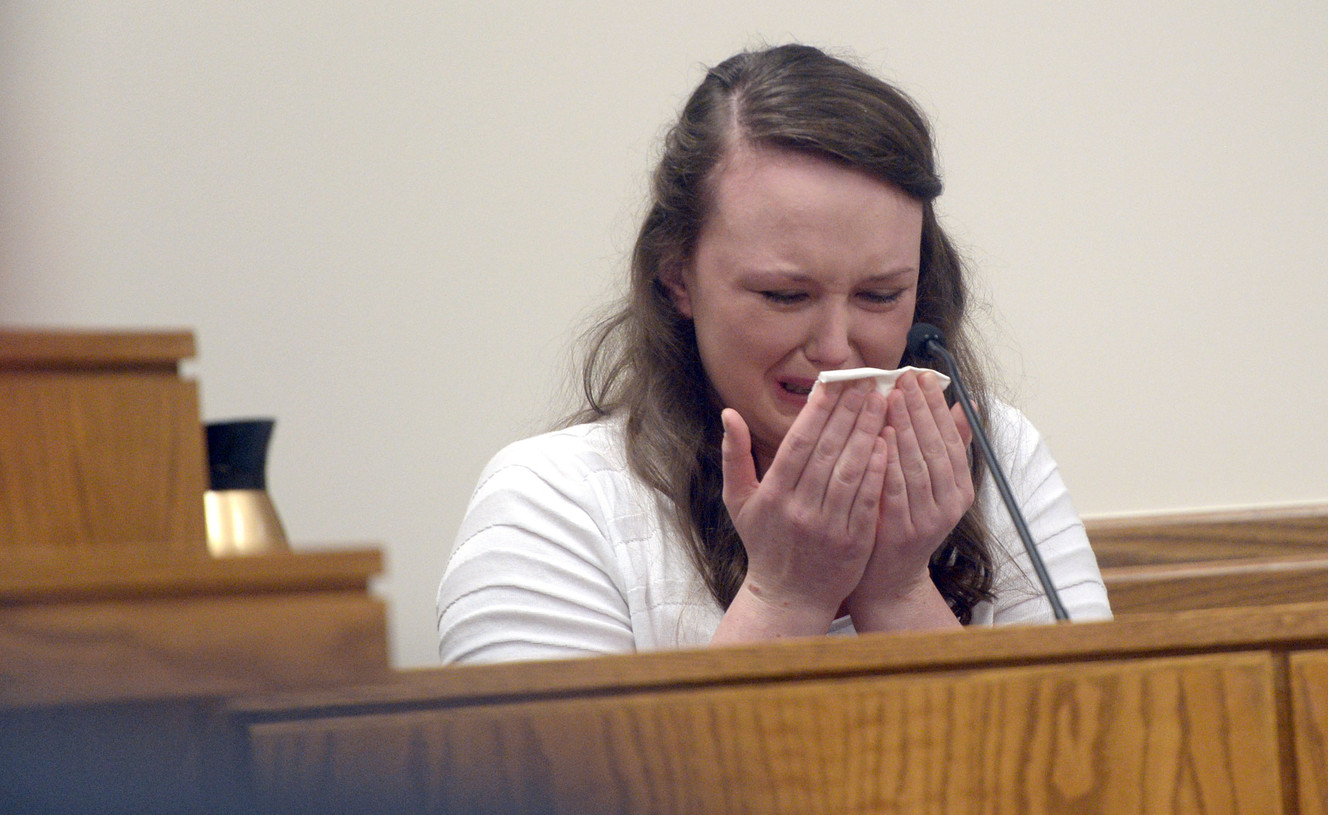 A shy farm girl
Grunwald began to weep the moment she took the stand Wednesday. She calmed, however, as defense attorney Dean Zabriskie had her describe her interests in livestock, cars and nursing. She became animated as she turned to the jury and explained why she had chosen to raise pigs rather than steers, almost giggling as she described how stubborn the animals are.
Struggles with reading and writing made school difficult. Grunwald first met Garcia in early 2013 when a family in her LDS ward suggested he study with her. After that first meeting, Grunwald wanted to learn more about the quiet man who she believed was just a few years older than her.
"All I knew was he was a very nice, respectful man," Grunwald said. "He was quiet, like more quiet that I usually am."
When Garcia again began helping Grunwald study months later, they began seeing each other almost daily. Eventually, Garcia moved in to the Grunwald's two-bedroom home in Draper. In November 2013, their relationship advanced to the point that Grunwald considered them to be boyfriend and girlfriend, despite their age difference.
Related Story
Grunwald claimed their romance was brief and they only had sex a few times, but didn't deny sneaking behind her parents backs to be alone with Garcia. She denied ever wanting to move to Mexico with him, as one of her school friends testified earlier this week, and said talk of getting married was only a joke.
Prosecutors have said throughout the trial that photos, text messages, testimony from friends and family, and a promise ring Grunwald proudly wore show that she was actually deeply committed to Garcia.
Arguments about the relationship became part of her parents' deteriorating marriage, including two domestic-violence incidents that drew police to the home. The lovestruck teen learned Garcia's real age and discovered he had other girlfriends, as well as children.
Nevertheless, Garcia stayed in contact with Grunwald and continued to stay at her house on occasion, including the night before the January 2014 crime spree, when he gave Grunwald methamphetamine to ease wisdom teeth pain.
The next day, Garcia sought Grunwald out to talk as she, her mother, and a visiting uncle packed for a move to southern Utah.
Garcia was agitated, Grunwald said, insisting that the two go for a drive. Believing she would return quickly to help her mother and uncle, Grunwald agreed.
"If you don't go with me, stuff is going to happen," Grunwald said he told her.
'You're going to drive'
Together, Garcia and Grunwald set out in the new Toyota Tundra that Grunwald had worked several jobs to pay for. Garcia got a phone call informing him a warrant had been issued for his arrest, then began to plead with Grunwald to stay with him. He blamed her uncle for breaking them up and moving her away.
Suddenly, an irate Garcia pulled out a gun Grunwald claims she had never seen before and fired two shots out the window. Alarmed and crying, Grunwald pulled over, turning on her emergency lights out of fear she would be hit by other cars in the snow and fog.
"Next thing I know, I hear a tapping on my driver's window," Grunwald said.
It was Wride. He had stopped to make sure everything was OK, he had explained, returning two more times to the truck and continuing to ask the crying teen whether everything was all right.
"Are you sure you're OK?" an emotional Grunwald recalled him asking. "He was really, really nice."
While Wride was away checking a fake name Garcia had given him, Garcia took out the gun, pointed it at Grunwald's head.
"Put your foot on the (expletive) brake," Grunwald said Garcia told her, shifting the truck into gear. "If you don't do what I tell you to do, I'm going to kill you and your (expletive) family."
Grunwald remembers Garcia opening in the back window and gunshots ringing close to her head. She sped off as Garcia shouted "Go! Go! Go!" heading back east and onto Redwood Road. As she turned toward the road that would eventually take them to Santaquin, Grunwald told Garcia he could have her truck and asked if he would let her go.
"No," he replied. "You're going to (expletive) drive."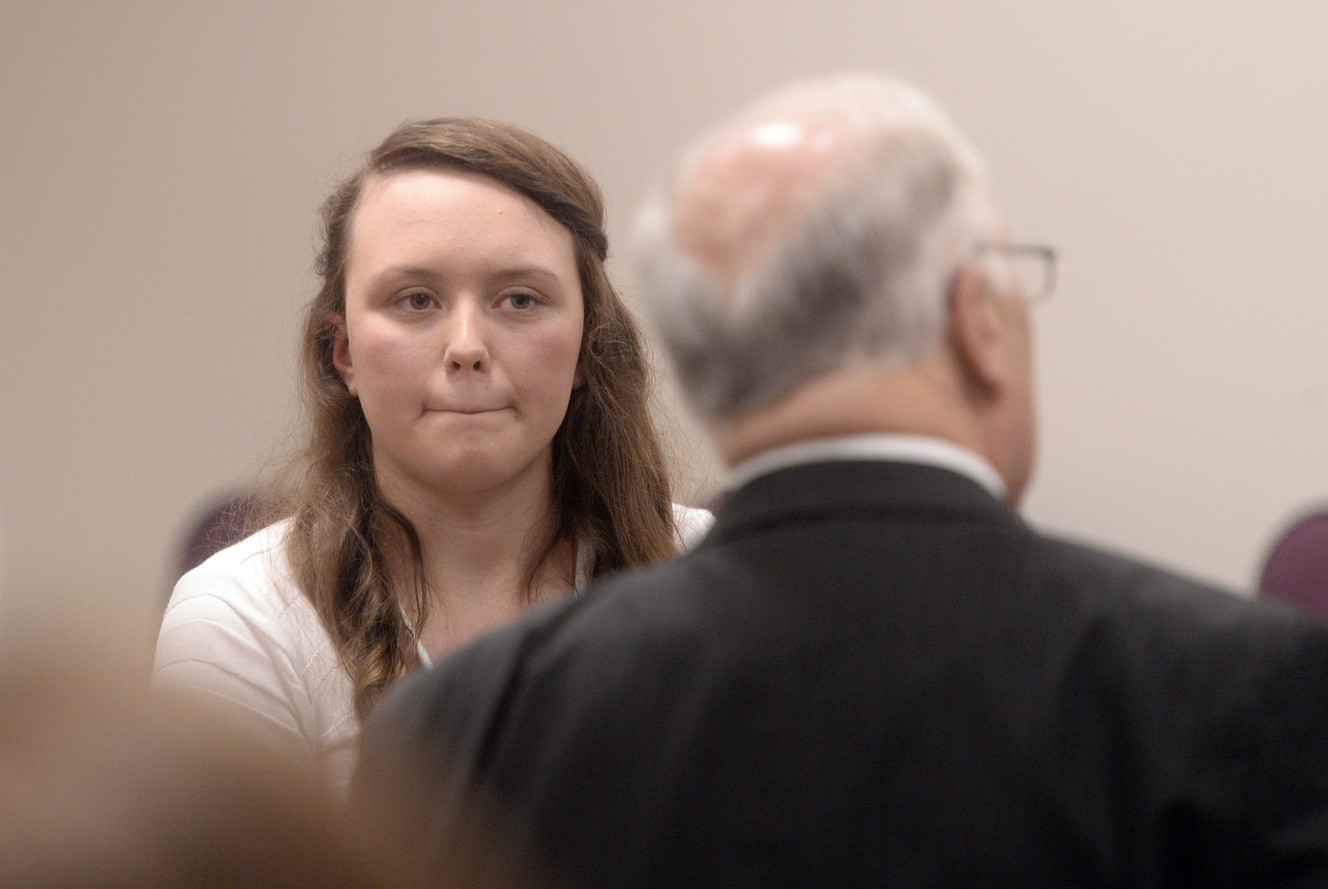 'Am I invisible?'
Grunwald said she considered jumping from the truck, but "couldn't find the courage." All the while, Garcia vacillated between his repeated threat toward Grunwald's family and promises that he would never really hurt her.
When they reached I-15, Garcia told Grunwald to head back to her house in Draper where he had more ammunition, and where she knew her mother and uncle were waiting.
Instead, she got off the freeway in Santaquin, where Sherwood pulled up behind the truck.
Sirens sounded as Grunwald sped onto Main Street. She braked for cars up ahead, not to draw the pursuing officer closer, but Garcia took the chance to fire another two shots out the back window.
Sherwood was hit, and Grunwald made a U-turn, speeding back the other direction on the wet roads. Under the pretense of switching to four-wheel drive, she pulled into an abandoned gas station and watched several police cars whiz past, apparently not seeing the truck.
"Am I invisible? I just risked my life to have everything end,'" she said she wondered. "I was thinking, 'This really is just a nightmare that I can't wake up from.'"
---
Am I invisible? I just risked my life to have everything end. I was thinking, 'This really is just a nightmare that I can't wake up from.'
–Meagan Grunwald
---
When the police were gone, Garcia told Grunwald to keep driving. They got back on southbound I-15 where they eventually hit a police spike strip and pulled off the freeway in Nephi.
Grunwald again considered running, but Garcia warned, "You'd better remember what I said. Get out and follow me."
She did. But with her wisdom teeth aching and her ears ringing, Grunwald initially lagged behind as Garcia sprinted to the freeway overpass.
"I was hoping he would take off and leave me there," she said. Instead, he fired a shot at an approaching officer and turned toward her. "I seriously thought I was going to die then."
Grunwald climbed into the passenger seat of a stolen SUV, and Garcia drove this time as they continued down the freeway, police close behind. Garcia continued his conflicting pronouncements of love and threats until he hit another set of police spike strips. The damaged SUV soon veered across the median and into northbound traffic.
As Garcia prepared to abandon the vehicle and with police closing in, Garcia left Grunwald with a promise: If he didn't die, he would make sure she and her family did.
"I was trying to save my family," Grunwald said, describing how she followed Garcia onto the freeway and watched as he was shot by police.
Distraught and convinced the officers were shooting at her, Grunwald says she cried out, "He's shot in the (expletive) head." She lay on the wet pavement until an officer approached, his gun trained on her.
"I felt like they thought I did everything," Grunwald testified Wednesday.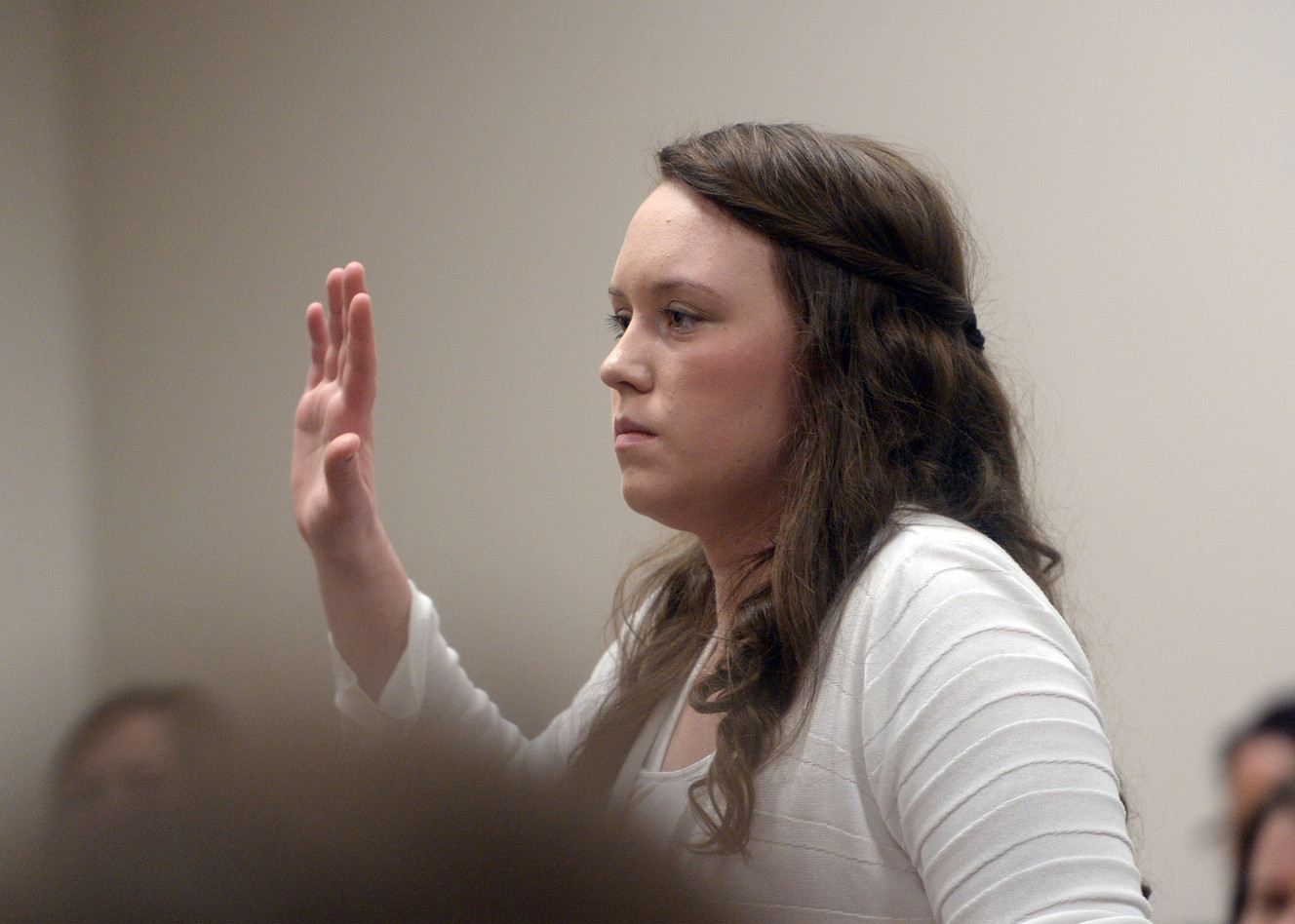 On trial
The trial against Grunwald, who faces 10 felony charges and two misdemeanors in connection with the crime spree, is approaching the end of her two-week trial. She is expected to finish her testimony Thursday morning, when she will be cross examined by prosecutors.
Following closing arguments, the case will be handed off to the jury.
The 18-year-old Grunwald has been quiet and attentive throughout the trial, rarely showing emotion before she took the stand Wednesday.
Meanwhile, members of the Wride and Sherwood families have been present for much of the proceedings. Following Grunwald's testimony Wednesday, Wride's widow, Nanette Wride, told reporters that one thought stood out to her as Grunwald spoke: Her husband, the kind police officer, who first approached her that day, would have helped her if he had only known what was going on.
"He would have gotten her out in a heartbeat," Nanette Wride said.

×
Photos
Related stories
Most recent Utah stories