Estimated read time: 6-7 minutes
This archived news story is available only for your personal, non-commercial use. Information in the story may be outdated or superseded by additional information. Reading or replaying the story in its archived form does not constitute a republication of the story.
SALT LAKE CITY — A little girl's story brought a bunch of strangers together on the Internet, brightening up Twitter for a moment in a movement to help.
Sunday, April 19, 3-year-old Karmyn Puzey was admitted to Davis Hospital in Layton after weeks of vomiting, fatigue and after the third time seeing a doctor, going cross-eyed. Following a CT scan, a doctor told her mother that a large tumor was growing in her skull.
"(I'm) thinking and hoping it's nothing because you're always overly worried as a parent," her mother, Carrie Puzey, said.
Following a transfer to Primary Children's Hospital and an MRI, the next day, doctors removed the cancerous tumor, but Karmyn will have to undergo radiation treatment. She returned to her mother's home in Layton Thursday to rest.
Family members have constantly stayed by Brian and Carrie Puzey's side, offering love and support to them and their little girl. Members of Brian and Carrie's families kept them company at the hospital during Karmyn's stay. They also say the staff at the hospital have been "awesome."
"I don't know if we could have done it without the support we've gotten," Brian said.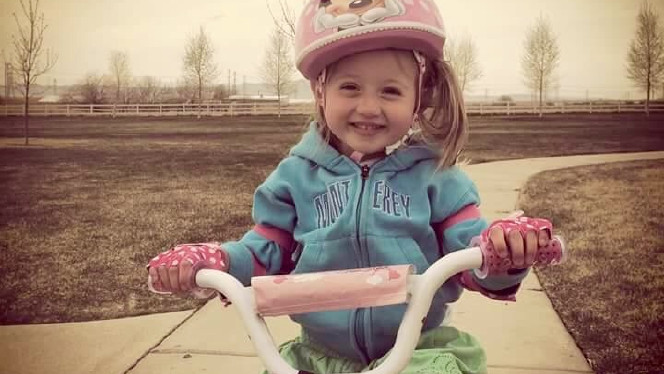 Photo credit: Puzey Family
Brian's sister Missi McCowan, who lives in St. George, wanted to do something to help her brother, despite their separation. She set up a GoFundMe account,* asking people to help Brian, who has two Fed-Ex routes, take the time off.
What she didn't anticipate was the chain reaction it would cause. Brian is an active Twitter user, often tweeting about BYU sports. And the Prayers for the Precious campaign— named for Brian's nickname for his daughter — spread all over Twitter, bringing University of Utah, BYU and Utah State fans, players and sports show hosts together. Brian says it started with a friend of his, Jonathon Godbold, who saw the fundraiser on Facebook and spread it to Twitter from there.
Taking on the hashtags #PrayersForThePrecious and #TeamKarmyn, Twitter users drove others to the campaign, urging them to give what they could.
McCowan believes people are compelled to share because of Karmyn, though.
"The thing that I've found fascinating is once one person shares Karmyn's story, it will be like, my cousin in college shared it and then you see all these college students donating just $5, just whatever they have," McCowan said.
Hey friends please check out this page to help fund a little girl who needs help! http://t.co/9VeH9Rl9kA — Andy Phillips (@AndyDPhillips) April 22, 2015
> We are 100% on board with spreading the word about this very valid GoFundMe. A [\#CougarNation](https://twitter.com/hashtag/CougarNation?src=hash) family needs your help: > > — The Roar Of Cougars (@byuROC) [April 22, 2015](https://twitter.com/byuROC/status/591021309221441537)
> We may be rivals on the field but this [\#BYU](https://twitter.com/hashtag/BYU?src=hash) fan could use some help. [\#Prayers4ThePrecious](https://twitter.com/hashtag/Prayers4ThePrecious?src=hash) [\#GOUTES](https://twitter.com/hashtag/GOUTES?src=hash) > > — North End Zone (@NEZUofU) [April 22, 2015](https://twitter.com/NEZUofU/status/590722234387431425)
> I can't stop thinking about this. It's consumed my last 24 hours. How do we get this bigger? > > — Jeff Hansen (@rakoto10) [April 22, 2015](https://twitter.com/rakoto10/status/590911778608943104)
> Late to the party on this, but a good man could use your prayers and support for his 3 year old daughter. More info: > > — Scott Garrard (@ScottyG1280) [April 21, 2015](https://twitter.com/ScottyG1280/status/590659093720915968)
> Please help our friend [@URClassless](https://twitter.com/URClassless) with whatever you can part with > > — Austin Horton (@austinhorton) [April 22, 2015](https://twitter.com/austinhorton/status/590757534845243392)
The timing of the Twitter trend was impeccable, Brian said. He saw the tweets start rolling in just as he and Carrie were waiting on further information about Karmyn's tumor and surgery.
"We were sitting there in the PICU right before she had her second MRI to see how the surgery went and I just happened to flip on my phone while Karmyn was asleep," Brian said. "I saw a picture of the campaign that had been started and all the people on Twitter started talking about it and I saw it on there too. We just started bawling, seeing all the people that were donating and saying 'we're praying for you.' We just sat there for about an hour and looked through pictures and through comments and just cried. That was about the roughest time, because we just found out it was cancerous. It was emotional."
Between the constant support of their family and the love sent from the Twitterverse, Brian and Carrie say they have felt buoyed.
"We just hope for the best. We just want her to live, that's all," Carrie said. "Brian had no idea that it would go as viral as it would and I had no idea that people would give us so many donations. It surprises you how people are so kind and just so generous too. He doesn't even know half these people. We're just grateful for everything."
"I don't know how to thank all these people, and a lot of them are anonymous," Brian said. "How am I supposed to thank all these people for being so generous with their time and money? I can't say thank you enough times to these people. I wish I could thank them all individually. It restores your faith in humanity, really, to see stuff like this. It's just really touched us. We couldn't be more appreciative of it."
---
*KSL.com does not assure that the monies deposited to the account will be applied for the benefit of the persons named as beneficiaries. If you are considering a deposit to the account, you should consult your own advisors and otherwise proceed at your own risk.
×
Photos
Related links
Most recent Utah stories