Estimated read time: 4-5 minutes
This archived news story is available only for your personal, non-commercial use. Information in the story may be outdated or superseded by additional information. Reading or replaying the story in its archived form does not constitute a republication of the story.
PARADISE — A Utah family is using photography and a YouTube channel to spread positivity about Down syndrome and is hoping to create a calendar to inspire others.
Paradise resident Alan Lawrence and his wife adopted a daughter and had three more children before William — who they call "Wil" — was born in October 2013. He said when the doctors told them Wil had Down syndrome he was shocked.
"It was a shock and a surprise to our family," Lawrence said. "We knew very little about Down syndrome. We don't know anybody who has Down syndrome … so we weren't quite sure what to expect."
Lawrence said he initially took the news "harder" than the rest of his family did. He said he was worried about the health aspects of his new son and kept dwelling on things that were out of his control. He said after the second day in the hospital he was still sobbing and "almost grieving" the condition of their child.
"My wife was asking me why I was crying so much … and at that point she said what I needed to hear," Lawrence said. "She told me that our son was going to be such a huge blessing to our family and was going to help us grow in areas that we probably didn't know we needed to."
After the Lawrence family took Wil home from the hospital, they decided to gather more information about Down syndrome. However, when they Googled the condition, they were dismayed to mainly find medical diagnoses that weren't very positive.
"There was a lot of just sort of technical, medical descriptions like 'what health problems to expect,' 'how long they'll live,' " Lawrence said. "I guess we were searching for something that was a little more inspirational."
However, the family eventually found several blogs online that showed how enjoyable and fulfilling life could be with a person with Down syndrome. Lawrence had photography experience and said he felt inspired to use his skills to help spread a "message of positivity" about Down syndrome.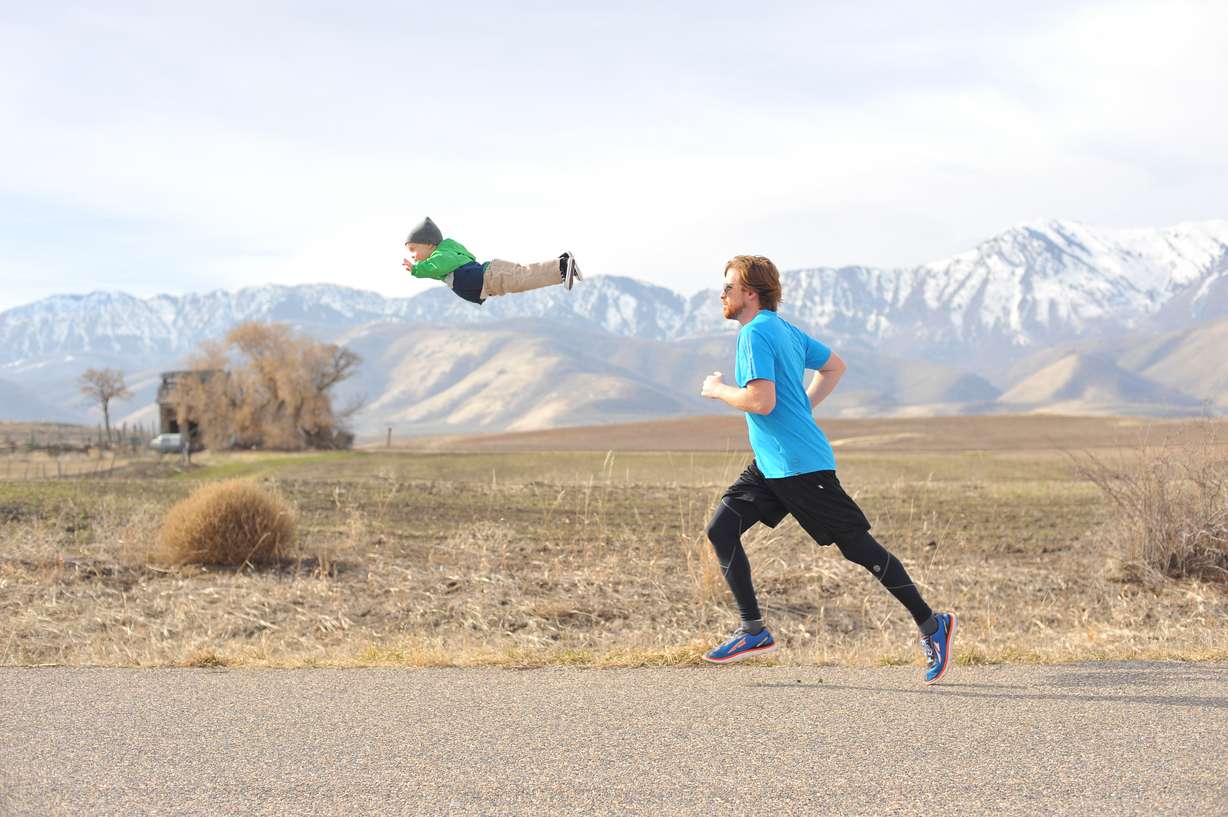 He created "That Dad Blog" in November 2013 and began posting photos of Wil. Lawrence said that ever since Wil learned to roll over, he would put his arms behind his back and kick his legs. It became a family joke that Wil was trying to take off and the family created a saying that someday Wil would fly.
Lawrence began to create composite photos of Wil in his flying position in various settings and posted the pictures on his blog. He started posting the photos on his Instagram as well and now has more than 1,000 followers. Lawrence said he received a lot of positive feedback from the photos, sparking the idea to create a calendar of Wil "flying."
"As I was thinking about this photo, it really kind of hit me that he really can fly," Lawrence said. "He really can fly. He's still young, but we know as family that Wil can do anything that he puts his mind to."
In an effort to "flood the internet" with positive messages about Down syndrome, the Lawrence family also created YouTube channel, "Bringing Light," as a way to share the stories of other families who have also been blessed with a Down syndrome child. Sunday, the Lawrence family launched a Kickstarter project* to get funding to create the calendar and to take a trip through several western states to visit other families with Down syndrome children.
Lawrence said they'd love to take photos of Wil "flying" at landmarks like the Grand Canyon and the Redwoods. He said they hope to eventually publish a children's book with the photos to talk about how children with special needs bless their families.
---
*KSL.com has not verified the accuracy of the information provided with respect to the account nor does KSL.com assure that the monies deposited to the account will be applied for the benefit of the persons named as beneficiaries. If you are considering a deposit to the account you should consult your own advisors and otherwise proceed at your own risk.
×
Photos
Related Links
Related Stories