Estimated read time: 2-3 minutes
This archived news story is available only for your personal, non-commercial use. Information in the story may be outdated or superseded by additional information. Reading or replaying the story in its archived form does not constitute a republication of the story.
NEW YORK CITY — Some people leave notes in lunch boxes for their children, or write on the outside of a paper bag lunch if they're feeling like embarrassing their children. But one Brooklyn artists has taken the lunch note to another level.
On nothing more than an ordinary napkin, Nina Levy, a sculptor by trade, draws a work of art. A work of art that any kid could appreciate: Wolverine skewering some broccoli; Raven from Teen Titans rendered as weimereiner; Darth Vadar telling someone to have a great lunch.
Every day for the last six years, Levy has drawn incredibly detailed art on napkins for her two children to take to school and sop up spilled peanut butter and jelly. But it's something she loves to do.
"I started out drawing simple pictures in black Sharpie on a nice big Vanity Fair napkin for Archer's nursery school lunches," she says on her blog. "I wanted to reassure him and to win him some additional attention at lunch — perhaps his teacher would have to read the message to him and then they could talk about what interested him about the character in the drawing."
She takes requests from her sons, Archer and Ansel, but they are sometimes hard to fulfill, especially with limited napkin space, like, "I want Nightwing and Kid Flash blowing up the Brotherhood of Evil while Batman and Superman watch."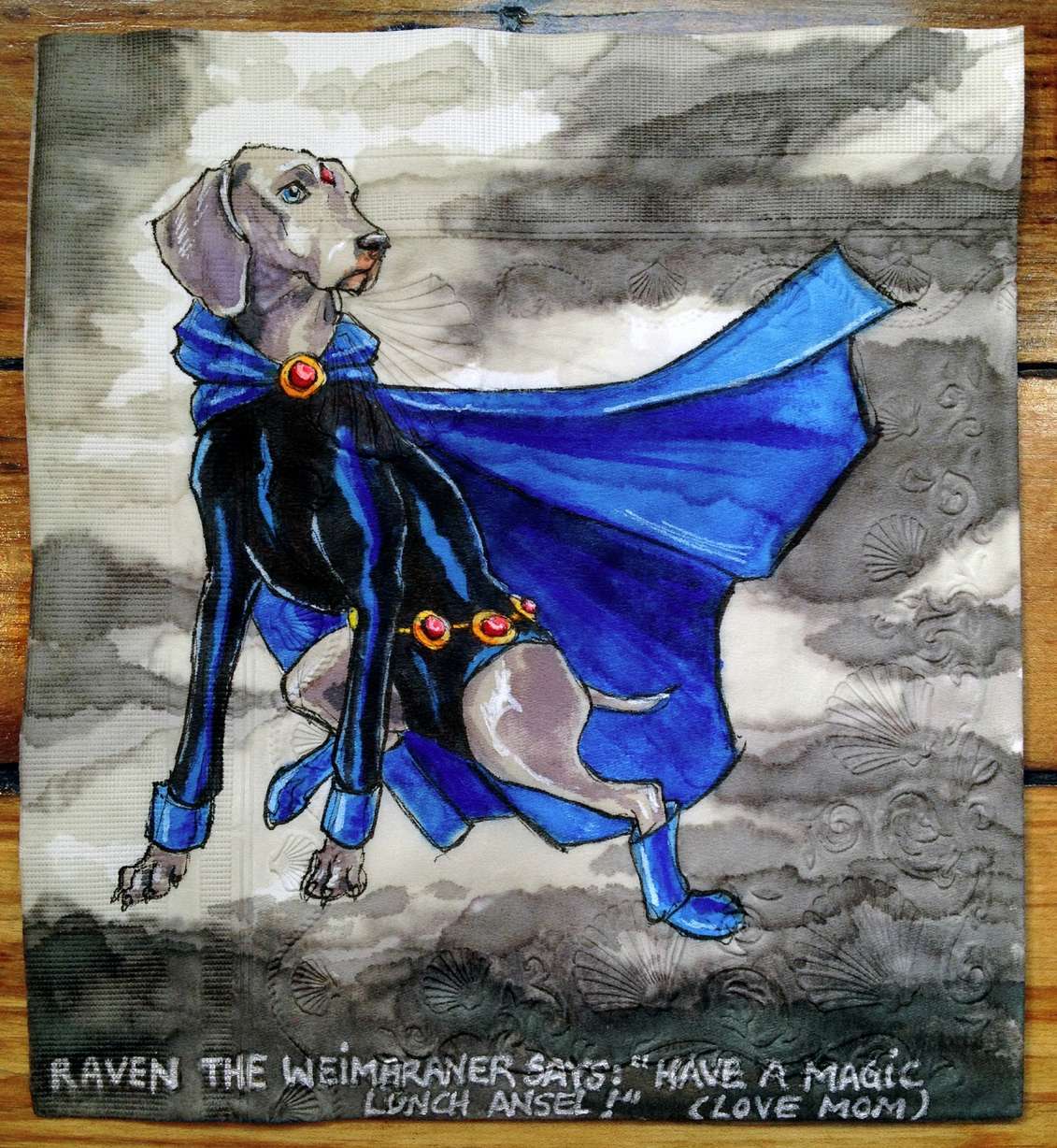 Levy said that, despite the fact that the napkins are either used or go unappreciated, it helps her with her art and and provides a challenge and satisfaction that sculpting doesn't offer up so immediately. And often, the napkins come back home and she can store them for the future.
Levy finished her napkins every night and puts them in lunchboxes the next day. She virtually never misses a day. When about ti give birth to her second son, she prepared three napkins in advance so she wold be able to recover from the birth. Her husband, Peter Billow, told the New York Times he is amazed by her dedication.
"She just keeps on going where I would have given up long ago, through thick and thin," Billow said. "She once had a 103-degree fever and was still doing it. When you combine the length and duration with the sheer amount of them, it's staggering. She's incredibly talented."
Levy said she doesn't intend to continue to produce daily art napkin forever, and that once college rolls around, they'll probably stop. For now, though, each day brings another rendition of Hot Dog or Batman.
×
Photos
Related Stories