Estimated read time: 5-6 minutes
This archived news story is available only for your personal, non-commercial use. Information in the story may be outdated or superseded by additional information. Reading or replaying the story in its archived form does not constitute a republication of the story.
SALT LAKE CITY — Utah Jazz guard Rodney Hood has never had things easy.
Sure, he attended a college basketball blue-blood program in Duke; sure, he's a professional basketball player; sure, he's a likable guy with a streak of humility.
However, it hasn't always been dreams and elite-level status for Hood. The former Blue Devil was one of the rare transfers accepted into the program by coach Mike Krzyzewski, after he left Mississippi State for better opportunities with Duke.
Hood averaged 16.1 points a game in his one season with Duke, but Mercer eliminated his team in the opening round of the 2014 NCAA Tournament. Hood eventually declared for the draft and was drafted 23rd by the Jazz.
With Alec Burks missing most of the season with a shoulder injury, Hood was thrust into a regular playing role with the team. He has steadily improved throughout the season, scoring a career-high 25 points on April 5 against the Sacramento Kings. However, multiple injuries throughout the season have limited his effectiveness.
In all, Hood has missed 32 games, with issues ranging from a foot injury to a concussion to gastrointestinal issues.
In spite of that, the NBA rookie said he has attempted to stay positive throughout the whole experience.
"I've had to understand it's the NBA," he said. "There's going to be ups and downs, dealing with injuries, but you've got to be tough-minded and understand it's another day coming. (I've tried) just being mentally prepared and mentally tough, and it's helped me have a good last few games."
#UJ
Jazz coach Quin Snyder, a former Blue Devil himself, said Hood brings a great deal to the team when he is in the lineup.
"(Rodney) brings depth at the wing position with another guy who is capable of scoring," he said, "his ability to shoot the ball from three, and also to create a shot, and really just make plays generally. Defensively, he's long and big. Whether he's matched up with a (shooting guard) or (small forward), his length is a factor for us defensively.
"What he's able to do is when people attack him, he's able to respond. I think he'll get better at being at a slower pace, and kind of making decisions. Right now, he's able to attack so he can go create a shot.
"There's a growth process that's happening, for sure. Sometimes it's happening and you don't witness it as much. In Rodney's case, there's been some of this going on because he hasn't had those longer periods of time to play."
Against the Sacramento Kings Sunday, Hood led the Jazz to a 101-95 win, making 9-of-17 shots in the game.
The Kings played in Salt Lake Wednesday, and again Hood led the Jazz, finishing with 20 points — an average of 22.5 points between the two games.
The rookie shooter said his role is to be a playmaker, but not necessarily a scorer.
---
"As everybody's gotten to know (Rodney), he's got a great feel about him; just a high-character guy whose got a sense of humor," said Jazz coach Quin Snyder.
---
"I'm not worried about scoring; that just happens naturally within the flow of our offense," he said. "My teammates and the coaching staff have asked me to be real aggressive, so I've been doing so. I've just got to keep it going."
Hood's impact on the floor is well documented, but his role within the locker room is also important.
Snyder said he's a quiet-but-important person.
"He's got a quiet disposition," he said. "As everybody's gotten to know him, he's got a great feel about him; just a high-character guy who's got a sense of humor."
Sacramento coach George Karl has coached in the NBA over four decades and has been around a variety of successful players in that time.
After Hood's recent success against the Kings, Karl said he noted and respected Hood for how he handled himself and how he played.
"They have confidence in (Hood); they went to him," he said. "When he made a big shot, they kept going to him. He responded in a pretty classy way. He has a little bit of left-handed offensive knack, and we're definitely going to have to be more aware of him (in the future)."
Dante Exum, fellow Jazz rookie, and Hood have been together since they were unveiled to Jazz fans in an open practice in July. Since then, both have had their ups-and-downs, but Exum said he has nothing but confidence in his friend.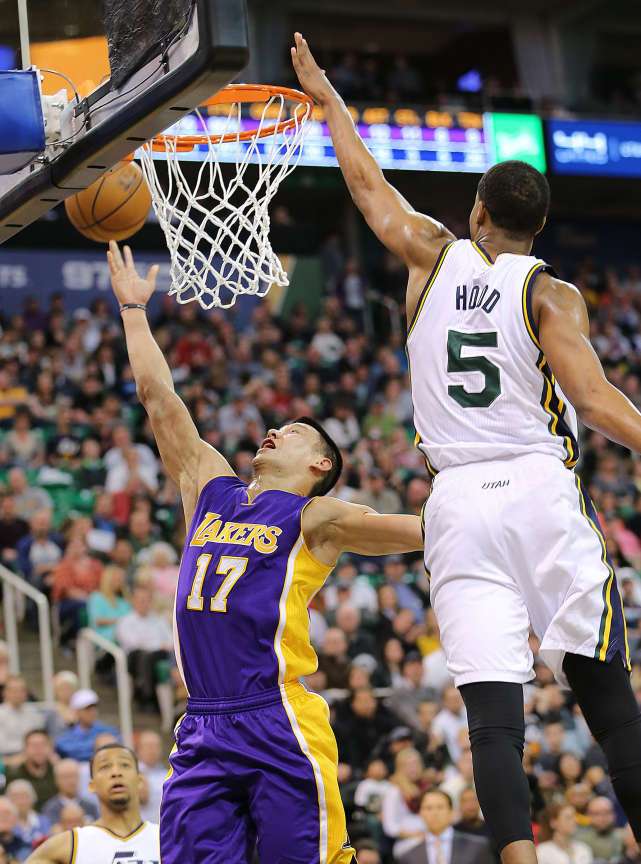 "Rodney's playing great at the moment, and it's good to have him on the court," he said. "He's improved so much in that mid-range, and just having that confidence in being able to play-make off on-ball screens. Whether it's Gordon (Hayward) who has the ball at the end of the clock, or him, I'm confident."
There is hope that Hood can develop into a legitimate wing-scorer, a player capable of playing a role in team defense while efficiently hitting shots.
Snyder said he's hopeful Hood will use the offseason to continue to improve physically.
"I really just want him to keep doing what he's doing," he said. "For him, I think getting better means physically taking care of his body, getting stronger. You don't have as much of a chance to do that before your rookie season, so he's really going to have his first full summer and I think he'll be able to take advantage of that really well."
For his part, Hood said he's just focused on adding to the team's overall improvement this summer.
"My goals for the rest of this year is just to win as much as we can and try to get better," he said. "It's going to be a real big offseason for everybody on the team, and it's going to be one of the best offseasons for all of us, because we know we have something special ahead. We've got to continue to keep building on what we have now."
×
Related stories
Most recent Utah stories