Estimated read time: 2-3 minutes
This archived news story is available only for your personal, non-commercial use. Information in the story may be outdated or superseded by additional information. Reading or replaying the story in its archived form does not constitute a republication of the story.
DRAPER — A Belgian man with dreams of creating authentic Liege waffles in Utah will be opening a fourth location for his store in July.
Pierre Vandamme grew up in Brugge, Belgium, enjoying traditional Belgian waffles as a child. He moved to Utah in 1994 while working as a pilot. After being laid off from his job, he decided he needed to "reinvent" his life and pursue his interest in the food industry.
"I had to innovate a little bit," he said. "I always wanted to do something in the food industry. … We took my grandma's (waffle) recipe and had to adapt it a little bit and that's how it started."
Vandamme started Bruges Waffles and Frites in 2004, originally selling his delicious cuisine out of a food cart on Main Street in downtown Salt Lake City and at farmers markets. He said it was very cold during his first winter selling outside and "Get Gephardt made us try a heated scarf," he said, laughing.
In March 2009, he opened his first restaurant in Salt Lake City and his brother-in-law moved to Utah from Belgium to help him with the business. They opened a second location in Sugar House in 2012.
The caramelized, Liege waffles and crispy, double-fried frites continued to draw crowds, and in 2014, Vandamme opened his third restaurant in Provo. They also began using a "waffle bus" in 2014 to cater events. Wednesday, he announced he'll be opening a fourth location at 541 E. 12300 South in Draper.
Vandamme credits his success to the freshness of his food and the traditional, Belgian ambience in his restaurants.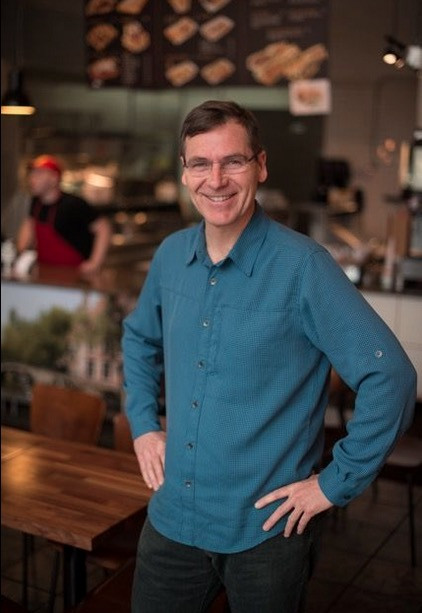 "I think what people really appreciate is that we are doing this traditionally found food that you find in Belgium," he said. "It's very traditionally done. It's done in the old way. We do everything fresh."
Each Bruges Waffles & Frites restaurant includes an outdoor patio and Belgium decor because Vandamme said he wants people have an authentic experience.
"I like to keep it, as much as possible, like you would find in Belgium," he said. "When the customer comes in, we really want them to be like, 'Wow, we are in Belgium here. This is what you find in Belgium ….' That's what we are trying to relay to the customers and have them feel this atmosphere and this warmth."
In the new Draper location, Vandamme plans to leave exposed brick on one wall and to have a tile floor to give a European feel. He said they also plan to decorate with comics because "comics are very big in Belgium."
Vandamme said he also plans to eventually franchise the restaurant. However, he said he'll continue running the locations in Utah.
×
Photos
Related Stories