Estimated read time: 2-3 minutes
This archived news story is available only for your personal, non-commercial use. Information in the story may be outdated or superseded by additional information. Reading or replaying the story in its archived form does not constitute a republication of the story.
HOGWARTS — As we are all well aware, Harry Potter obsession took a flying leap into mania not long after J.K. Rowling released her first book in 1997, and it doesn't show any signs of stopping.
The mania has continued for seven books, eight movies, two theme parks and countless parody and homage images and videos on the Internet.
A group of collaborators and students at Brigham Young University has added one more Harry Potter passion project and parody video to the mania, and the Internet is taking notice.
Andrew Carver, a BYU senior and creative director for BYU's AdLab, said the idea for the video started back in November. He was looking for a video project to "get everyone excited and working really hard in AdLab," when Keith Allen, a grad student assigned to AdLab, heard about it.
Allen was no stranger to making successful parody videos (you may remember his delightful video "Talk Nerdy to Me"), and he quickly became involved.
Carver said they decided to parody "Uptown Funk" by Marc Ronson featuring Bruno Mars soon after the song was released, but they didn't know what the parody theme would be until Christmas break. That's when Allen thought of Harry Potter and came back in January with lyrics that made Harry Potter's nemesis, Voldemort, the star.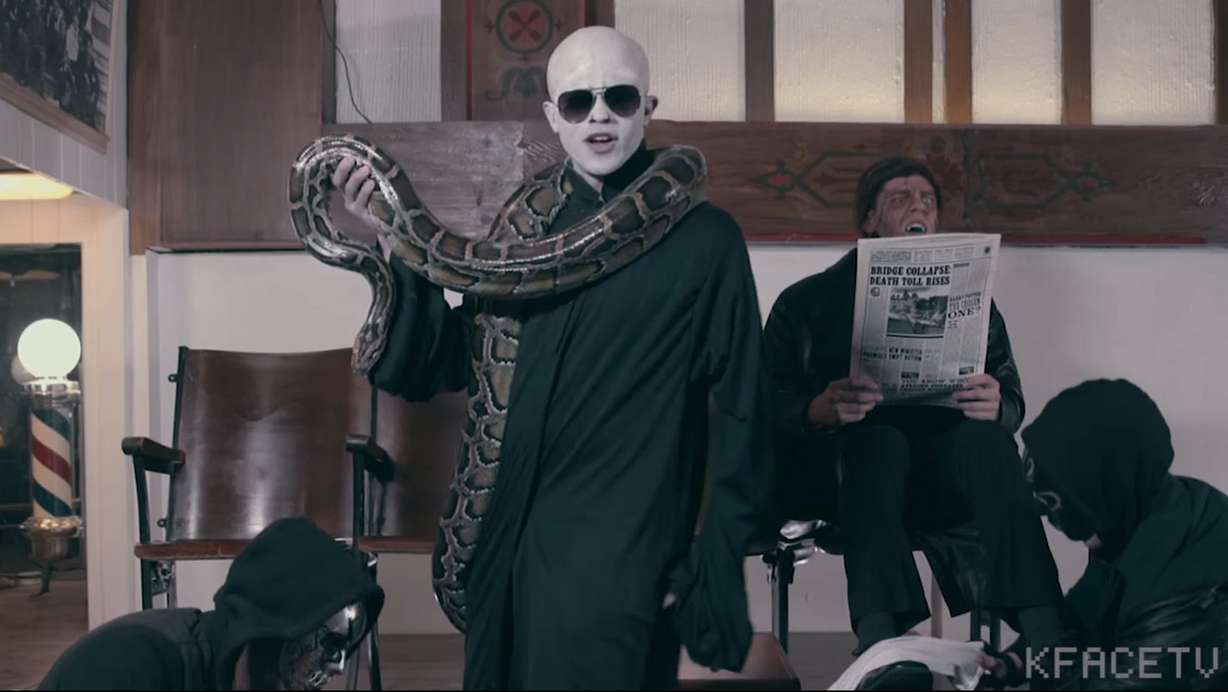 Thus, "Dark Lord Funk" was born.
They then recruited Elijah Thomas, currently in BYU's Young Ambassadors, to be the face and voice of Voldemort, and used the behind-the-scenes technical talents of Marcus Joseph to help make the video a reality.
"We made the video with no budget," Carver said. "It's just us being creative."
Most of the props, time and talents were donated, and anything that wasn't was paid out of Carver's and Allen's own pockets, Carver said. But the no-budget experience taught them important lessons about finding the right people to make a project worth the work.
"The biggest thing that I think we learned is that when you work with the right people and you collaborate well, you can make good stuff," Carver said. "Every night for the last week, we were up all night editing the video after we got the footage. But every night we were just laughing and having fun, and we just kept watching the video over and over and over because it just kept getting better and better."
The video was released Monday on YouTube and has received more than 450,000 views as of noon on Tuesday. You can see a full list of credits and the lyrics in the video description on YouTube.
×
Related links
Most recent Utah stories