Estimated read time: 6-7 minutes
This archived news story is available only for your personal, non-commercial use. Information in the story may be outdated or superseded by additional information. Reading or replaying the story in its archived form does not constitute a republication of the story.
SALT LAKE CITY —A new report scheduled for release Tuesday projects a 45 percent increase in the number of Utahns diagnosed with Alzheimer's disease by 2025 and shows many patients are not told by their doctors that they have the disease in a timely manner.
Those findings are part of the 2015 Alzheimer's Facts and Figures report which revealed the dramatic increase, and also issues calls for action and funding, in connection with the passage of HB 175 in the recent legislative session.
"It's relevant to everybody. Regardless of our age or where we're at or our health," Ronnie Daniel, Executive Director of the Alzheimer's Association Utah Chapter, said. "Alzheimer's is non-discriminatory. It's going to impact us whether we want it to or not."
Bill Miller said he's given up long ago on finding a cure for his wife Beverly, who was diagnosed with Alzheimer's in 2010. But he's optimistic the findings and legislative help will benefit others.
"It's really for the future. It's to ensure there is funding, ensure there is increased awareness," he said of the passing of H.B. 175. "Also, eventually get additional research funding."
Miller's hope is to see more understanding from others as he assists his wife more and more with the relentless increase in disability.
"Maybe more aware of caregivers and what they need, also just being more sensitive with people with Alzheimer's," he said.
Prevalence
Daniel said the projected increase in Alzheimer's would bring the total number of people in Utah with the disease to well over 40,000 by 2025.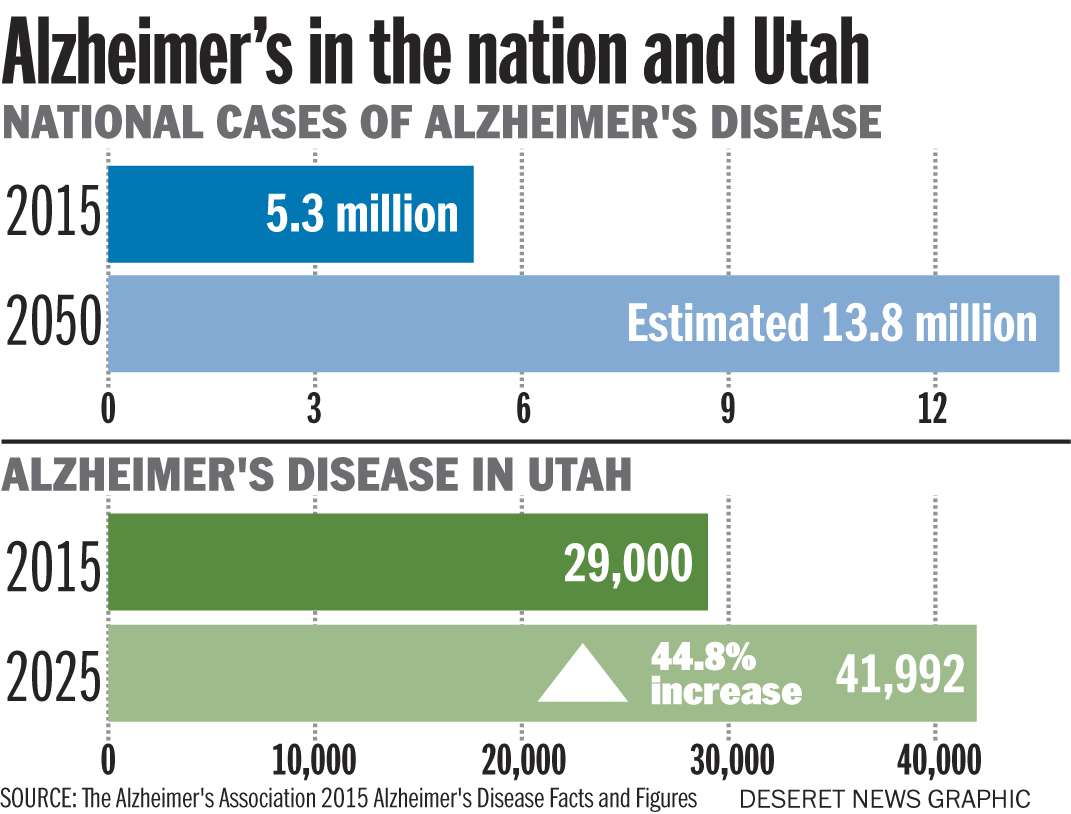 "Alzheimer's disease is an epidemic," Daniel said.
Tom Hudachko, spokesman for the Utah State Department of Health said the statistics are alarming.
"You're talking about a nearly 50 percent increase in just the next 10 years," he said. "Obviously as the population continues to age the problem's going to get worse and worse if we don't get out ahead of it."
Daniel said at age 65, one in nine will have Alzheimer's disease or dementia. By age 85, one in three will have the disease.
"If you aren't the one that actually gets the disease, chances are you're going to be a caregiver for someone who has the disease," he said.
The report estimated that in 2015, 5.3 million Americans will have Alzheimer's disease, including 29,000 in Utah.
"Every 67 seconds, someone in the U.S. develops Alzheimer's," the report states. "By mid-century, an American will develop the disease every 33 seconds."
The disease is still prevalent among women, with two-thirds of Americans over age 65 with Alzheimer's disease being female.
Diagnosis
Daniel said another startling finding was that almost half of those with Alzheimer's disease were not told their diagnosis by their physician.
"That tells us that there's probably even more than that, the number that has the disease," Daniel said.
Forty-five percent of patients or caregivers were told the Alzheimer's diagnosis by their doctor. The report said in comparison, more than 90 percent of people with the four most common cancers — breast, colorectal, lung and prostate — say they were told the diagnosis.
---
Alzheimer's is non-discriminatory. It's going to impact us whether we want it to or not.
–Ronnie Daniel, Alzheimer's Association Utah Chapter
---
The sooner dementia is diagnosed, the more time the patient and families can plan for the future, Daniel said. The patient can express their wishes for treatment before they're incapable of making those decisions.
"Obviously there's a lot that can be done to help improve their quality of life," Daniel said of an early diagnosis.
Daniel suspects this late or lack of diagnosis is because the taboo nature of Alzheimer's disease.
"It's similar to the way it was in the '50s and '60s when no one really wanted to say the 'C' word — cancer," Daniel said.
However, the report said that patients or caregivers were more likely to say they were told the diagnosis after the disease had become more advanced.
"One of the reasons most commonly cited by health care providers for not disclosing an Alzheimer's diagnosis is fear of causing the patient emotional distress," the report states.
HB 175
The report also called for more dementia education for healthcare providers, the same call heard in discussion surrounding HB175.
The bill passed in the recent legislative session. Daniel said the bill will do three things.
First, the bill elevates Alzheimer's disease to a public health issue. It's now on the same level as cancer, cardiovascular disease and HIV/AIDS.
"If you think about it, the ability to deal with cancer the ability to deal with HIV/AIDS and heart disease all came as a result of increased research funding, nationally," Miller said. "Alzheimer's was so far behind any of those and at the same time is the sixth leading killer of folks."
Related
Second, the bill assigns the Department of Health as primarily responsible for implementing Utah's State Plan for Alzheimer's Disease and Related Dementias.
The state plan encompasses five overarching goals with more than 90 strategies to ensure Utah as a dementia-aware state, Daniel said. These goals include promoting dementia awareness in Utah and knowledge among healthcare professionals, health and dignity for those with or at risk for dementia, support for caregivers, and expanding research in the state.
Hudachko said there are public health programs to address cancer, AIDS, and stroke.
"We don't have public health programs that address Alzheimer's," he said. "It's certainly something that we look forward to trying to get out in front of."
Third, the Legislature allocated $161,000 in ongoing funding to the Department of Health to hire a full-time executive to administer the plan and being creating public awareness materials on dementia to share with the public, Hudachko said.
"This was step one which is the big one was getting it recognized, get some tracking going and getting information out to the public," Paul Ray, R-Clearfield said of the bill he sponsored.
"A lot is going out to physicians to help on the tracking and the diagnosis of dementia-related disease and so forth," he said. "The education part is not only geared toward the public but it's also geared toward the health care providers."
Cost
"It costs 20 times more to care for someone with Alzheimer's than it does with someone who doesn't have the disease," Daniel said.
Seventy-percent of the cost of caring for someone with Alzheimer's typically comes from Medicare or Medicaid.
"We may never have the disease, and we may never have a loved one that has the disease but if we pay taxes we're going to be burdened by this," Daniel said.
"Our biggest threat we're looking down the barrel at funding wise is aging services," Ray said. "And this is one of the big ones."
The cost to the state was one of the big pushes for HB 175, he said.
"We know that we have a very high rate of Alzheimer's here in Utah. With the baby boomers aging out we know that this is really an epidemic that is really coming our way," he said.
The report said the 2015 total payments for caring for those with Alzheimer's and other dementias are estimated at $226 billion; $153 billion is the cost to Medicare and Medicaid alone.
Total payments for health care, long-term are, and hospice for people with dementia is projected to increase to more than $1 trillion in 2050.
In Utah there are 142,000 Alzheimer's caregivers providing 162 million hours of unpaid care. That care is valued at nearly $2 billion.
The full text of the 2015 Alzheimer's Disease Facts and Figures report can be viewed at www.alz.org.
×
Photos
Related stories
Most recent Utah stories