Estimated read time: 5-6 minutes
This archived news story is available only for your personal, non-commercial use. Information in the story may be outdated or superseded by additional information. Reading or replaying the story in its archived form does not constitute a republication of the story.
SALT LAKE CITY — Utah's strong economy is feeding one of the most robust construction sectors in the nation.
Fueled primarily by increasing demand for industrial and commercial space — particularly along the Wasatch Front — the construction industry is experiencing its most significant growth since the Great Recession.
Construction jobs are expected to grow at a compound annual rate of 2.6 percent through 2022, according to Bureau of Labor Statistics projections, making it among the fastest growing industries into the next decade.
In Utah, signing bonuses of $5,000 to $10,000 have returned.
"We haven't seen that in a long time," said Richard Thorn, president of the Associated General Contractors of Utah.
During the real estate boom of the mid-2000s, the building of single-family homes in California, Florida and Nevada led the construction rise, but also the ensuing bust. While California, Texas and Florida saw the biggest increases in raw numbers of construction jobs this past year, the fastest growth rates for such work were in North Dakota and Utah.
The added demand has prompted an increased need for structural steel workers, concrete finishers and crane operators. Advancing technology in the construction trades have forced site managers to become more technically adept than previously required.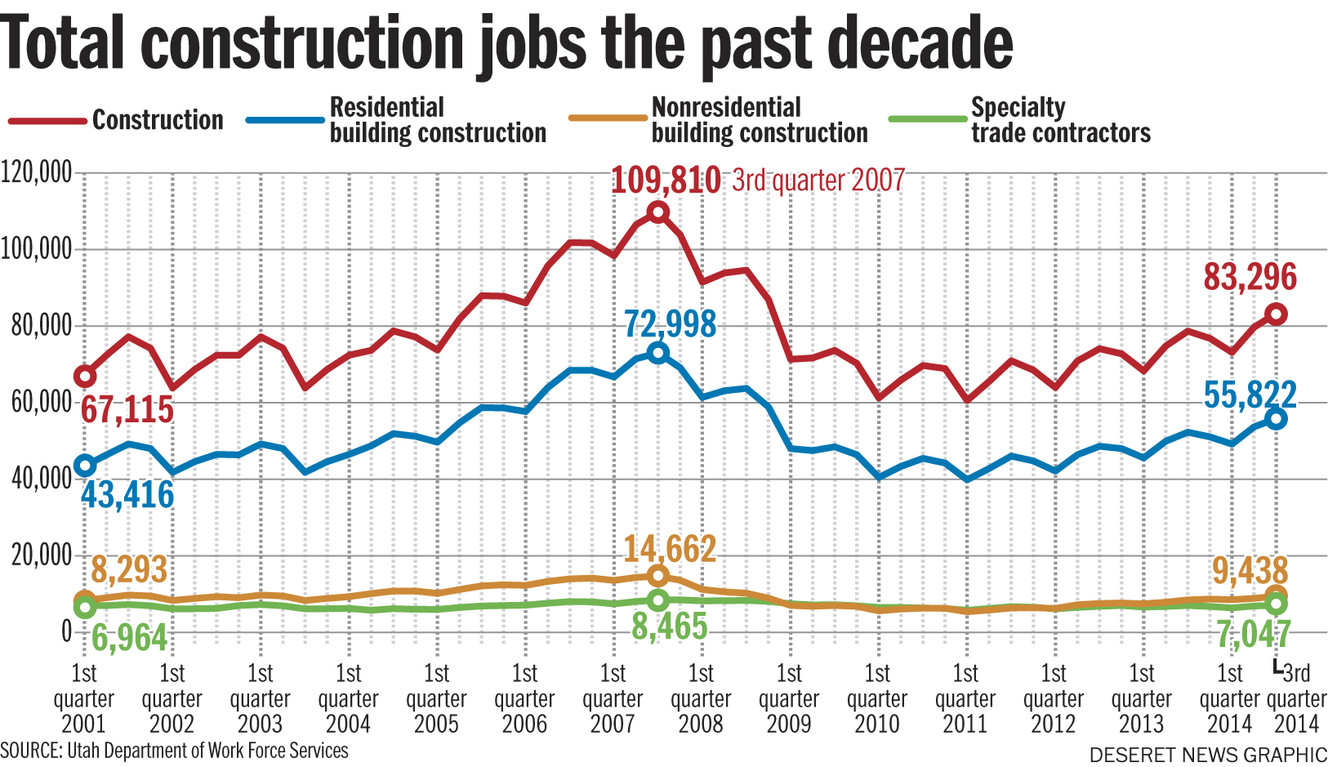 Whereas in years past skilled tradesmen might have used traditional tools to perform their on-the-job duties, today three-dimensional designs are passed from the architect to the contractor and downloaded on laptops and tablets at the construction site, and workers use GPS and lasers to figure out the exact spots where lights should be hung.
"Technology has had an impact, Thorn said. "If you're a heavy equipment operator now and you're sitting in the cab of a bulldozer, these are like high tech gaming systems that are computer controlled."
He added that much of the equipment used on the job site is being operated remotely, requiring a different skill set than in the past.
"That could be a big selling point for the younger generation that is used to gaming systems and computer animation, but they are still inputting data and making 'IT-type' decisions to (do their jobs)," Thorn said.
Related:
There are still positions in which people carry lumber, hammer nails and finish concrete, he noted, but the industry is progressing to the technology age.
"You have to have great (science, technology, engineering and math) skills for some of these leadership positions where you get out into the field and look at a set of drawings," he said. "It does take some brain power to make sure that you're building a plan according to specification as it is drawn."
Thorn noted most jobs and growth have occurred in the non-residential construction sectors — i.e. industrial and commercial and investment properties.
"If you want a job in construction (in Utah), you can get one in about five minutes," he said. "There are a lot of (companies) looking for (qualified) people to hire."
Thorn said the construction industry is currently experiencing a worker shortage like they haven't seen in years.
"We need bodies," he said. "Particularly in the skilled crafts, but also laborers, electricians, carpenters, heavy equipment operators and truck drivers."
It is the "single largest issue" in the industry, he said. The reason, he believes, for the shortage is an aging demographic and some residual effects in the wake of the economic downturn in which some workers have changed careers.
"We're having a challenge, just like everyone else, to get the next (younger) generation interested in a career in construction," he said.
The Utah Department of Workforce Services reported that the largest private sector employment increases for January 2015 were in trade, transportation and utilities — adding 12,500 jobs. Professional and business services added 10,200 jobs, and construction added 6,300 jobs. The fastest employment growth occurred in construction at 8.9 percent, professional and business services at 5.7 percent and financial activities at 5.2 percent.
---
"If you want a job in construction (in Utah), you can get one in about five minutes," he said. "There are a lot of (companies) looking for (qualified) people to hire." -Richard Thorn, Associated General Contractors of Utah
---
He said of the major construction projects currently underway, what has driven the industry of late is transportation — the Utah Department of Transportation and the Salt Lake City Airport expansion — along with school construction, commercial, industrial and investment.
"Everything that we use, touch or drive on has to have been built or maintained by someone," Thorn said.
Meanwhile, despite the rapid growth in industrial and commercial real estate, a report released by the University of Utah's Bureau of Business and Economic Research found that the Beehive State ranked higher than the national average in both housing recovery and real estate recovery, but it experienced the slowest housing recovery of any post-World War II cycle, with residential construction having only recovered 55 percent.
"In terms of new residential construction, the pre-recession peak was clearly too high, but the subdued demand and slow recovery is worrisome," said Jim Wood, the bureau's executive director. "The Great Recession brought a serious contraction in new residential construction in Utah."
He said that in previous recession periods the state experienced similar declines, but never such a slow recovery.
A typical recovery would be near 80 percent of the previous peak, he added.
Wood expects the number of new single-family homes built in 2014 statewide to be about 15,000 units, well below the pre-recession volume of 17,000 units — a scenario that is playing out nationwide.
"Thirty-three of 50 states are down in single-family home (construction) this year," he said.
To make matters even more challenging, despite the demand for rental units, the number of traditional apartments built in the past several years has been well below the levels of the 1990s, he said. Last year, just 2,700 new apartment units received building permits statewide.
"With an inventory of 280,000 units, that's an increase of less than 1 percent of the inventory," Wood said.
Restrictive local ordinances have stifled the new supply of rental units, he said, adding that higher levels of apartment construction are needed to meet increasing demand.
"The state will need at least 4,000 new units annually to avoid persistently low vacancy rates and diminished rental housing opportunities for Utah's growing renter population," he said.
Contributing: The Associated Press
×
Photos
Related stories
Most recent Utah stories