Estimated read time: 6-7 minutes
This archived news story is available only for your personal, non-commercial use. Information in the story may be outdated or superseded by additional information. Reading or replaying the story in its archived form does not constitute a republication of the story.
SALT LAKE CITY — Utah received prominent national attention this legislative session due to several groundbreaking bills passed this term — from becoming the only state to use the firing squad as a viable execution method to passing an historic anti-discrimination bill.
Other local legislation to pass included a criminal justice reform bill and the creation of a white-collar registry, amongst several other pieces.
However, there were several significant bills that did not pass this legislative session. One highly followed item of legislation was SB259 that would have legalized cannabis use for medicinal purposes.
Conclusive agreement was never reached on where the new prison should be located. A bill that was passed Thursday night, HB454 specifies that the Legislature's Prison Relocation Commission ultimately, cannot make the final decision on the relocation of the Utah State Prison, currently in Draper. Gov. Gary Herbert and the full legislature need to have a vote in the process as well.
Another legislative letdown was for some healthcare advocates. Gov. Herbert's Healthy Utah program, aimed at providing coverage for Utahns who earn less than 138 percent of the federal poverty level did not pass this legislative session.
Health
Although Healthy Utah didn't pass through HCR112, sponsored by House Majority Leader Jim Dunnigan, R-Taylorsville, passed late Thursday evening, essentially calling for serious commitment from legislators toward finding a solution for the statewide healthcare coverage gap. The executive and legislative branches intend to reach a resolution by July 31.
Another bill sneaking in before the legislature closed Thursday was the outlaw of powdered alcohol mixes. HB48, sponsored by Rep. Steve Eliason, R-Sandy, makes it illegal for people or retailers to possess the substance under current law.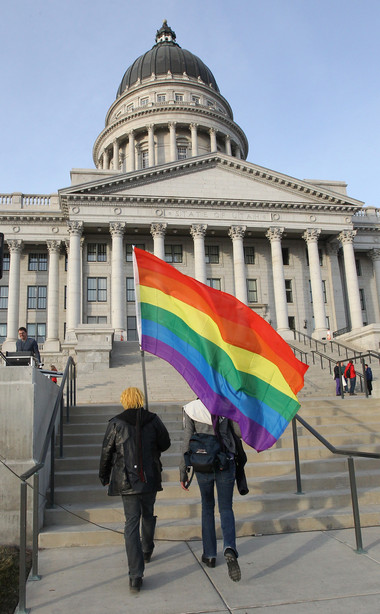 Social issues
On Thursday evening as well, SB296 dealing with religious freedom and protections against discrimination of LGBT Utahns in housing and employment was signed into law.
The bill makes it illegal to hire, fire and to decide other employment-based decisions dependent on someone's sexual orientation or gender identity. Religious organizations and associates are exempt from the law.
A news release from The Church of Jesus Christ of Latter-day Saints Thursday expressed support for the passage of the landmark legislation.
"We are pleased that the Utah Legislature has passed Senate Bill 296. It reflects the very best of collaboration and statesmanship from groups and individuals who may not always agree on all things but who have passed landmark legislation that balances religious freedom and anti-discrimination."
Justice system
An overhaul of parts of the criminal justice system was implemented recently under HB348, sponsored by Rep. Eric Hutchings, R-Kearns. The new bill made the possession of simple drugs as a misdemeanor offense rather than a felony. HB348 also increased funding for treatment programs for those with mental illness and individuals combating addiction, as well as creating a new assessment system in ascertaining the motives behind criminal behavior.
Under HB11, Utah also became the only state to allow firing squads in carrying out a death penalty if there is a shortage of execution drugs.
"If I were having to choose between the two, I would choose the firing squad because I know it's going to be over a lot quicker," said Rep. Paul Ray, R-Clearfield who sponsored the bill.
HB378, which passed Wednesday, created a white-collar crime registry, comparable to a sex-offender registry. Senate sponsor Sen. Curt Bramble, R-Provo, essentially said the new bill would help the Utah Attorney General's Office create a website that would allow individuals to easily access a list of people who commit white-collar crimes.
"Utah is known throughout the nation for its high level of vulnerability for affinity fraud," Bramble said.
On Wednesday, the legislature also passed HB277, sponsored by Rep. Ken Ivory, R-West Jordan, that eliminates the statute of limitations for lawsuits against perpetrators of child sexual abuse.
Previous Utah law only allowed civil action to be taken four years after a victim's 18th birthday. HB277 would remove those limitations.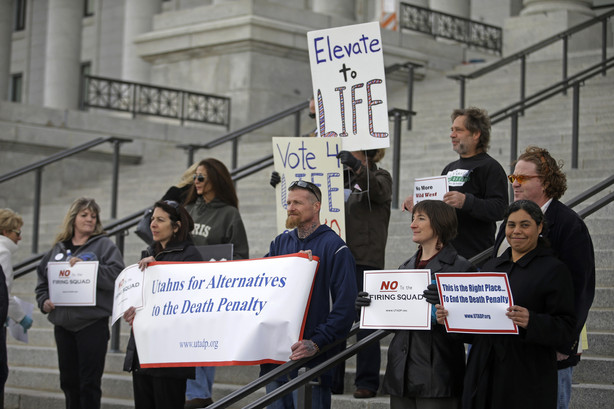 A Senate committee also passed HB63, sponsored by Rep. Jacob Anderegg, R-Lehi, and Sen. Steve Urquhart, R-St. George, under which a person is prohibited from manually operating or viewing information from a handheld wireless device such as a cellphone or iPad while driving. However, hands-free talking and listening devices are legal to use while driving.
Air pollution
A bill by Rep. Becky Edwards, R-North Salt Lake, HB226, allows Utah to set tougher clean air standards than current federal government regulations. This bill is seen as a watershed act for several clean air proponents. Under new law, after further scientific investigation on the impacts of pollution and significant public vetting, the state could potentially set its clean air standards replacing current EPA regulations.
HB110, sponsored by Rep. Patrice M. Arent, D-Salt Lake City, gives the Division of Motor Vehicles the authority to suspend a vehicle's registration if the vehicle does not meet air emission standards was also passed.
Police officers currently do not have the ability to pull a car over if an officer notices an excessive amount of emissions. Under this proposed law, an officer can pull over a vehicle and cite the driver. The DMV can then revoke the driver's registration until the car is brought into compliance.
Economy
This past Monday, the House passed a gas tax increase under HB362, sponsored by Rep. Johnny Anderson, R-Taylorsville. The bill would essentially change the state's per-gallon tax to a more complicated formula that is similar to a sales tax.
Education
Overall, education, received $510 million dollars in new money going towards public schools this legislative session.
Following the passage of SB60, students now have to pass a civics test, or citizenship skills test, in order to graduate from high school according to a new bill, The American Civics Education Initiative, proposed by Sen. Howard Stephenson, R-Draper.
The bill requires that students answer 35 out of 50 questions correctly. However, they also need to be prepared to answer 100 possible test questions. Students are allowed to take the test as many times as necessary to pass.
SB235 sponsored by Senate President Niederhauser passed the 2015 legislative session. The bill is designed to provide financial and technical assistance to public schools that are the lowest in the state.
×
Related Stories