Estimated read time: 2-3 minutes
This archived news story is available only for your personal, non-commercial use. Information in the story may be outdated or superseded by additional information. Reading or replaying the story in its archived form does not constitute a republication of the story.
Carole Mikita reporting For the first time, Elizabeth Smart talks of returning to the place where she was held captive following her abduction from her Salt Lake City home.
She says she has returned to that site a number of times and that it doesn't frighten her. She spoke more candidly than she ever has, because she hopes to reach out to other survivors.
Elizabeth has helped to write a new manual for the Justice Department. She and four other survivors from around the country met a couple of times to tell their stories and offer advice. She is determined to move on.
"The world doesn't scare me. People don't scare me. It's just the actions that they do," Elizabeth said.
Elizabeth Smart was 14 when she was taken from her Salt Lake City home in the middle of the night. She returned safely 10 months later. She soon hiked to the makeshift campsite above her parents' home where she had been held.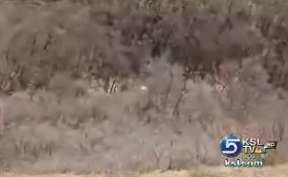 "I went up a few days after I was home and you know, I felt great. I felt triumphant. The place where I'd been held captive for so long, you know, the world could see it. It was no longer a secret," she said.
Brian David Mitchell and Wanda Barzee, the couple charged with her kidnapping, have not gone to trial but they remain in custody.
"I'm very glad they're not out on the street," Elizabeth said. "I never want them getting out, that's for sure. I never would want anyone else's life to be endangered, and if they stay in a mental hospital, that's fine. If they go to jail, that's great, too."
"I like to know what's going on, but I don't care to see them, ever. But I do like to know what's going on," Elizabeth added.
Her kidnapping and return were national news. This is part of her message to others in a manual she helped create for the Justice Department: "It's OK to feel whatever you feel when you come back. You may feel guilty but you don't need to. Of course, lots of people are going to tell you, 'Don't feel guilty.' But if you do feel that way, it's not your fault. But if you're angry, it's OK to feel that way. We each have our own way of dealing with it."
Elizabeth just completed her sophomore year as a music major at BYU. She and her father will travel to Washingon, D.C., Tuesday to join the others for the Justice Department's announcement of the Victims Survivors' Guide.
E-mail: cmikita@ksl.com
×
Related links
Most recent Utah stories