Estimated read time: 2-3 minutes
This archived news story is available only for your personal, non-commercial use. Information in the story may be outdated or superseded by additional information. Reading or replaying the story in its archived form does not constitute a republication of the story.
TAIPEI, Taiwan (CNN) — As they took their seats on a TransAsia Airways flight that crashed in Taipei on Wednesday, Lin Ming-wei and his young family were looking forward to a holiday.
But a noise made Lin uneasy, and shortly before take-off, he asked cabin staff if they could take an empty row on the rear right hand side of the plane, which was bound for Kinmen, an island in the Taiwan Strait, local media reported.
Minutes later, Lin was fighting his way out of the plane's wreckage and searching frantically for his two-year-old son in the shallow, murky waters of the Keelung River.
When he found him three minutes later, his lips were blue and his heart wasn't beating. Lin gave him CPR.
"He is my only child. I absolutely have to save his life —-I can't lose him," the Liberty Times quoted him as saying.
His son survived, as did his wife, although both are being treated in hospital. Lin emerged unscathed and was the only one of 15 survivors that didn't need medical treatment.
Lucky escape
Lin puts his family's survival down to the last-minute decision to switch seats.
Initial reports indicated that it was the left side of the turboprop plane which was seriously damaged in the crash, Taiwan's Central News Agency reported. The Lins were originally seated on the left.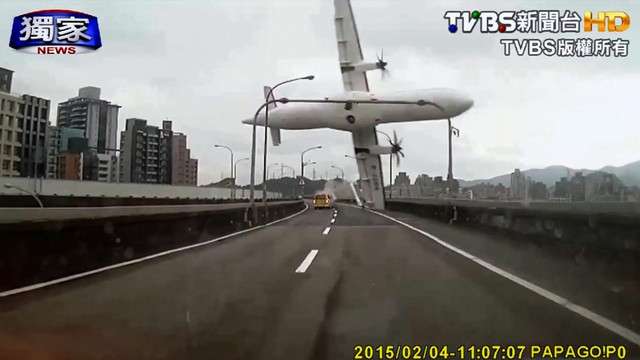 A rescue worker from the Taipei Fire Department, who was one of the first on the scene, said the cabin was already chest-deep in water when he entered.
"Many passengers were tangled up in their seat belts and hung upside down," the Taipei Times quoted him as saying.
A total of 13 people were saved in the initial rescue effort but progress slowed and water had completely filled the fuselage by evening, when a crane lifted it from the water.
Car hit by plane
The Lins were not the only ones to have a lucky escape.
As the out-of-control plane spiraled into the river on the outskirts of the island's capital, it clipped a taxi traveling along an elevated highway.
The 52-year-old driver, surnamed Huang, and his female passenger sustained only minor injuries from shattered fragments of windshield glass.
Photographs published in local media showed a yellow Volkswagen vehicle with a flattened windshield and engine hood.
According to the Taipei Times, Chou said his family did not believe him at first when he telephoned home to say: "I'm OK. My car got into a crash, it was hit by an aeroplane."
CNN's Shen Lu in Beijing contributed to this report.
The-CNN-Wire™ & © 2015 Cable News Network, Inc., a Time Warner Company. All rights reserved.
×
Photos
Related stories
Most recent Home & Family stories