Estimated read time: 4-5 minutes
This archived news story is available only for your personal, non-commercial use. Information in the story may be outdated or superseded by additional information. Reading or replaying the story in its archived form does not constitute a republication of the story.
WILLARD, Box Elder County — Mariah Ostler was traveling 75 mph in the fast lane of I-15 Saturday when her water broke.
"I knew the baby was coming and it doesn't help to panic. So, I just stayed calm and said, 'Well, if I deliver it on my own then I deliver it on my own. If somebody gets here, somebody gets here. The baby is here. There's not much more I can do about it,'" she said Sunday from her room at Brigham City Hospital while holding her newborn son.
Fortunately for Ostler, help was on the way in the form of Utah Highway Patrol trooper Josh Carr and Willard Police Chief Jean Loveland. Approximately 90 seconds after help arrived, Ostler gave birth to a 9.9-pound boy on the shoulder of I-15 just past the Willard exit.
The roadside birth started Saturday night when Ostler, 32, of Mantua, whose due date was in two days, drove her 6-year-old son to her mother's house in North Ogden to play with his cousins. Along the way, she started having contractions.
Ostler said when she got to her mother's house she tried to determine if she was really going into labor. When the contractions didn't stop, she got in her car and started driving to the hospital.
"I was hoping that I would make it. But then my water broke and I called dispatch because once my water breaks … there's the baby. There's no time once that happens," she said.
Just as she passed the Smith and Edwards store, her water broke.
---
They tell you to be prepared to take a life and give life. Thank goodness this was one of the two I had the opportunity to do.
–Josh Carr, Utah Highway Patrol trooper
---
"I was in the fast lane. I was trying to get over to the slow lane so I could pull over to the side, but cars wouldn't let me over. It doesn't matter if you have your blinker on or not," she joked.
Emergency dispatcher Brittney Chugg was the person who answered Ostler's 911 call.
"I thought it was somebody calling in like a traffic problem or a reckless driver or something like that," she said when Ostler first started talking.
But when the woman said her water had just broken, Chugg knew a baby was on the way.
"Obviously the first issue was to get her off the road so she wouldn't deliver a baby while driving," she said. "We knew. We just knew it was going to happen. There was going to be a baby on the side of the freeway right then."
Loveland and Carr raced to the side of the road where Ostler's car was parked. By the time they reached her, she was dilated to a 10 and couldn't move. Carr said he knew she was going to be having her baby right next to the side of the road where large trucks and other vehicles were speeding by them without pulling over to the far lane.
"I was just more nervous for the welfare of the child than anything. I didn't really have time to be afraid or scared. You deal with what you got right there in the moment and you do the best you can," he said.
Carr and Loveland had just enough time to put on rubber gloves and get a sterile sheet under Ostler so the baby could be born on something clean when she delivered.
"He came right out in my hands," Carr said. "It was very emotional. Probably next to my own children's' birth, it was a very satisfying moment in my career."
"It was quite the learning experience and I'm glad I had that opportunity," Loveland said.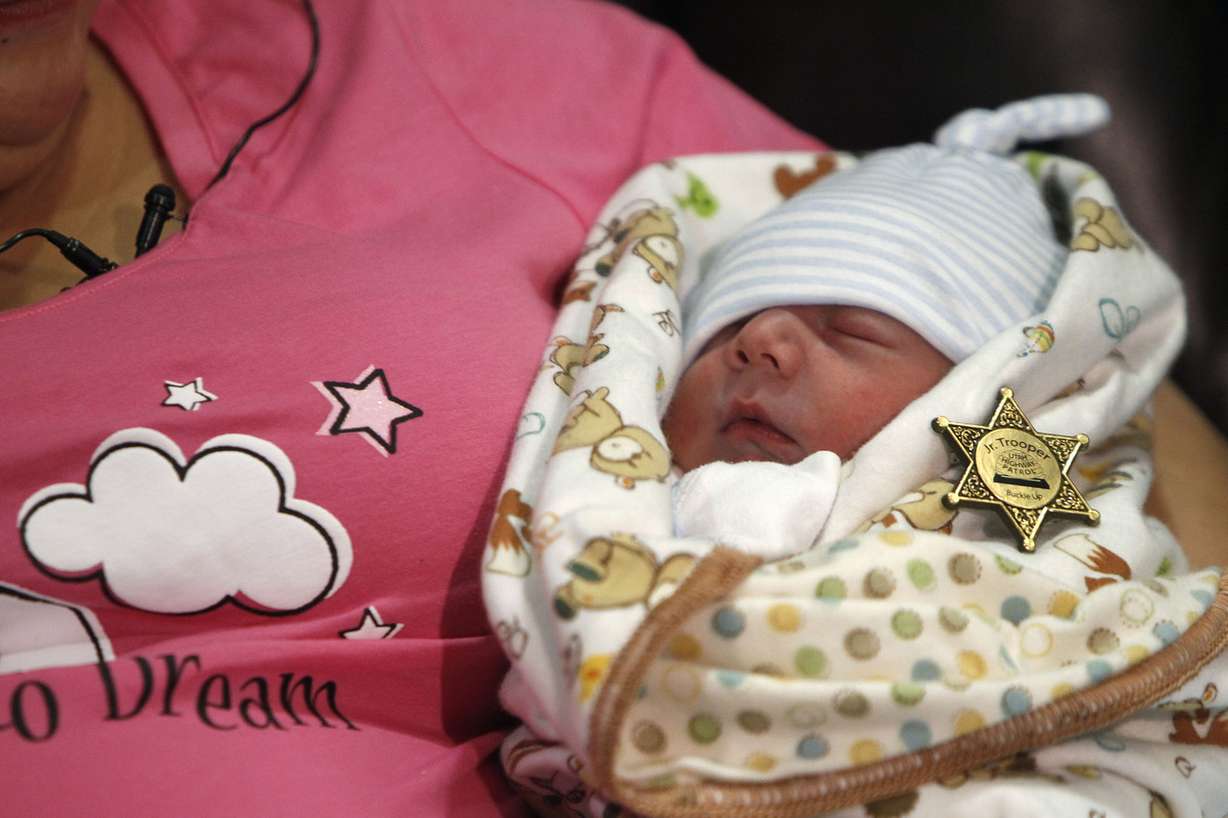 Chugg and other dispatchers listened to the birth on Ostler's phone, which was still connected.
"It was really, really cool to hear that," she said. "I've always said that was the kind of call I'd want to take. So, I'm glad that it all turned out well."
The birth was also captured in part on video from Carr's dashboard camera. Though the actual birth was not caught on video, the trooper's microphone recorded the audio.
"We got it, we got it," Carr is heard telling Ostler when the baby is born. "Let me see if it's a boy or girl."
Ostler, who has one other son and a 11-year-old daughter, did not find out the sex of the baby beforehand. It was Carr who broke the news to her that she was the mother of another son. As of Sunday afternoon she had not yet picked a name for her new baby.
Despite being an EMT for 14 years, Carr said this was the first baby he had delivered.
"They tell you to be prepared to take a life and give life. Thank goodness this was one of the two I had the opportunity to do. To train for it, there is no training. They tell you how to do it. But this is the only way you're going to learn is to actually do it," he said.
×
Photos
Most recent Utah stories