Estimated read time: 7-8 minutes
This archived news story is available only for your personal, non-commercial use. Information in the story may be outdated or superseded by additional information. Reading or replaying the story in its archived form does not constitute a republication of the story.
PARK CITY, UT — At the U.S. cross country ski championships in Houghton, Michigan, snow kept falling, temperatures never hit double digits and Park City native Rosie Brennan kept winning titles.
"I'm really ecstatic," Brennan said in a telephone interview from Estonia after nationals. "It's been an incredible week. I couldn't have asked for more. That was by far the best race series I've ever had in my life."
Brennan's performances didn't go unnoticed. Monday the U.S. Ski Team announced an extended itinerary to Brennan's current international tour. She will race at the 2015 Nordic World Ski Championships that begin in mid-February in Falun, Sweden.
Brennan joins seven other women and eight men that will compete from February 18 to March 1.
While this will be Brennan's first go-around at the world championships, the 26-year-old has shown the fitness and moxie to mix it up with the athletes at nordic skiing powerhouses like Russia, Sweden, Finland and Norway.
"I'm just so happy for her success now," Park City Ski Team coach Gordon Lange said. "This has been a long time coming for her, these results."
Brennan's first coach added, "Rosie's motivated. She got that belief within herself. She's got that confidence that when she's 100 percent those (international stars) aren't any better than her."
Four days after the U.S. Championships, Brennan was starting the World Cup in Otepaa, Estonia. She placed sixth in the second race of the weekend to pace the American contingent.
---
I love Park City — all of Utah, really. I still definitely consider Utah home. When I'm done racing, I'd love to move back to Utah and start teaching.
–Rosie Brennan
---
Racing outside the national team, international race starts are a rare commodity for athletes like Brennan. After the sixth place, Brennan didn't even know to pick up her prize money.
"Wow, that World Cup check — that caught me by surprise," Brennan said after the race. "But I'm obviously pretty psyched about that."
This weekend on the World Cup, Brennan finished 13th in the 10 kilometer Saturday and 20th in Sunday's 15 km in Rybinsk, Russia.
Academic studies and athletic performance
Since graduating from Park City High in 2007, academics and racing have kept Brennan away from home.
First, Brennan left Utah for Dartmouth College in Hanover, New Hampshire. After graduation, Brennan moved to Anchorage, Alaska to pursue skiing and a masters degree focused on education.
"I love Park City — all of Utah, really," Brennan said. "I still definitely consider Utah home. When I'm done racing, I'd love to move back to Utah and start teaching."
Work in the native Alaskan communities
Brennan began visiting bush communities in Alaska's far north. Last April brought her to Kaktovik, a small village on the northeastern edge of Alaska. Soon after, Brennan began turning her experience in the North Slope Borough into her masters thesis.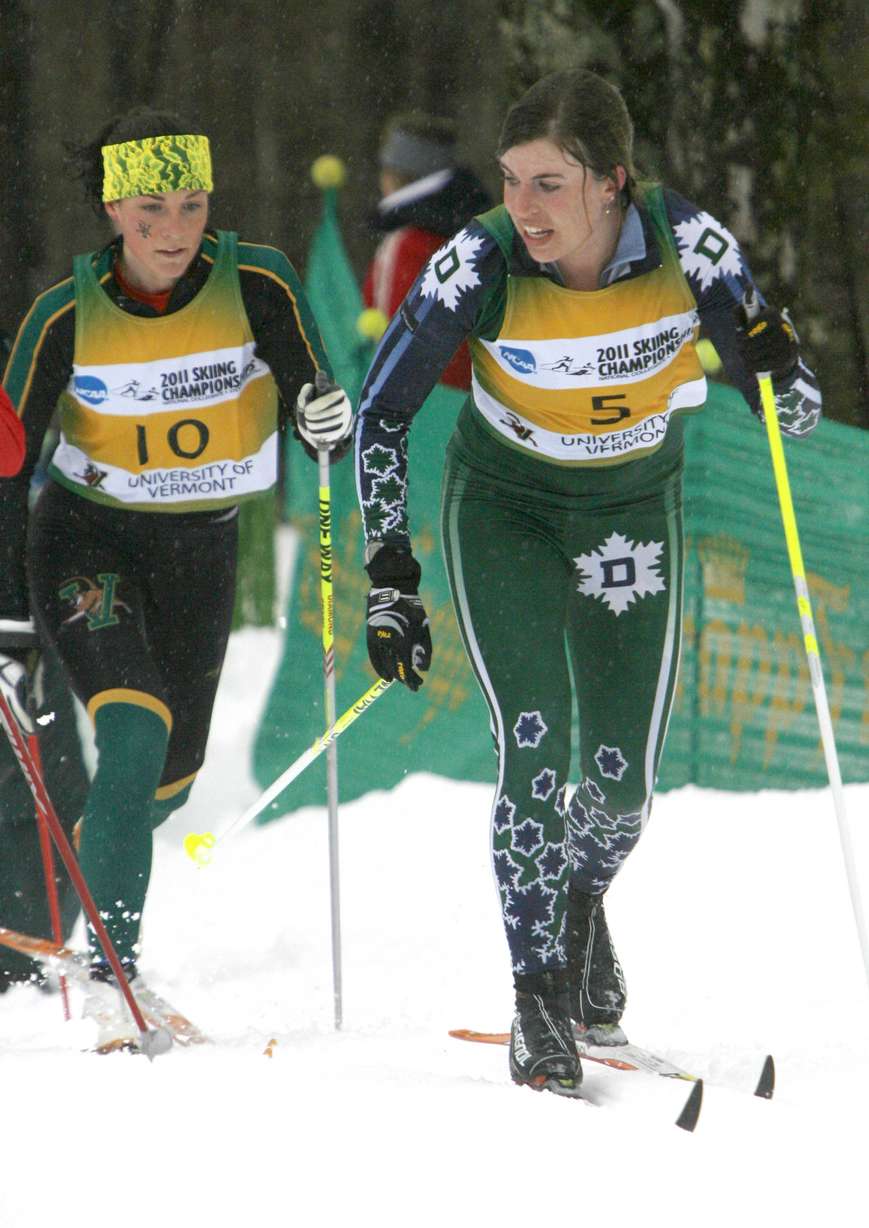 "I'm writing the school program curriculum for SkiKu, this non-profit that teaches kids in rural Alaska how to (cross country) ski," Brennan said.
The non-profit's founder Lars Flora said many college students approached him to work on the school curriculum project that better integrates sport into the native Alaskan communities. But only Brennan was "a perfect fit" according to Flora.
"Rosie's so focused and determined to pull off her goals, I have total confidence in what she's doing," Flora said. "When kids learn something that they perceive as challenging and then they accomplish it, this creates a potent confidence within them. With Rosie excelling in academics and athletics, how kids identify with her is incredible.
"It's so undervalued how good it is to bring athletes longterm into a school. For the communities we're working with, there's some of the highest suicide rates in the world. Theres certain social things going on in the villages volunteers like Rosie can make an even more lasting impact."
Brennan first heard about SkiKu from other elite skiers who had visited the bush communities.
"I thought I really need to do this," Brennan said. "I don't foresee myself living in Alaska for the rest of my life, so I'm trying to make the most of the years that I'm here. I really wanted to see the parts of Alaska that were really remote, that you couldn't reach by car. It's also a way to spread skiing, something that I love."
Outside the U.S. national team, but training with reigning world champion
These days, Brennan trains with Alaska Pacific University, where she's finishing up her masters study this spring. Brennan's APU teammate is reigning world champion Kikkan Randall.
Both Brennan and Randall (a four-time Olympian and former Salt Lake City resident) are coached by Erik Flora, a former University of Utah skier from the early 90s. In 2013, the U.S. Olympic Committee named Flora the national coach of the year. Not just in skiing, but all sports.
Perhaps it isn't surprising that it was Randall who last pulled off a trifecta at U.S. nationals five years before.
Brennan and the legacy of 2002 Salt Lake City Winter Olympics in Utah
---
(The 2002 Olympics) definitely inspired me to find a winter sport to become competitive in. I really wanted to embrace the winter sport culture I'd seen at the Olympics.
–Rosie Brennan
---
Brennan credits Lange and the Park City Ski Team for turning an impressionable teenager onto nordic skiing.
"Seeing the Olympics come to my hometown was so exciting. For those three weeks, we were out of school. I went and saw all these different events. This definitely inspired me to find a winter sport to become competitive in. I really wanted to embrace the winter sport culture I'd seen at the Olympics."
Brennan first tried out for skeleton. On the cross country ski trails, though, she found her calling.
"Nordic skiing just clicked with me right away," Brennan said. "I liked the idea of doing an endurance sport. I had never done something like that before. It's cool to see, oh, you work really hard and then you get fast? This idea resonated with me."
Since she left, nordic's foothold has grown noticeably in Park City. Where once there only was skiing on the municipal golf course, now venues and many more kilometers of trails abound.
Brennan also races for Rossignol. While the ski company's headquarters are in France, Rossignol's North American home base is in Park City.
"It was pretty obvious that she was going to be something spectacular," Rossignol's nordic racing manager Paul Clarke said. "She's just a great ambassador for the sport here. It's really cool to see how the young generation, especially the young girls in Park City, identify with her.
"We've watched her the last couple years go through some pretty tough times and she's battled through it all. We wish her all the best, especially at the World Champs."
For Brennan, the darkest hour only has sixty minutes
Brennan breakthrough performances coincide with what she calls her most difficult time of her life: the unexpected death of her father last August.
"Obviously that changed my life forever," Brennan said. It was only while taking long walks and runs in the Wasatch Mountains that Brennan found any peace with the loss.
"For whatever reason, getting out in the mountains was about the only time I felt good and had some clear thoughts in my head," Brennan said. "Especially when I went harder, I found clarity. I actually started training pretty hard. At that point, I knew I had to keep racing. This was right for me. Doing this brought me the most happiness."
The loss brought a new perspective to both her life and her sport career.
"Results didn't really matter to me anymore," Brennan said. "After you lose someone like your father, ski racing — it's just… there's so many more important things in life.
"My life, it's still definitely a roller coaster. Somedays are very tough, somedays are easier. But I'm lucky. I have a family that's really supportive. I'm only racing now because I love it and it makes me feel good."
×
Photos
Related links
Related stories
Most recent Utah stories